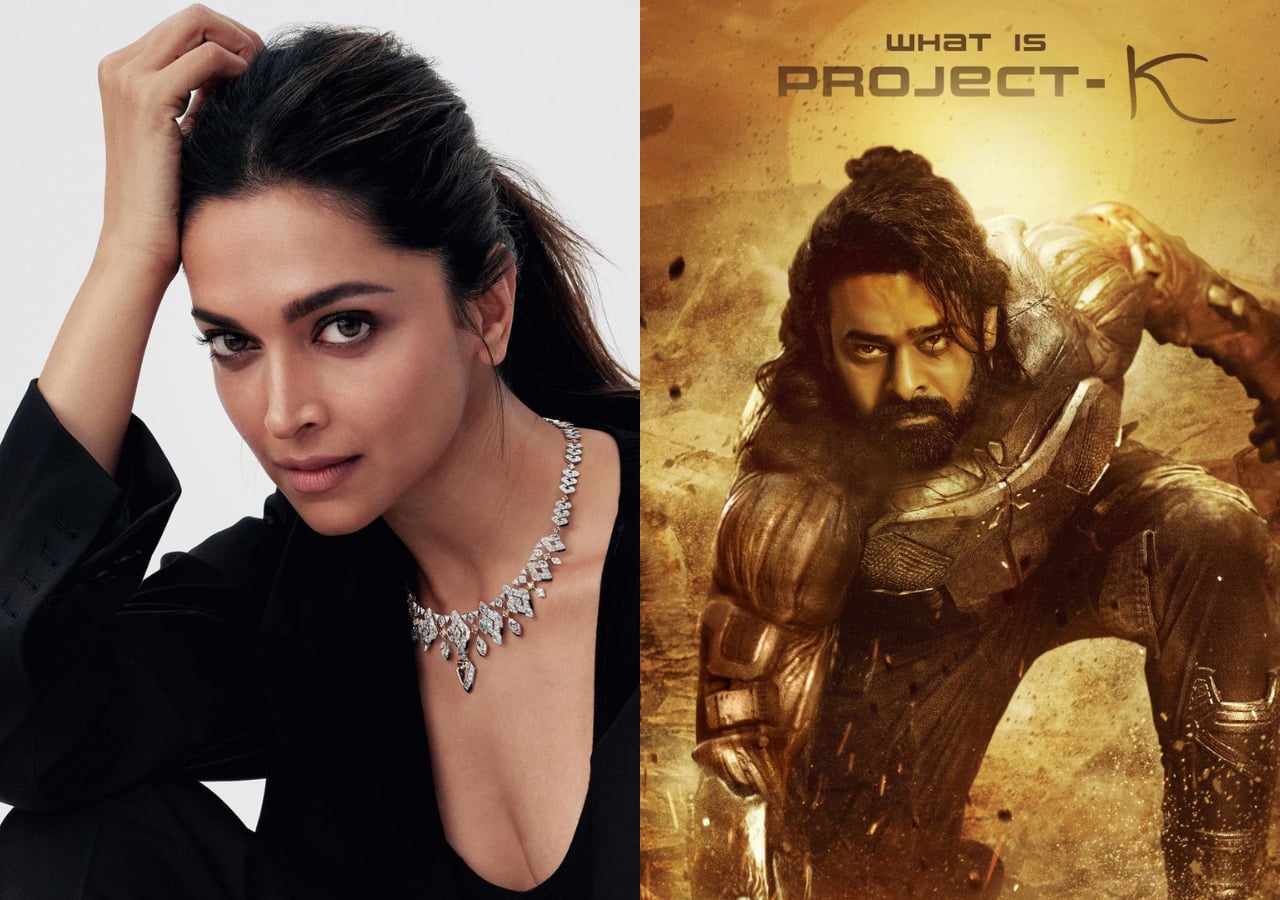 Prabhas and Rana Daggubati are in the US for the grand launch of Project K at the San Diego Comic Con this year. It is the first pan-India film that's going to be launched at the Comic-Con. It has been said that Deepika Padukone and Kamal Haasan are likely to attend the comic con too. However, as per the latest developments on the same, it is being said that Deepika is likely to miss the launch of Project K at SDCC 2023. Shocking, right? Well, the reason for the same has also surfaced. Read on to know more. Also Read – Kamal Haasan for Project K and more celebrities' paycheck amount for a cameo in movies
Deepika Padukone to miss Project K launch at San Deigo comic con
If reports are anything to go by, Deepika Padukone is not going to join Prabhas and Rana Daggubati who are in the US already. The San Diego Comic Con is beginning on the 20th of July (21st July, IST). Deepika won't join the Project K team as she is a member of SAG-AFTRA (Screen Actors Guild – American Federation of Television and Radio Artists). Hollywood celebs are on strike for days now and owing to the protest happening, Deepika will not attend the Comic Con and the launch, states and insider to a news wire agency, reports an entertainment news portal. Also Read – Project K: Prabhas' first look drops from Deepika Padukone starrer; netizens are disappointed [Check Why]
Well, the union of SAG-AFTRA mentions that the actors should not provide any promotional or publicity services owing to the strike. And this apparently also extends to the San Diego Comic Con. Deepika Padukone is a member of SAG-AFTRA and hence as per the regulations provided, the actress will not attend the comic-con. Well, it's a mixed feeling really. Deepika Padukone fans would have loved to see her at the San Diego Comic-Con. Also Read – Project K: Prabhas, Rana Daggubati land in the US ahead of San Diego Comic-con; special gesture by fans in Japan, Dallas creates buzz
Check Prabhas and Deepika Padukone's first look from Project K here:
The Hero rises. From now, the Game changes ?
This is Rebel Star #Prabhas from #ProjectK.
First Glimpse on July 20 (USA) & July 21 (INDIA).
To know #WhatisProjectK stay tuned and subscribe: https://t.co/AEDNZ3ni5Q@SrBachchan @ikamalhaasan @deepikapadukone @nagashwin7… pic.twitter.com/oRxVhWq4Yn
— Vyjayanthi Movies (@VyjayanthiFilms) July 19, 2023
In her eyes she carries the hope of a new world ? @deepikapadukone from #ProjectK pic.twitter.com/RUt9T1MAyZ
— Vyjayanthi Movies (@VyjayanthiFilms) July 18, 2023
What is the strike of SAG-AFTRA about?
Since the last couple of days, the strike has been trending and making headlines. Even Priyanka Chopra has extended her support to SAG-AFTRA. The filming and promotions of Heads of State starring Chopra have been put on hold due to the strike. The members of SAG-AFTRA are conducting a strike against the studios and online streaming services. The actors and members are on strike as they want better working conditions and pay. They have stated that it's like doing labour owing to the surge in streaming platforms. Also with AI coming into the picture, everything is threatened.
Meanwhile, both Deepika Padukone and Prabhas' first look from Project K did not get favourable reactions.
]]>
Stay tuned to BollywoodLife for the latest scoops and updates from Bollywood, Hollywood, South, TV and Web-Series. Click to join us on Facebook, Twitter, Youtube and Instagram. Also follow us on Facebook Messenger for latest updates.
adisplay:block;padding:0;color:var(–black);text-decoration:none.repeat-box figuredisplay:flex;justify-content:flex-start;flex-wrap:wrap;align-items:stretch;overflow:visible.two-cols-aside .aside .repeat-box figurealign-items:center.repeat-box .textwidth:100%;z-index:5;position:relative.repeat-box .photowidth:100px;position:relative;z-index:5.repeat-box .photo+.textwidth:calc(100% – 100px);padding-left:10px.repeat-box h2,.repeat-box h3,.repeat-box pcolor:var(–black);white-space:normal;overflow:hidden;text-overflow:ellipsis;-webkit-line-clamp:3;display:-webkit-box;-webkit-box-orient:vertical;padding:0;font-size:15px;line-height:1.5;font-weight:400.repeat-box h2font-size:20px.repeat-box h2+p,.repeat-box h3+pfont-size:14px.repeat-box .catfont-size:14px;line-height:16px;display:block;margin-bottom:5px;font-weight:700;color:var(–orange);text-transform:uppercase.repeat-box a:hover,.repeat-box a:hover h2,.repeat-box a:hover h3,.repeat-box a:hover pcolor:#f32c89.repeat-box .photo-icon,.repeat-box .video-iconposition:absolute;left:0;bottom:0;background:linear-gradient(to left,#a617be,#f32c89,#f32c89,#f32c89,#f32c89,#a617be);border-radius:0 5px 0 0.repeat-box .video-iconwidth:26px;height:26px;display:inline-block.repeat-box .photo-iconwidth:auto;min-width:26px;height:26px;line-height:16px;font-size:13px;color:var(–white);padding:5px 5px 0.lazy-image img.lazyopacity:0.lazy-image img:not(.initial)transition:opacity .5s ease-in,transform .5s ease-in,-webkit-transform .5s ease-in.lazy-image img.error,.lazy-image img.initial,.lazy-image img.loadedopacity:1.lazy-image img:not([src])visibility:hidden.cre-setionclear:both;overflow:hidden;float:none;width:auto;margin:5px 0 20px.cre-setion .black-boxespadding:15px 40px;background:#e5e5e5.cre-carousel-heightposition:relative;padding:0 0 255px;height:0.cre-carousel-height .all-dataposition:absolute;top:0;left:0;width:100%!important;height:100%!important.cre-setion .border-headingfont-size:16px;color:#1f1f1f;text-transform:uppercase;font-weight:700;padding:0 0 10px;margin:20px 0 10px;clear:both;position:relative;border-bottom:0;display:flex;justify-content:space-between;align-items:center.cre-setion .border-heading:beforetop:5px;height:14px.cre-setion .splide__slideheight:auto!important;margin-left:0.cre-setion article.repeat-boxdisplay:block;background-color:transparent;border-radius:5px;box-shadow:none;overflow:hidden;padding:0;margin-bottom:3px.cre-setion article.repeat-box>adisplay:block;padding:10px;background-color:var(–white);border-radius:5px;color:var(–black);text-decoration:none;overflow:hidden;border:1px solid #d0d0d0.cre-setion article.repeat-box>a>figuredisplay:block.cre-setion article.repeat-box .photo,.cre-setion article.repeat-box .textwidth:100%.cre-setion article.repeat-box .photoborder-radius:5px;overflow:hidden.cre-setion article.repeat-box .lazy-imagebox-shadow:none;border-radius:0;overflow:hidden.cre-setion article.repeat-box .textpadding:5px 0 0;height:90px;.cre-setion article.repeat-box .text h3font-size:14px;line-height:1.5;-webkit-line-clamp:4;font-weight:600;text-align:left.cre-setion .repeat-box .photos-iconborder-radius:0 5px 0 0;width:auto;min-width:26px;height:26px;left:0;bottom:0;display:flex;justify-content:center;align-items:center.cre-setion .photos-icon svgtransition:1s;fill:var(–white);width:26px;height:26px.cre-setion .photos-icon:hoverbackground:var(–blue).cre-setion .splide__arrowtop:50%!important;width:1.8em;height:1.8em;border-radius:100px;border:1px solid #999;background:0 0;opacity:1.cre-setion .splide__arrow–prevleft:-37px.cre-setion .splide__arrow–nextright:-37px.cre-setion .splide__arrow:disabledopacity:.3;cursor:not-allowed!important.cre-setion .splide__arrow:beforeborder:solid #999;border-width:0 2px 2px 0.cre-setion .splide__arrow:hoverbackground:linear-gradient(to left,#a617be,#f32c89,#f32c89,#f32c89,#f32c89,#a617be).cre-setion .splide__arrow:hover::beforeborder:solid var(–white);border-width:0 2px 2px 0]]]]>]]>