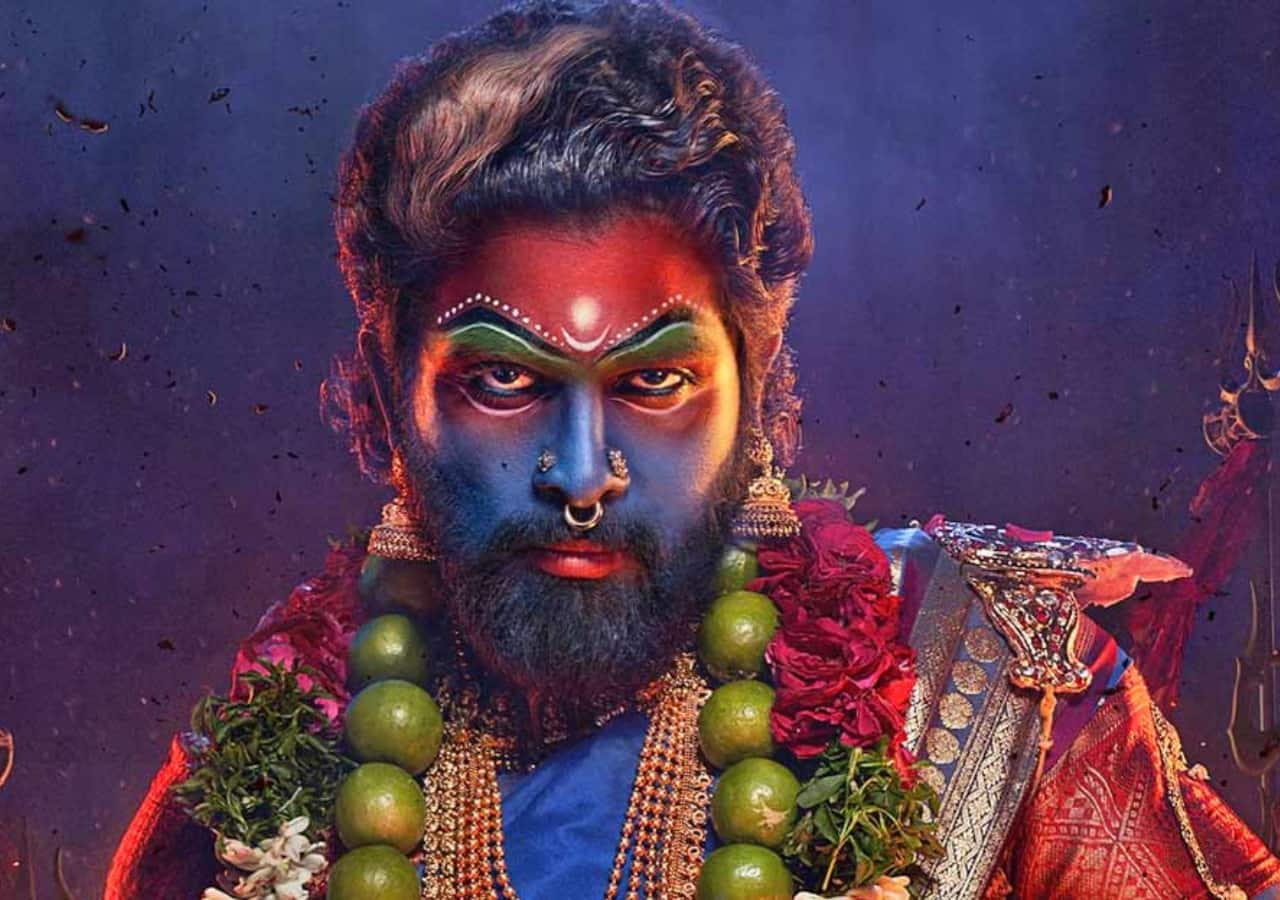 Pushpa 2 is one of the highly-awaited films. In fact, Pushpa 2: The Rule starring Allu Arjun is at the top of the Most-awaited Hindi films list by Ormax Media. Allu Arjun has managed to beat Salman Khan, Prabhas and more to be at the top. Fans are eagerly waiting for their Pushparaj to return to the big screen with some kickass one-liners and raw action scenes. But much before its release, Allu Arjun teased fans by leaking a dialogue from Pushpa 2: The Rule. Also Read – Pushpa 2 The Rule: Allu Arjun beats Prabhas, Salman Khan and more – Here's how
Allu Arjun leaks Pushpa 2 dialogue
Allu Arjun was among the guests who attended the success meet of the film Baby starring Anand Deverakonda in the leading role. He was in the best of his moods and as he took to the stage, fans simply could not stop cheering for Pushpa 2. Fans also demanded a one-liner from Pushpa 2 and Allu Arjun happily obliged. He mouthed the dialogue, 'Eedantha jarigedi okate rule meeda jarugutaanadadi, Pushpa gadi rule'. It means, 'everything here will be dictated by one rule, and that is Pushpa's rule.' Guess, the movie is going to stay true to its name. Pushpa is coming to rule and he shall do it by all means. In no time the video went viral on social media and the anticipation for Pushpa 2 reached its highest peak. Also Read – Allu Arjun's daughter Allu Arha doing a cameo in Jr NTR, Janhvi Kapoor's Devara?
Check out Allu Arjun's dialogue below:
Icon StAAr #AlluArjun LEAKS #Pushpa 2 dialogue on the stage.
| #Pushpa2 | #PushpaTheRule | pic.twitter.com/QXbEaSnR7S
— Manobala Vijayabalan (@ManobalaV) July 20, 2023
It was in April that the makers of Pushpa 2 released a 3-minute long teaser. It was to mark Allu Arjun's birthday and give his fans a reason to be happy. Pushpa 2 teaser started with a scene of Allu Arjun's character escaping from the prison and no one knows where he is. Pushpa 2 story will revolve around his success and his tiff with Bhanwar Singh played by Fahaad Faasil. Pushp: The Rise ended with SP Bhawar Singh being mighty pissed with Pushpa and waging a war against him. Also Read – Top 10 South Indian actors who are the box office kings in the real sense
Pushpa 2: The Rule is also directed by Sukumar. It stars Rashmika Mandanna as the leading lady of the film. While the first part had Samantha Ruth Prabhu in an item number Oo Antava, it remains to be seen whether she'll return for Pushpa 2 or not. Fans definitely cannot wait for Pushpa 2. For more entertainment news, stay tuned.
]]>
Stay tuned to BollywoodLife for the latest scoops and updates from Bollywood, Hollywood, South, TV and Web-Series. Click to join us on Facebook, Twitter, Youtube and Instagram. Also follow us on Facebook Messenger for latest updates.
adisplay:block;padding:0;color:var(–black);text-decoration:none.repeat-box figuredisplay:flex;justify-content:flex-start;flex-wrap:wrap;align-items:stretch;overflow:visible.two-cols-aside .aside .repeat-box figurealign-items:center.repeat-box .textwidth:100%;z-index:5;position:relative.repeat-box .photowidth:100px;position:relative;z-index:5.repeat-box .photo+.textwidth:calc(100% – 100px);padding-left:10px.repeat-box h2,.repeat-box h3,.repeat-box pcolor:var(–black);white-space:normal;overflow:hidden;text-overflow:ellipsis;-webkit-line-clamp:3;display:-webkit-box;-webkit-box-orient:vertical;padding:0;font-size:15px;line-height:1.5;font-weight:400.repeat-box h2font-size:20px.repeat-box h2+p,.repeat-box h3+pfont-size:14px.repeat-box .catfont-size:14px;line-height:16px;display:block;margin-bottom:5px;font-weight:700;color:var(–orange);text-transform:uppercase.repeat-box a:hover,.repeat-box a:hover h2,.repeat-box a:hover h3,.repeat-box a:hover pcolor:#f32c89.repeat-box .photo-icon,.repeat-box .video-iconposition:absolute;left:0;bottom:0;background:linear-gradient(to left,#a617be,#f32c89,#f32c89,#f32c89,#f32c89,#a617be);border-radius:0 5px 0 0.repeat-box .video-iconwidth:26px;height:26px;display:inline-block.repeat-box .photo-iconwidth:auto;min-width:26px;height:26px;line-height:16px;font-size:13px;color:var(–white);padding:5px 5px 0.lazy-image img.lazyopacity:0.lazy-image img:not(.initial)transition:opacity .5s ease-in,transform .5s ease-in,-webkit-transform .5s ease-in.lazy-image img.error,.lazy-image img.initial,.lazy-image img.loadedopacity:1.lazy-image img:not([src])visibility:hidden.cre-setionclear:both;overflow:hidden;float:none;width:auto;margin:5px 0 20px.cre-setion .black-boxespadding:15px 40px;background:#e5e5e5.cre-carousel-heightposition:relative;padding:0 0 255px;height:0.cre-carousel-height .all-dataposition:absolute;top:0;left:0;width:100%!important;height:100%!important.cre-setion .border-headingfont-size:16px;color:#1f1f1f;text-transform:uppercase;font-weight:700;padding:0 0 10px;margin:20px 0 10px;clear:both;position:relative;border-bottom:0;display:flex;justify-content:space-between;align-items:center.cre-setion .border-heading:beforetop:5px;height:14px.cre-setion .splide__slideheight:auto!important;margin-left:0.cre-setion article.repeat-boxdisplay:block;background-color:transparent;border-radius:5px;box-shadow:none;overflow:hidden;padding:0;margin-bottom:3px.cre-setion article.repeat-box>adisplay:block;padding:10px;background-color:var(–white);border-radius:5px;color:var(–black);text-decoration:none;overflow:hidden;border:1px solid #d0d0d0.cre-setion article.repeat-box>a>figuredisplay:block.cre-setion article.repeat-box .photo,.cre-setion article.repeat-box .textwidth:100%.cre-setion article.repeat-box .photoborder-radius:5px;overflow:hidden.cre-setion article.repeat-box .lazy-imagebox-shadow:none;border-radius:0;overflow:hidden.cre-setion article.repeat-box .textpadding:5px 0 0;height:90px;.cre-setion article.repeat-box .text h3font-size:14px;line-height:1.5;-webkit-line-clamp:4;font-weight:600;text-align:left.cre-setion .repeat-box .photos-iconborder-radius:0 5px 0 0;width:auto;min-width:26px;height:26px;left:0;bottom:0;display:flex;justify-content:center;align-items:center.cre-setion .photos-icon svgtransition:1s;fill:var(–white);width:26px;height:26px.cre-setion .photos-icon:hoverbackground:var(–blue).cre-setion .splide__arrowtop:50%!important;width:1.8em;height:1.8em;border-radius:100px;border:1px solid #999;background:0 0;opacity:1.cre-setion .splide__arrow–prevleft:-37px.cre-setion .splide__arrow–nextright:-37px.cre-setion .splide__arrow:disabledopacity:.3;cursor:not-allowed!important.cre-setion .splide__arrow:beforeborder:solid #999;border-width:0 2px 2px 0.cre-setion .splide__arrow:hoverbackground:linear-gradient(to left,#a617be,#f32c89,#f32c89,#f32c89,#f32c89,#a617be).cre-setion .splide__arrow:hover::beforeborder:solid var(–white);border-width:0 2px 2px 0]]]]>]]>