Pushpa 2: The Rule is the next big South movie that the masses are looking forward to watching in cinema halls. Allu Arjun will reprise his role of Pushparaj in the sequel of the much-loved movie, Pushpa: The Rise. Allu Arjun left everyone in awe as Pushpa (shortened name). So much so that he won the National Award for Best Actor. And now, the handsome hunk has teased his fans about something big coming up. Check out the exciting deets below… Also Read – Allu Arjun Vs Ram Charan: No bad blood between the Pushpa and RRR stars, here's proof
Allu Arjun shares announcement about 'something big'
Pushparaj aka Allu Arjun took to his official Instagram handle and shared a story teasing the fans of Pushpa about some big announcement. He wrote, "Something special coming up tomorrow at 9 AM. Stay Tuned." So, finally, it seems all the fans of Allu Arjun and Rashmika Mandanna will get an update on the upcoming new movie. Check out Allu Arjun's Instagram story here: Also Read – Pushpa: Throwback to when Mahesh Babu rejected the film and Allu Arjun bagged the golden opportunity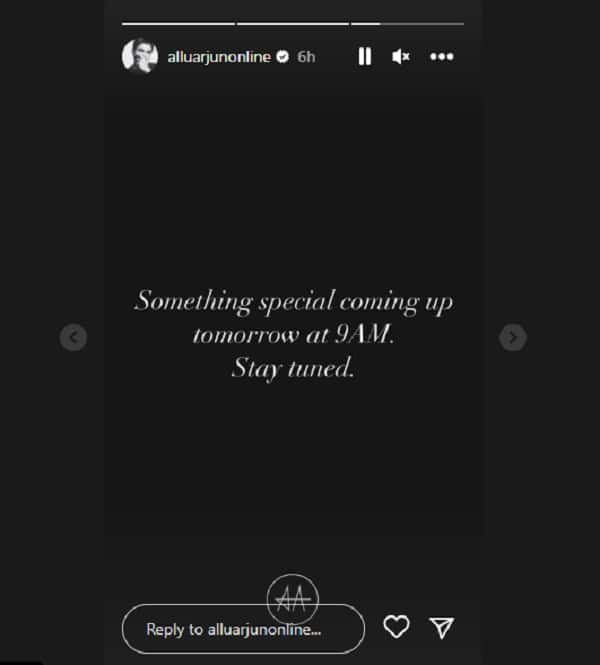 Also Read – 69th National Film Awards: Allu Arjun gets a kiss from wife Sneha, hug from son Ayaan after his historical win [Watch]
Fans react to Allu Arjun's Instagram story; Did DSP make the big reveal?
As soon as Allu Arjun shared the Instagram story, the fans started making wild assumptions about what it could be. A lot of fans feel that Allu Arjun is going to announce the release date of Pushpa 2: The Rule. However, soon, netizens started sharing a message from DSP, the music composer of Pushpa. It seems Devi Sri Prasad revealed on his Instagram Live that the first single from Pushpa 2 will be out soon. Fans are sharing the same in their tweets. Some even speculate that it is not about Pushpa 2. Have a look at the reactions here:
Breaking News #AlluArjun : Exciting news expected tomorrow at 9 AM, brace yourselves for a spectacular revelation with #AlluArjun leading the charge. ? Get ready to dive into the world of #Pushpa2 and #Pushpa2TheRule! ? @alluarjun pic.twitter.com/inCslkbYat
— Puneet S Bansal (@PuneetSbansal) August 29, 2023
#Pushpa2 1st single very soon..#AlluArjun #Pushpa2TheRule
— Cinema Mania (@ursniresh) August 29, 2023
#AlluArjun? 's Facebook Story! About #Pushpa2 Or Leave a update of Trivikram's project!I think #Pushpa2TheRule Official Release will be revealed tomorrow!What abou you?! pic.twitter.com/FkJrW7GU8B
— Debarshi Bhattacharya (@ItsDebarshi06) August 29, 2023
WHAT IF#Pushpa2 world wide release distribution announcement??? https://t.co/V6qDCiuQwC
— paepasr (@paepasr) August 29, 2023
#AlluArjun related update tomorrow at 9 AM
Don't rule the possibility of #Pushpa2 release date announcement pic.twitter.com/ecp81X7cL1
— Friday Matinee (@VRFridayMatinee) August 29, 2023
Not about #Pushpa2 ? https://t.co/pxS51IXWuh
— Rajesh Manne (@rajeshmanne1) August 29, 2023
Pan India MONSTER ✨?#AlluArjun bhAAi ?Just beginning ?#Pushpa2TheRule #Pushpa2 ? https://t.co/0MLORY2Fbu pic.twitter.com/R0w4mWbUWK
— josh (@AphinSanseth) August 29, 2023
Here comes the most awaited update!#Pushpa2 first single will release very soon … @ThisIsDSP via instagram @alluarjun #Pushpa2TheRule pic.twitter.com/twMV57D8ky
— Allu Arjun FC (@AlluArjunHCF) August 29, 2023
#Pushpa2 first single will release very soon
~ @ThisIsDSP via Instagram live ?❤️‍?#Pushpa2TheRule @alluarjun
— Allu Arjun TFC™ (@AlluArjunTFC) August 29, 2023
This Week ???#OG – Teaser#Jawan – Trailer#Salaar – Trailer Date Announcement#BhagavanthKesari – First Song#Pushpa2 – Release Date Announcement#Nag99 – Title Reveal#MalaikottiValiban – Poster#Kushi – Release#Leo – Next Update
— vinayagamoorthy (@vinayagam_Dmk) August 29, 2023
#Pushpa2 first single will release very soon
: – @ThisIsDSP via Instagram live ?❤️‍?
— Cinema pichodu ? ? ? (@sairaj_padigela) August 29, 2023
Get ready for a wild ride with '#Pushpa2'! ? Allu Arjun promises it's a level above the first #Pushpa1, packed with heart-pounding adrenaline moments. ? #Pushpa2TheRule #AlluArjun pic.twitter.com/Ty3LfeFoS7
— Puneet S Bansal (@PuneetSbansal) August 29, 2023
Allu Arjun aka Bunny getting a whopping amount as fees for Pushpa 2?
The Sukumar-directed movie is one of the most talked about South Indian films. It has been in trend and on the list of highly anticipated movies ever since the release of the first movie. Now, amidst the buzz, a report in Indiaherald.com states that Allu Arjun has made a demand of Rs 125 crores for the movie. However, it remains a speculation.
Watch the video about Allu Arjun celebrating his National Award win here:
Makers of Allu Arjun starrer offered Rs 100 crores for overseas rights?
BollywoodLife exclusively informed its readers that the makers of Pushpa 2 have been offered about Rs 90 crores for Pushpa 2's distribution rights in the US. It could easily surpass the Rs 100 crore mark. Well, that's pretty huge, no?
Pushpa 2: The Rule also stars Vijay Sethupathi, Fahadh Faasil, Rashmika Mandanna and more. Are you excited for the big announcement?
]]>
Stay tuned to BollywoodLife for the latest scoops and updates from Bollywood, Hollywood, South, TV and Web-Series. Click to join us on Facebook, Twitter, Youtube and Instagram. Also follow us on Facebook Messenger for latest updates.
adisplay:block;padding:0;color:var(–black);text-decoration:none.repeat-box figuredisplay:flex;justify-content:flex-start;flex-wrap:wrap;align-items:stretch;overflow:visible.two-cols-aside .aside .repeat-box figurealign-items:center.repeat-box .textwidth:100%;z-index:5;position:relative.repeat-box .photowidth:100px;position:relative;z-index:5.repeat-box .photo+.textwidth:calc(100% – 100px);padding-left:10px.repeat-box h2,.repeat-box h3,.repeat-box pcolor:var(–black);white-space:normal;overflow:hidden;text-overflow:ellipsis;-webkit-line-clamp:3;display:-webkit-box;-webkit-box-orient:vertical;padding:0;font-size:15px;line-height:1.5;font-weight:400.repeat-box h2font-size:20px.repeat-box h2+p,.repeat-box h3+pfont-size:14px.repeat-box .catfont-size:14px;line-height:16px;display:block;margin-bottom:5px;font-weight:700;color:var(–orange);text-transform:uppercase.repeat-box a:hover,.repeat-box a:hover h2,.repeat-box a:hover h3,.repeat-box a:hover pcolor:#f32c89.repeat-box .photo-icon,.repeat-box .video-iconposition:absolute;left:0;bottom:0;background:linear-gradient(to left,#a617be,#f32c89,#f32c89,#f32c89,#f32c89,#a617be);border-radius:0 5px 0 0.repeat-box .video-iconwidth:26px;height:26px;display:inline-block.repeat-box .photo-iconwidth:auto;min-width:26px;height:26px;line-height:16px;font-size:13px;color:var(–white);padding:5px 5px 0.lazy-image img.lazyopacity:0.lazy-image img:not(.initial)transition:opacity .5s ease-in,transform .5s ease-in,-webkit-transform .5s ease-in.lazy-image img.error,.lazy-image img.initial,.lazy-image img.loadedopacity:1.lazy-image img:not([src])visibility:hidden.cre-setionclear:both;overflow:hidden;float:none;width:auto;margin:5px 0 20px.cre-setion .black-boxespadding:15px 40px;background:#e5e5e5.cre-carousel-heightposition:relative;padding:0 0 255px;height:0.cre-carousel-height .all-dataposition:absolute;top:0;left:0;width:100%!important;height:100%!important.cre-setion .border-headingfont-size:16px;color:#1f1f1f;text-transform:uppercase;font-weight:700;padding:0 0 10px;margin:20px 0 10px;clear:both;position:relative;border-bottom:0;display:flex;justify-content:space-between;align-items:center.cre-setion .border-heading:beforetop:5px;height:14px.cre-setion .splide__slideheight:auto!important;margin-left:0.cre-setion article.repeat-boxdisplay:block;background-color:transparent;border-radius:5px;box-shadow:none;overflow:hidden;padding:0;margin-bottom:3px.cre-setion article.repeat-box>adisplay:block;padding:10px;background-color:var(–white);border-radius:5px;color:var(–black);text-decoration:none;overflow:hidden;border:1px solid #d0d0d0.cre-setion article.repeat-box>a>figuredisplay:block.cre-setion article.repeat-box .photo,.cre-setion article.repeat-box .textwidth:100%.cre-setion article.repeat-box .photoborder-radius:5px;overflow:hidden.cre-setion article.repeat-box .lazy-imagebox-shadow:none;border-radius:0;overflow:hidden.cre-setion article.repeat-box .textpadding:5px 0 0;height:90px;.cre-setion article.repeat-box .text h3font-size:14px;line-height:1.5;-webkit-line-clamp:4;font-weight:600;text-align:left.cre-setion .repeat-box .photos-iconborder-radius:0 5px 0 0;width:auto;min-width:26px;height:26px;left:0;bottom:0;display:flex;justify-content:center;align-items:center.cre-setion .photos-icon svgtransition:1s;fill:var(–white);width:26px;height:26px.cre-setion .photos-icon:hoverbackground:var(–blue).cre-setion .splide__arrowtop:50%!important;width:1.8em;height:1.8em;border-radius:100px;border:1px solid #999;background:0 0;opacity:1.cre-setion .splide__arrow–prevleft:-37px.cre-setion .splide__arrow–nextright:-37px.cre-setion .splide__arrow:disabledopacity:.3;cursor:not-allowed!important.cre-setion .splide__arrow:beforeborder:solid #999;border-width:0 2px 2px 0.cre-setion .splide__arrow:hoverbackground:linear-gradient(to left,#a617be,#f32c89,#f32c89,#f32c89,#f32c89,#a617be).cre-setion .splide__arrow:hover::beforeborder:solid var(–white);border-width:0 2px 2px 0]]]]>]]>