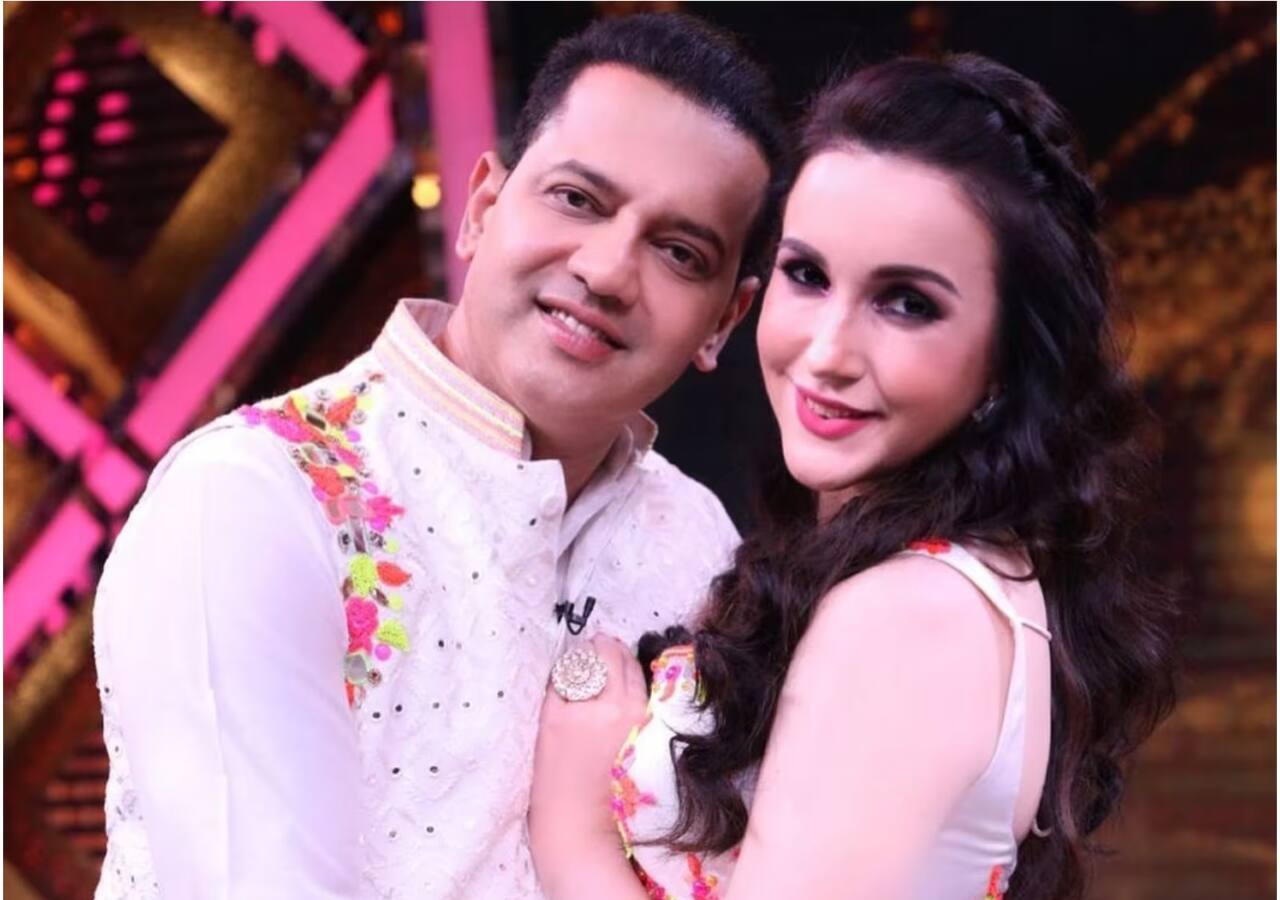 Rahul Mahajan and Natalya Ilina's divorce rumours have been doing rounds on the internet. It was being said that the two have decided to stay away and this was Rahul's third marriage. However, Rahul Mahajan did not speak about these rumours back then. Now, he has finally reacted to the reports of his divorce from his third wife, Natalya. Also Read – Before Bigg Boss 17, check out the most controversial stars on Salman Khan's show
Rahul Mahajan has confirmed the news and said that he is going through a trauma. He has called this situation an earthquake. Also Read – Bigg Boss fame Rahul Mahajan and wife Natalya Ilina all set to get divorced?
Rahul Mahajan confirms his divorce
Speaking to Etimes, Rahul Mahajan said that the tremors of this earthquake in his life are still there. He said that one has no option but move on. Natalya left Rahul in July last year and in January the divorce happened. The former pilot further said that he may not show but he is very sensitive. Also Read – Bigg Boss OTT 2 star Jad Hadid showing his a*s to Swami Om throwing pee on contestants; times when lines were crossed in Salman Khan show
However, Rahul decided not to speak about what went wrong between him and Natalya. He shared that if he speaks about it, it will be a one sided story and he has no hate for his ex-wife. He said that he has love and respect for her even today.
The Bigg Boss 2 star said that he does not no where Natalya is now but love just does not go away like that only. There have been rumours that the divorce happened because Rahul wanted a baby and Natalya wanted alimony. However, Rahul gave a clarification on this.
Rahul and Natalya never tried a baby
He said that he never wanted a baby in this relationship and they never tried for a baby. He said that he and Dimpy Ganguly had tried for a baby but they suffered a miscarriage. He further said that he is 48 now and does not want a baby.
Rahul Mahajan clarified that he never paid a single rupee as alimony in any of his marriages. Be it with Shweta Singh, Dimpy Ganguly or with Natalya Ilina, he had mutual agreement in every marriage. Rahul then spoke about his failed marriages.
He said that he never expected he would get divorce multiple times and it is painful. He is hurt and his soul has been torned. The Smart Jodi contestant said that sometimes relationships don't work and it is nobody's fault.
Rahul Mahajan and Natalya Ilina were seen together in Smart Jodi.
]]>
Stay tuned to BollywoodLife for the latest scoops and updates from Bollywood, Hollywood, South, TV and Web-Series. Click to join us on Facebook, Twitter, Youtube and Instagram. Also follow us on Facebook Messenger for latest updates.
adisplay:block;padding:0;color:var(–black);text-decoration:none.repeat-box figuredisplay:flex;justify-content:flex-start;flex-wrap:wrap;align-items:stretch;overflow:visible.two-cols-aside .aside .repeat-box figurealign-items:center.repeat-box .textwidth:100%;z-index:5;position:relative.repeat-box .photowidth:100px;position:relative;z-index:5.repeat-box .photo+.textwidth:calc(100% – 100px);padding-left:10px.repeat-box h2,.repeat-box h3,.repeat-box pcolor:var(–black);white-space:normal;overflow:hidden;text-overflow:ellipsis;-webkit-line-clamp:3;display:-webkit-box;-webkit-box-orient:vertical;padding:0;font-size:15px;line-height:1.5;font-weight:400.repeat-box h2font-size:20px.repeat-box h2+p,.repeat-box h3+pfont-size:14px.repeat-box .catfont-size:14px;line-height:16px;display:block;margin-bottom:5px;font-weight:700;color:var(–orange);text-transform:uppercase.repeat-box a:hover,.repeat-box a:hover h2,.repeat-box a:hover h3,.repeat-box a:hover pcolor:#f32c89.repeat-box .photo-icon,.repeat-box .video-iconposition:absolute;left:0;bottom:0;background:linear-gradient(to left,#a617be,#f32c89,#f32c89,#f32c89,#f32c89,#a617be);border-radius:0 5px 0 0.repeat-box .video-iconwidth:26px;height:26px;display:inline-block.repeat-box .photo-iconwidth:auto;min-width:26px;height:26px;line-height:16px;font-size:13px;color:var(–white);padding:5px 5px 0.lazy-image img.lazyopacity:0.lazy-image img:not(.initial)transition:opacity .5s ease-in,transform .5s ease-in,-webkit-transform .5s ease-in.lazy-image img.error,.lazy-image img.initial,.lazy-image img.loadedopacity:1.lazy-image img:not([src])visibility:hidden.cre-setionclear:both;overflow:hidden;float:none;width:auto;margin:5px 0 20px.cre-setion .black-boxespadding:15px 40px;background:#e5e5e5.cre-carousel-heightposition:relative;padding:0 0 255px;height:0.cre-carousel-height .all-dataposition:absolute;top:0;left:0;width:100%!important;height:100%!important.cre-setion .border-headingfont-size:16px;color:#1f1f1f;text-transform:uppercase;font-weight:700;padding:0 0 10px;margin:20px 0 10px;clear:both;position:relative;border-bottom:0;display:flex;justify-content:space-between;align-items:center.cre-setion .border-heading:beforetop:5px;height:14px.cre-setion .splide__slideheight:auto!important;margin-left:0.cre-setion article.repeat-boxdisplay:block;background-color:transparent;border-radius:5px;box-shadow:none;overflow:hidden;padding:0;margin-bottom:3px.cre-setion article.repeat-box>adisplay:block;padding:10px;background-color:var(–white);border-radius:5px;color:var(–black);text-decoration:none;overflow:hidden;border:1px solid #d0d0d0.cre-setion article.repeat-box>a>figuredisplay:block.cre-setion article.repeat-box .photo,.cre-setion article.repeat-box .textwidth:100%.cre-setion article.repeat-box .photoborder-radius:5px;overflow:hidden.cre-setion article.repeat-box .lazy-imagebox-shadow:none;border-radius:0;overflow:hidden.cre-setion article.repeat-box .textpadding:5px 0 0;height:90px;.cre-setion article.repeat-box .text h3font-size:14px;line-height:1.5;-webkit-line-clamp:4;font-weight:600;text-align:left.cre-setion .repeat-box .photos-iconborder-radius:0 5px 0 0;width:auto;min-width:26px;height:26px;left:0;bottom:0;display:flex;justify-content:center;align-items:center.cre-setion .photos-icon svgtransition:1s;fill:var(–white);width:26px;height:26px.cre-setion .photos-icon:hoverbackground:var(–blue).cre-setion .splide__arrowtop:50%!important;width:1.8em;height:1.8em;border-radius:100px;border:1px solid #999;background:0 0;opacity:1.cre-setion .splide__arrow–prevleft:-37px.cre-setion .splide__arrow–nextright:-37px.cre-setion .splide__arrow:disabledopacity:.3;cursor:not-allowed!important.cre-setion .splide__arrow:beforeborder:solid #999;border-width:0 2px 2px 0.cre-setion .splide__arrow:hoverbackground:linear-gradient(to left,#a617be,#f32c89,#f32c89,#f32c89,#f32c89,#a617be).cre-setion .splide__arrow:hover::beforeborder:solid var(–white);border-width:0 2px 2px 0]]]]>]]>