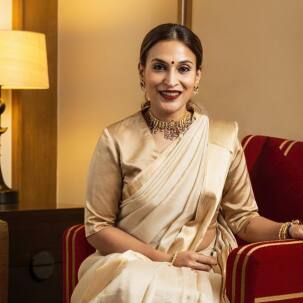 Tamil megastar Rajinikanth's daughter, Aishwaryaa Rajinikanth made the headlines after she split up with her husband-actor Dhanush, last year in January. After more than a year of their separation, the former pair are yet to announce their divorce. Amidst all this, Aishwaryaa, a film director by profession, was reportedly spotted at a Chennai resort with a mysterious man, touted to be a young actor. Soon after, speculations were rife that Aishwaryaa is getting married for the second time. But seems these claims bore zero truth. As per the latest reports, Aishwaryaa is not getting hitched. Also Read – Rajinikanth celebrates Diwali 2022 with grandchildren; Thalaivaa's latest pictures leave fans emotional as they say 'Legend is getting old' [VIEW HERE]
Aishwaryaa Rajinikanth second marriage
"These stories are all false. There is no truth to them. She (Aishwaryaa) is not getting married a second time as is being reported," confirmed the source, as cited by India Today. Aishwaryaa Rajinikanth and Kollywood star Dhauns went their separate ways on January 17 last year. The couple who tied the knot on November 18, 2004, decided to call it quits after 18 years of marriage. They share two sons together, Yatra Raja and Linga Raja. Also Read – South news weekly rewind: Shruti Haasan admits to doing a nose job; Dhanush and Aishwaryaa Rajinikanth to call off divorce and more
Aishwaryaa Rajinikanth and Dhanush separation
On January 18, 2022, Dhanush announced that he was going to part ways with Aishwaryaa Rajinikanth. "18 years of togetherness as friends, couple, as parents and well-wishers to each other. The journey has been of growth, understanding, adjusting, and adapting. Today we stand at a place where our paths separate. Aishwaryaa and I have decided to part ways as a couple and take time to understand us as individuals for the better. Please do Respect our decision and give us the needed privacy to deal with this. Om Namashivaaya! Spread love, D," he tweeted. Sharing the same note on Instagram, Aishwaryaa wrote, "No caption needed… only your understanding n your love necessary!" Also Read – Dhanush and Aishwaryaa Rajinikanth all set to reunite after quitting divorce plans? Actor's father breaks silence
????? pic.twitter.com/hAPu2aPp4n
— Dhanush (@dhanushkraja) January 17, 2022
Aishwaryaa Rajinikanth Lal Salaam
On the work front, Aishwaryaa Rajinikanth is working on her upcoming directorial, Lal Salaam, starring his father-actor Rajinikanth. Earlier, on May 8, she released the first look poster of Rajinikanth in Lal Salaam on her social media handles. It captured the megastar in motion, walking with grace, donning a long, buttoned coat and sporting a red skullcap. He also wore a pair of black sunglasses. Further details about Lal Saalam are currently under wraps.
]]>
Stay tuned to BollywoodLife for the latest scoops and updates from Bollywood, Hollywood, South, TV and Web-Series. Click to join us on Facebook, Twitter, Youtube and Instagram. Also follow us on Facebook Messenger for latest updates.
adisplay:block;padding:0;color:var(–black);text-decoration:none.repeat-box figuredisplay:flex;justify-content:flex-start;flex-wrap:wrap;align-items:stretch;overflow:visible.two-cols-aside .aside .repeat-box figurealign-items:center.repeat-box .textwidth:100%;z-index:5;position:relative.repeat-box .photowidth:100px;position:relative;z-index:5.repeat-box .photo+.textwidth:calc(100% – 100px);padding-left:10px.repeat-box h2,.repeat-box h3,.repeat-box pcolor:var(–black);white-space:normal;overflow:hidden;text-overflow:ellipsis;-webkit-line-clamp:3;display:-webkit-box;-webkit-box-orient:vertical;padding:0;font-size:15px;line-height:1.5;font-weight:400.repeat-box h2font-size:20px.repeat-box h2+p,.repeat-box h3+pfont-size:14px.repeat-box .catfont-size:14px;line-height:16px;display:block;margin-bottom:5px;font-weight:700;color:var(–orange);text-transform:uppercase.repeat-box a:hover,.repeat-box a:hover h2,.repeat-box a:hover h3,.repeat-box a:hover pcolor:#f32c89.repeat-box .photo-icon,.repeat-box .video-iconposition:absolute;left:0;bottom:0;background:linear-gradient(to left,#a617be,#f32c89,#f32c89,#f32c89,#f32c89,#a617be);border-radius:0 5px 0 0.repeat-box .video-iconwidth:26px;height:26px;display:inline-block.repeat-box .photo-iconwidth:auto;min-width:26px;height:26px;line-height:16px;font-size:13px;color:var(–white);padding:5px 5px 0.lazy-image img.lazyopacity:0.lazy-image img:not(.initial)transition:opacity .5s ease-in,transform .5s ease-in,-webkit-transform .5s ease-in.lazy-image img.error,.lazy-image img.initial,.lazy-image img.loadedopacity:1.lazy-image img:not([src])visibility:hidden.cre-setionclear:both;overflow:hidden;float:none;width:auto;margin:5px 0 20px.cre-setion .black-boxespadding:15px 40px;background:#e5e5e5.cre-carousel-heightposition:relative;padding:0 0 255px;height:0.cre-carousel-height .all-dataposition:absolute;top:0;left:0;width:100%!important;height:100%!important.cre-setion .border-headingfont-size:16px;color:#1f1f1f;text-transform:uppercase;font-weight:700;padding:0 0 10px;margin:20px 0 10px;clear:both;position:relative;border-bottom:0;display:flex;justify-content:space-between;align-items:center.cre-setion .border-heading:beforetop:5px;height:14px.cre-setion .splide__slideheight:auto!important;margin-left:0.cre-setion article.repeat-boxdisplay:block;background-color:transparent;border-radius:5px;box-shadow:none;overflow:hidden;padding:0;margin-bottom:3px.cre-setion article.repeat-box>adisplay:block;padding:10px;background-color:var(–white);border-radius:5px;color:var(–black);text-decoration:none;overflow:hidden;border:1px solid #d0d0d0.cre-setion article.repeat-box>a>figuredisplay:block.cre-setion article.repeat-box .photo,.cre-setion article.repeat-box .textwidth:100%.cre-setion article.repeat-box .photoborder-radius:5px;overflow:hidden.cre-setion article.repeat-box .lazy-imagebox-shadow:none;border-radius:0;overflow:hidden.cre-setion article.repeat-box .textpadding:5px 0 0;height:90px;.cre-setion article.repeat-box .text h3font-size:14px;line-height:1.5;-webkit-line-clamp:4;font-weight:600;text-align:left.cre-setion .repeat-box .photos-iconborder-radius:0 5px 0 0;width:auto;min-width:26px;height:26px;left:0;bottom:0;display:flex;justify-content:center;align-items:center.cre-setion .photos-icon svgtransition:1s;fill:var(–white);width:26px;height:26px.cre-setion .photos-icon:hoverbackground:var(–blue).cre-setion .splide__arrowtop:50%!important;width:1.8em;height:1.8em;border-radius:100px;border:1px solid #999;background:0 0;opacity:1.cre-setion .splide__arrow–prevleft:-37px.cre-setion .splide__arrow–nextright:-37px.cre-setion .splide__arrow:disabledopacity:.3;cursor:not-allowed!important.cre-setion .splide__arrow:beforeborder:solid #999;border-width:0 2px 2px 0.cre-setion .splide__arrow:hoverbackground:linear-gradient(to left,#a617be,#f32c89,#f32c89,#f32c89,#f32c89,#a617be).cre-setion .splide__arrow:hover::beforeborder:solid var(–white);border-width:0 2px 2px 0]]]]>]]>