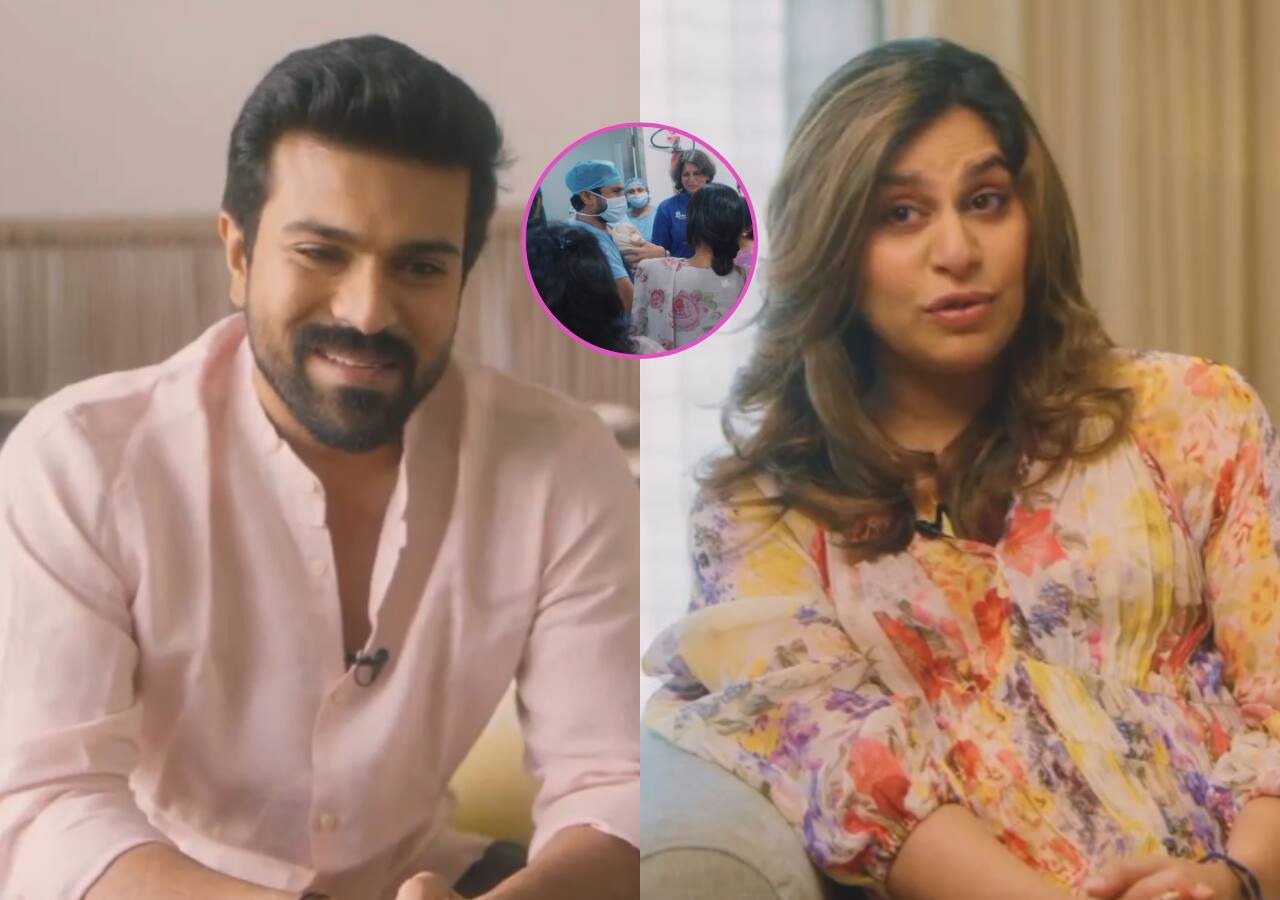 Upasana Kamineni Konidela celebrates her birthday today. Ram Charan has shared a special video which is a vlog kinda video documenting the joyous arrival of their newborn daughter, Klin Kaara Konidela. Ram Charan and Upasana Kamineni Konidela welcomed the Mega Princess on 20th June this year. And to wish Upasana on her birthday, Ram Charan shared the video which interestingly coincides with Klin Kaara's one-month of birth. The video is so adorable that it will leave you emotional and gushing. Also Read – Ram Charan's wide smile, Upasana Kamineni's happiness while going in for delivery of Mega Princess are UNMISSABLE [Watch Video]
Ram Charan shares Klin Kaara's arrival video on Upasana's birthday
The video that Ram Charan shared on his Instagram handle also features the parents of them both, Chiranjeevi and his wife Surekha Konidela, and Upasana's parents, Shobana Kamineni and Anil Kamineni. It's a surreal moment that has been captured really well by Joseph Pratanik. In the video, we see, how excited the whole family is to welcome Klin Kaara Konidela into their lives. It encompasses Kin Kaara's birth and the celebrations from family and fans that followed. Also Read – Ram Charan Teja's wife Upasana spills the beans on the star!
Ram Charan turns emotional on Klin Kaara's birth
Ram Charan couldn't contain his emotions. He recalled his emotions leading to her birth, "I guess everything finds its own place in time and this baby found its time then. And it happened." Ram Charan and Upasana welcomed their first child after 11 years of togetherness. The Game Changer actor recalls feeling very tense. He recalls everything had to be done properly. But when the baby came out he was relieved." Also Read – Ram Charan Teja gets engaged to Upasana Kamineni
Watch the video of Ram Charan, Upasana here:
Chiranjeevi gushed that he couldn't wait to hold the little star in his arms. The grandfather was very excited and was seen distributing sweets to everyone and hugging everyone as soon as the baby arrived. In the video we see Ram Charan holding the baby girl in his arms for the first time. The actor hugged Klin Kaara Konidela in the sweetest possible way.
For the unversed, Ram Charan and Upasana drew inspiration from the Chenchu Tribes, a Dravidian community residing in the Indian states of Andhra Pradesh, Telangana, Karnataka, and Odisha. Upasana Kamineni Konidela in the video said that he wants her child to become a part of the community. She does not want the child to have pressure and wants only to work hard. Ram Charan and Upasana Kamineni Konidela thanked the fans for all the love and support they have received till now.
]]>
Stay tuned to BollywoodLife for the latest scoops and updates from Bollywood, Hollywood, South, TV and Web-Series. Click to join us on Facebook, Twitter, Youtube and Instagram. Also follow us on Facebook Messenger for latest updates.
adisplay:block;padding:0;color:var(–black);text-decoration:none.repeat-box figuredisplay:flex;justify-content:flex-start;flex-wrap:wrap;align-items:stretch;overflow:visible.two-cols-aside .aside .repeat-box figurealign-items:center.repeat-box .textwidth:100%;z-index:5;position:relative.repeat-box .photowidth:100px;position:relative;z-index:5.repeat-box .photo+.textwidth:calc(100% – 100px);padding-left:10px.repeat-box h2,.repeat-box h3,.repeat-box pcolor:var(–black);white-space:normal;overflow:hidden;text-overflow:ellipsis;-webkit-line-clamp:3;display:-webkit-box;-webkit-box-orient:vertical;padding:0;font-size:15px;line-height:1.5;font-weight:400.repeat-box h2font-size:20px.repeat-box h2+p,.repeat-box h3+pfont-size:14px.repeat-box .catfont-size:14px;line-height:16px;display:block;margin-bottom:5px;font-weight:700;color:var(–orange);text-transform:uppercase.repeat-box a:hover,.repeat-box a:hover h2,.repeat-box a:hover h3,.repeat-box a:hover pcolor:#f32c89.repeat-box .photo-icon,.repeat-box .video-iconposition:absolute;left:0;bottom:0;background:linear-gradient(to left,#a617be,#f32c89,#f32c89,#f32c89,#f32c89,#a617be);border-radius:0 5px 0 0.repeat-box .video-iconwidth:26px;height:26px;display:inline-block.repeat-box .photo-iconwidth:auto;min-width:26px;height:26px;line-height:16px;font-size:13px;color:var(–white);padding:5px 5px 0.lazy-image img.lazyopacity:0.lazy-image img:not(.initial)transition:opacity .5s ease-in,transform .5s ease-in,-webkit-transform .5s ease-in.lazy-image img.error,.lazy-image img.initial,.lazy-image img.loadedopacity:1.lazy-image img:not([src])visibility:hidden.cre-setionclear:both;overflow:hidden;float:none;width:auto;margin:5px 0 20px.cre-setion .black-boxespadding:15px 40px;background:#e5e5e5.cre-carousel-heightposition:relative;padding:0 0 255px;height:0.cre-carousel-height .all-dataposition:absolute;top:0;left:0;width:100%!important;height:100%!important.cre-setion .border-headingfont-size:16px;color:#1f1f1f;text-transform:uppercase;font-weight:700;padding:0 0 10px;margin:20px 0 10px;clear:both;position:relative;border-bottom:0;display:flex;justify-content:space-between;align-items:center.cre-setion .border-heading:beforetop:5px;height:14px.cre-setion .splide__slideheight:auto!important;margin-left:0.cre-setion article.repeat-boxdisplay:block;background-color:transparent;border-radius:5px;box-shadow:none;overflow:hidden;padding:0;margin-bottom:3px.cre-setion article.repeat-box>adisplay:block;padding:10px;background-color:var(–white);border-radius:5px;color:var(–black);text-decoration:none;overflow:hidden;border:1px solid #d0d0d0.cre-setion article.repeat-box>a>figuredisplay:block.cre-setion article.repeat-box .photo,.cre-setion article.repeat-box .textwidth:100%.cre-setion article.repeat-box .photoborder-radius:5px;overflow:hidden.cre-setion article.repeat-box .lazy-imagebox-shadow:none;border-radius:0;overflow:hidden.cre-setion article.repeat-box .textpadding:5px 0 0;height:90px;.cre-setion article.repeat-box .text h3font-size:14px;line-height:1.5;-webkit-line-clamp:4;font-weight:600;text-align:left.cre-setion .repeat-box .photos-iconborder-radius:0 5px 0 0;width:auto;min-width:26px;height:26px;left:0;bottom:0;display:flex;justify-content:center;align-items:center.cre-setion .photos-icon svgtransition:1s;fill:var(–white);width:26px;height:26px.cre-setion .photos-icon:hoverbackground:var(–blue).cre-setion .splide__arrowtop:50%!important;width:1.8em;height:1.8em;border-radius:100px;border:1px solid #999;background:0 0;opacity:1.cre-setion .splide__arrow–prevleft:-37px.cre-setion .splide__arrow–nextright:-37px.cre-setion .splide__arrow:disabledopacity:.3;cursor:not-allowed!important.cre-setion .splide__arrow:beforeborder:solid #999;border-width:0 2px 2px 0.cre-setion .splide__arrow:hoverbackground:linear-gradient(to left,#a617be,#f32c89,#f32c89,#f32c89,#f32c89,#a617be).cre-setion .splide__arrow:hover::beforeborder:solid var(–white);border-width:0 2px 2px 0]]]]>]]>