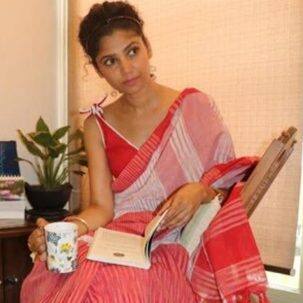 TV actress Ratan Raajputh is popular for her performances in hit TV shows like Agle Janam Mohe Bitiya Hi Kijo and Radhaa Ki Betiyaan Kuch Kar Dikhayengi. The actress also had a stint in Salman Khan's reality show Bigg Boss 7. Recently, the TV star shed light on her decision to decline multiple offers from the South Indian film industry. She shared her unsettling experiences with the directors and how casting couch isn't restricted to Bollywood. Also Read – Ratan Raajputh recalls facing casting couch, 'Something was mixed in the cold drink'
Ratan Raajputh recalls unpleasant offers
Ratan Raajputh told Pinkvilla, "I used to get a lot of calls from the South film industry and very good directors called. They told me to gain weight because I was thin." The requests for physical transformation were not the only issue. There were other concerning aspects that raised red flags for Ratan Raajputh. Also Read – Ratan Rajput reveals how casting couch experience left her traumatized for a month; says '60-year-old man said he would sleep…'
"They asked me if I knew the norms of the South industry. When I asked which norms, they told me the same norms which everyone knows about," she added. The norms, according to Ratan Raajputh, involved compromising situations that many actors have faced in the past. Also Read – Coronavirus pandemic: Agle Janam Mohe Bitiya Hi Kijo actress Ratan Raajputh locks herself in a village far from home
"They said 'Director, producer, lead actor, and maybe DOP.' So I asked what about them," the actress recalled following which it was communicated how "compromise" (casting couch) is considered common in the South film industry.
Ratan Raajputh said No to films
Firm in her principles, Ratan Raajputh asserted, "I told them 'No, I am not interested.'" She expressed her disbelief at the notion that such practices were limited to the Bollywood industry alone. "So as we say this all happens in Bollywood only, then no, it happens in the South film industry also," she added.
While the actress acknowledged the South Indian film industry's commendable work and its respect for Indian culture, traditions, and religious practices, she also highlighted the presence of casting couch.
She said, "I haven't received a single call from the South industry where I have not been told to 'compromise'."
Fans have lauded Ratan Raajputh for her courage in sharing her stance, serving as an inspiration for aspiring artists, who may face similar challenges.
]]>
Stay tuned to BollywoodLife for the latest scoops and updates from Bollywood, Hollywood, South, TV and Web-Series. Click to join us on Facebook, Twitter, Youtube and Instagram. Also follow us on Facebook Messenger for latest updates.
adisplay:block;padding:0;color:var(–black);text-decoration:none.repeat-box figuredisplay:flex;justify-content:flex-start;flex-wrap:wrap;align-items:stretch;overflow:visible.two-cols-aside .aside .repeat-box figurealign-items:center.repeat-box .textwidth:100%;z-index:5;position:relative.repeat-box .photowidth:100px;position:relative;z-index:5.repeat-box .photo+.textwidth:calc(100% – 100px);padding-left:10px.repeat-box h2,.repeat-box h3,.repeat-box pcolor:var(–black);white-space:normal;overflow:hidden;text-overflow:ellipsis;-webkit-line-clamp:3;display:-webkit-box;-webkit-box-orient:vertical;padding:0;font-size:15px;line-height:1.5;font-weight:400.repeat-box h2font-size:20px.repeat-box h2+p,.repeat-box h3+pfont-size:14px.repeat-box .catfont-size:14px;line-height:16px;display:block;margin-bottom:5px;font-weight:700;color:var(–orange);text-transform:uppercase.repeat-box a:hover,.repeat-box a:hover h2,.repeat-box a:hover h3,.repeat-box a:hover pcolor:#f32c89.repeat-box .photo-icon,.repeat-box .video-iconposition:absolute;left:0;bottom:0;background:linear-gradient(to left,#a617be,#f32c89,#f32c89,#f32c89,#f32c89,#a617be);border-radius:0 5px 0 0.repeat-box .video-iconwidth:26px;height:26px;display:inline-block.repeat-box .photo-iconwidth:auto;min-width:26px;height:26px;line-height:16px;font-size:13px;color:var(–white);padding:5px 5px 0.lazy-image img.lazyopacity:0.lazy-image img:not(.initial)transition:opacity .5s ease-in,transform .5s ease-in,-webkit-transform .5s ease-in.lazy-image img.error,.lazy-image img.initial,.lazy-image img.loadedopacity:1.lazy-image img:not([src])visibility:hidden.cre-setionclear:both;overflow:hidden;float:none;width:auto;margin:5px 0 20px.cre-setion .black-boxespadding:15px 40px;background:#e5e5e5.cre-carousel-heightposition:relative;padding:0 0 255px;height:0.cre-carousel-height .all-dataposition:absolute;top:0;left:0;width:100%!important;height:100%!important.cre-setion .border-headingfont-size:16px;color:#1f1f1f;text-transform:uppercase;font-weight:700;padding:0 0 10px;margin:20px 0 10px;clear:both;position:relative;border-bottom:0;display:flex;justify-content:space-between;align-items:center.cre-setion .border-heading:beforetop:5px;height:14px.cre-setion .splide__slideheight:auto!important;margin-left:0.cre-setion article.repeat-boxdisplay:block;background-color:transparent;border-radius:5px;box-shadow:none;overflow:hidden;padding:0;margin-bottom:3px.cre-setion article.repeat-box>adisplay:block;padding:10px;background-color:var(–white);border-radius:5px;color:var(–black);text-decoration:none;overflow:hidden;border:1px solid #d0d0d0.cre-setion article.repeat-box>a>figuredisplay:block.cre-setion article.repeat-box .photo,.cre-setion article.repeat-box .textwidth:100%.cre-setion article.repeat-box .photoborder-radius:5px;overflow:hidden.cre-setion article.repeat-box .lazy-imagebox-shadow:none;border-radius:0;overflow:hidden.cre-setion article.repeat-box .textpadding:5px 0 0;height:90px;.cre-setion article.repeat-box .text h3font-size:14px;line-height:1.5;-webkit-line-clamp:4;font-weight:600;text-align:left.cre-setion .repeat-box .photos-iconborder-radius:0 5px 0 0;width:auto;min-width:26px;height:26px;left:0;bottom:0;display:flex;justify-content:center;align-items:center.cre-setion .photos-icon svgtransition:1s;fill:var(–white);width:26px;height:26px.cre-setion .photos-icon:hoverbackground:var(–blue).cre-setion .splide__arrowtop:50%!important;width:1.8em;height:1.8em;border-radius:100px;border:1px solid #999;background:0 0;opacity:1.cre-setion .splide__arrow–prevleft:-37px.cre-setion .splide__arrow–nextright:-37px.cre-setion .splide__arrow:disabledopacity:.3;cursor:not-allowed!important.cre-setion .splide__arrow:beforeborder:solid #999;border-width:0 2px 2px 0.cre-setion .splide__arrow:hoverbackground:linear-gradient(to left,#a617be,#f32c89,#f32c89,#f32c89,#f32c89,#a617be).cre-setion .splide__arrow:hover::beforeborder:solid var(–white);border-width:0 2px 2px 0]]]]>]]>