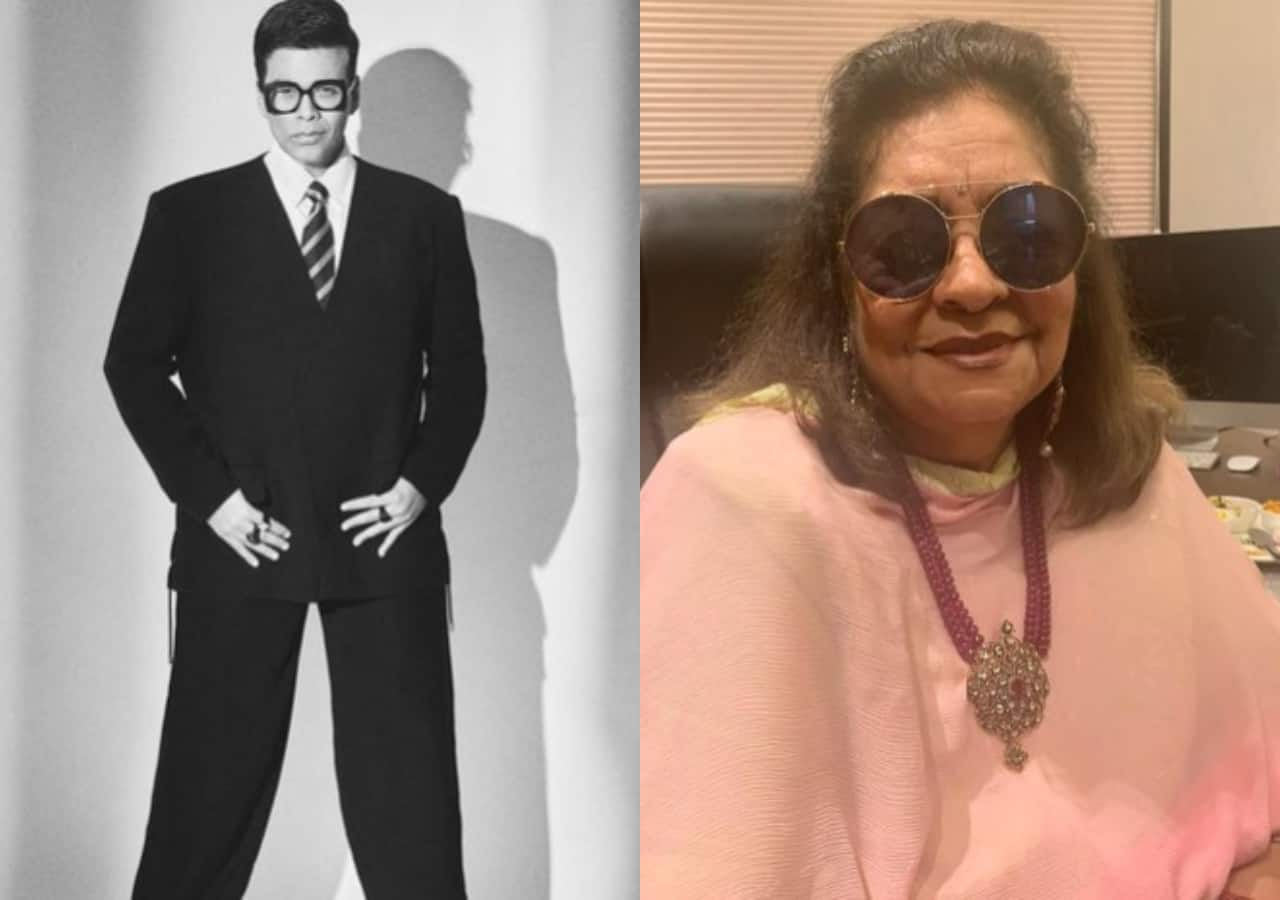 Rocky Aur Rani Kii Prem Kahaani filmmaker Karan Johar is celebrating the success of his family drama cum romance. The movie has crossed the Rs 100 crore mark at the box office. It is also trending well in the second week. Karan Johar has given some interviews. One of them is going viral. The filmmaker has spoken candidly on how the tag of movie mafia affected him. We know that he has been the subject of brutal trolling since 2020. It all began after Kangana Ranaut referred to him as movie mafia post the shocking demise of Sushant Singh Rajput in 2020. She said that the late actor was cornered in the industry by bigwigs, and named Karan Johar as someone who tried to sabotage the career of the Chhichhore actor. Also Read – Heart of Stone: Alia Bhatt shares her experience of doing her first action film while being pregnant
Karan Johar talks about impact on his mother
Karan Johar has spoken to Sucharita Tyagi on how being termed as a movie mafia had an impact on his mother. He said that his mom Hiroo Johar literally crumbled as she saw the media making a demon out of Karan Johar. He confessed that the hate-mongering had a bad effect on her physical and mental health. He said she would watch TV channels and read the vile stuff online. Karan Johar was quoted as saying, "She was watching TV anchors screaming and shouting and saying the most godawful things like me, demonising me for some reason." Also Read – Rocky Aur Rani Kii Prem Kahaani: Alia Bhatt's mehendi artist slams Karan Johar for saying the actress' wedding henna is same as in the film
Karan Johar said he felt naked after the onslaught
Karan Johar said that he felt naked after the extensive and intensive social media trolling. He did not take the name of any one though. But he said he had to be resilient for his own mother and himself. He was quoted as saying, "Abhi toh kapde utar di hai sabne. Abhi kya chupana? Kisske ladna? (I have nothing to hide anymore) Everyone anyway has kind of stormed into your life, made assumptions. They don't know the person I am." He said that people instantly made this assumption that he was this malicious bigwigs who controlled the casting of actors in the industry. He said that no one knows how every producer struggles to put together a cast for his or her film. Also Read – Ranveer Singh steps into Shah Rukh Khan's shoes for Don 3, here's why he is the perfect choice
Kangana Ranaut's jibe at Karan Johar after RARKPK
The actress took to her Insta stories and slammed Rocky Aur Rani Kii Prem Kahaani as a daily soap type of films. She told him to retire from the movie industry. She has posted, "Shame on you Karan Johar for making the same film nth time … calling yourself the flag bearer of Indian cinema and perpetually regressing it …. Don't waste funds it's not easy time for the Industry, retire now and let young filmmakers make new and revolutionary films."
Rocky Aur Rani Kii Prem Kahaani is a thundering success overseas. Fans have loved the senior cast of Jaya Bachchan, Dharmendra and Shabana Azmi. Other actors who got appreciated besides Ranveer Singh and Alia Bhatt are Tota Roy Chowdhury and Churni Ganguly.
]]>
Stay tuned to BollywoodLife for the latest scoops and updates from Bollywood, Hollywood, South, TV and Web-Series. Click to join us on Facebook, Twitter, Youtube and Instagram. Also follow us on Facebook Messenger for latest updates.
adisplay:block;padding:0;color:var(–black);text-decoration:none.repeat-box figuredisplay:flex;justify-content:flex-start;flex-wrap:wrap;align-items:stretch;overflow:visible.two-cols-aside .aside .repeat-box figurealign-items:center.repeat-box .textwidth:100%;z-index:5;position:relative.repeat-box .photowidth:100px;position:relative;z-index:5.repeat-box .photo+.textwidth:calc(100% – 100px);padding-left:10px.repeat-box h2,.repeat-box h3,.repeat-box pcolor:var(–black);white-space:normal;overflow:hidden;text-overflow:ellipsis;-webkit-line-clamp:3;display:-webkit-box;-webkit-box-orient:vertical;padding:0;font-size:15px;line-height:1.5;font-weight:400.repeat-box h2font-size:20px.repeat-box h2+p,.repeat-box h3+pfont-size:14px.repeat-box .catfont-size:14px;line-height:16px;display:block;margin-bottom:5px;font-weight:700;color:var(–orange);text-transform:uppercase.repeat-box a:hover,.repeat-box a:hover h2,.repeat-box a:hover h3,.repeat-box a:hover pcolor:#f32c89.repeat-box .photo-icon,.repeat-box .video-iconposition:absolute;left:0;bottom:0;background:linear-gradient(to left,#a617be,#f32c89,#f32c89,#f32c89,#f32c89,#a617be);border-radius:0 5px 0 0.repeat-box .video-iconwidth:26px;height:26px;display:inline-block.repeat-box .photo-iconwidth:auto;min-width:26px;height:26px;line-height:16px;font-size:13px;color:var(–white);padding:5px 5px 0.lazy-image img.lazyopacity:0.lazy-image img:not(.initial)transition:opacity .5s ease-in,transform .5s ease-in,-webkit-transform .5s ease-in.lazy-image img.error,.lazy-image img.initial,.lazy-image img.loadedopacity:1.lazy-image img:not([src])visibility:hidden.cre-setionclear:both;overflow:hidden;float:none;width:auto;margin:5px 0 20px.cre-setion .black-boxespadding:15px 40px;background:#e5e5e5.cre-carousel-heightposition:relative;padding:0 0 255px;height:0.cre-carousel-height .all-dataposition:absolute;top:0;left:0;width:100%!important;height:100%!important.cre-setion .border-headingfont-size:16px;color:#1f1f1f;text-transform:uppercase;font-weight:700;padding:0 0 10px;margin:20px 0 10px;clear:both;position:relative;border-bottom:0;display:flex;justify-content:space-between;align-items:center.cre-setion .border-heading:beforetop:5px;height:14px.cre-setion .splide__slideheight:auto!important;margin-left:0.cre-setion article.repeat-boxdisplay:block;background-color:transparent;border-radius:5px;box-shadow:none;overflow:hidden;padding:0;margin-bottom:3px.cre-setion article.repeat-box>adisplay:block;padding:10px;background-color:var(–white);border-radius:5px;color:var(–black);text-decoration:none;overflow:hidden;border:1px solid #d0d0d0.cre-setion article.repeat-box>a>figuredisplay:block.cre-setion article.repeat-box .photo,.cre-setion article.repeat-box .textwidth:100%.cre-setion article.repeat-box .photoborder-radius:5px;overflow:hidden.cre-setion article.repeat-box .lazy-imagebox-shadow:none;border-radius:0;overflow:hidden.cre-setion article.repeat-box .textpadding:5px 0 0;height:90px;.cre-setion article.repeat-box .text h3font-size:14px;line-height:1.5;-webkit-line-clamp:4;font-weight:600;text-align:left.cre-setion .repeat-box .photos-iconborder-radius:0 5px 0 0;width:auto;min-width:26px;height:26px;left:0;bottom:0;display:flex;justify-content:center;align-items:center.cre-setion .photos-icon svgtransition:1s;fill:var(–white);width:26px;height:26px.cre-setion .photos-icon:hoverbackground:var(–blue).cre-setion .splide__arrowtop:50%!important;width:1.8em;height:1.8em;border-radius:100px;border:1px solid #999;background:0 0;opacity:1.cre-setion .splide__arrow–prevleft:-37px.cre-setion .splide__arrow–nextright:-37px.cre-setion .splide__arrow:disabledopacity:.3;cursor:not-allowed!important.cre-setion .splide__arrow:beforeborder:solid #999;border-width:0 2px 2px 0.cre-setion .splide__arrow:hoverbackground:linear-gradient(to left,#a617be,#f32c89,#f32c89,#f32c89,#f32c89,#a617be).cre-setion .splide__arrow:hover::beforeborder:solid var(–white);border-width:0 2px 2px 0]]]]>]]>