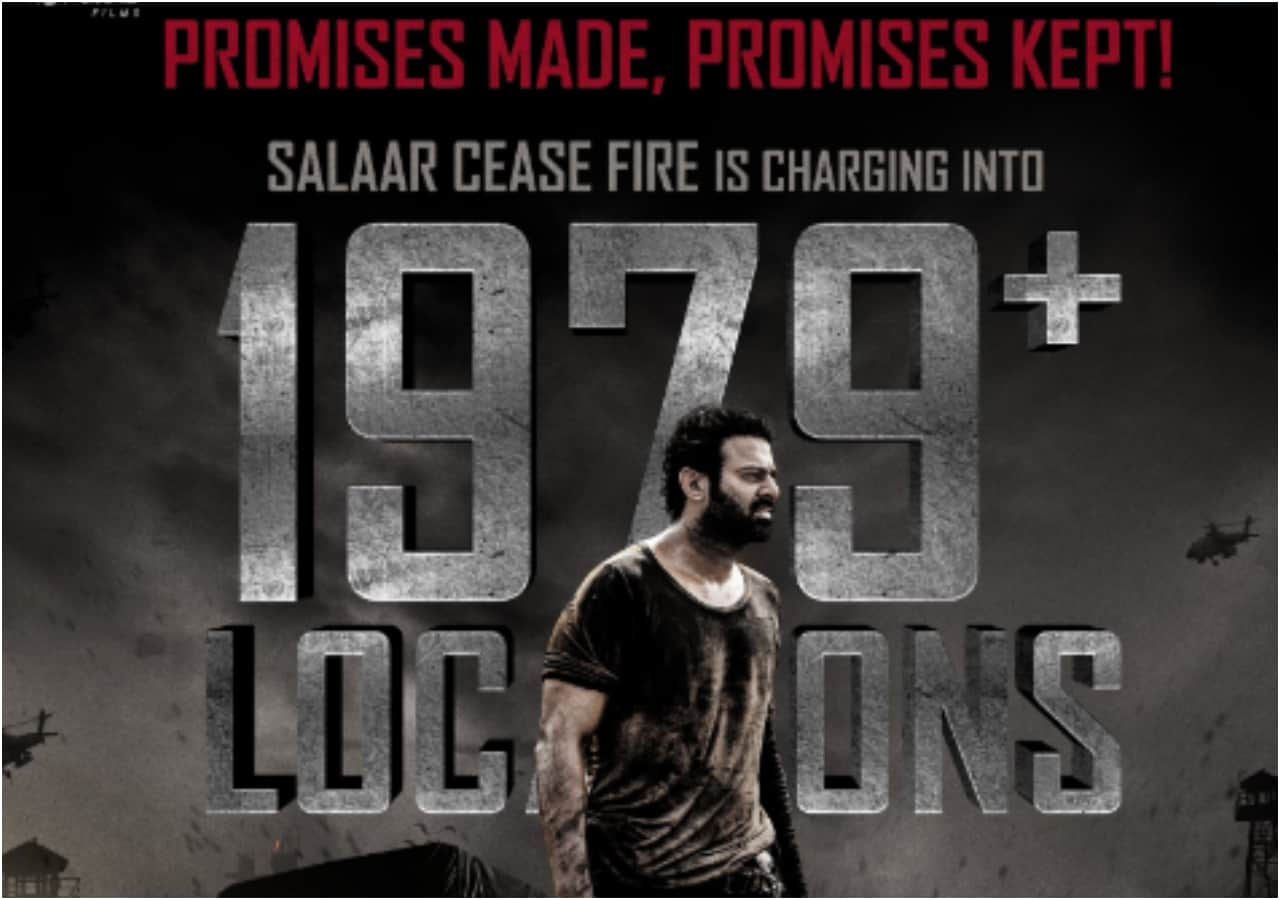 It is official. Hombale Films has confirmed that Prabhas' Salaar is going to release on December 22, 2023. Trade experts have said that the clash with Shah Rukh Khan's Dunki will do no good to both the films. Salaar and Dunki both have capacity to rake in a lot of moolah. But it seems like Hombale Films wants that date only. Salaar got postponed as Prashanth Neel was not happy with the VFX. He wanted more time in post production to deliver a film that would match his ideal of a technically fine film. Prashanth Neel also knows that fans of Prabhas have huge expectations from him. Also Read – Salaar Vs Dunki: Real reason behind Prabhas, Shah Rukh Khan film clash revealed and it's totally UNEXPECTED!
Shah Rukh Khan's Dunki to face immense competition in North America
Prabhas' Salaar is going to have a massive release in the US. The film will come in 1979 locations across North America. It is known that US is one of his strongest markets. They had done superb pre-sales for the film when the release was supposed to be on September 28, 2023. Even now they have the potential to give a huge fight to Dunki. Rajkumar Hirani's films are loved by the global audience. It seems YRF is involved in the distribution of Dunki in the overseas market. They did a fantastic job with Jawan. Also Read – Salaar star Prabhas following Shah Rukh Khan's footsteps after blindly trusting Om Raut with Adipurush?
Shah Rukh Khan and Prabhas fans online war
Majority of SRK fans are upset with this decision of Hombale Films. Dunki will release abroad on December 21, 2023. They are coming a day ahead, but even Salaar will release then. Dunki team had announced the release date a year ahead. Fans of both the superstars look determined to give them a hit. Also Read – Salaar Vs Dunki: Did makers of Prabhas' film follow this strategy to suddenly 'decide' on clash with Shah Rukh Khan?
Is PEN a good distributor for #Dunki ?
I think @RajkumarHirani should make sure Dunki captures all the premium multiplex and Single screens.#Prabhains ko retire karne ka samay aa gya hai ?
— Sahir (@_Sahir_555) September 29, 2023
YRF is distributing #Dunki in overseas on more than 4K+ screens. #ShahRukhKhanpic.twitter.com/LbYSXgQYYZ
— Shah Rukh Khan Fan Club – INDIA (@SRK_FC_INDIA) September 29, 2023
If anyone asks what is fear show them this. #srk fans started savings to buy more tickets to beat #salaar in #BoxOffice. Even if you sell your property to buy tickets, still you can't beat #prabhas in boxoffice. #dunkivssalaar #Prabhas? #PrashanthNeel #dunki . pic.twitter.com/0RQhG6jwRk
— Janivar Kala (@KalaJanivar) September 29, 2023
Prabhas really needs a hit after disasters like Radhe Shyam and Adipurush. On the other hand, Shah Rukh Khan has given two Rs 1000 crore films in 2023. Salaar also stars Shruti Haasan, Prithviraj Sukumaran, Easwari Rao and menacing villain Jagapathi Babu.
]]>
Stay tuned to BollywoodLife for the latest scoops and updates from Bollywood, Hollywood, South, TV and Web-Series. Click to join us on Facebook, Twitter, Youtube and Instagram. Also follow us on Facebook Messenger for latest updates.
adisplay:block;padding:0;color:var(–black);text-decoration:none.repeat-box figuredisplay:flex;justify-content:flex-start;flex-wrap:wrap;align-items:stretch;overflow:visible.two-cols-aside .aside .repeat-box figurealign-items:center.repeat-box .textwidth:100%;z-index:5;position:relative.repeat-box .photowidth:100px;position:relative;z-index:5.repeat-box .photo+.textwidth:calc(100% – 100px);padding-left:10px.repeat-box h2,.repeat-box h3,.repeat-box pcolor:var(–black);white-space:normal;overflow:hidden;text-overflow:ellipsis;-webkit-line-clamp:3;display:-webkit-box;-webkit-box-orient:vertical;padding:0;font-size:15px;line-height:1.5;font-weight:400.repeat-box h2font-size:20px.repeat-box h2+p,.repeat-box h3+pfont-size:14px.repeat-box .catfont-size:14px;line-height:16px;display:block;margin-bottom:5px;font-weight:700;color:var(–orange);text-transform:uppercase.repeat-box a:hover,.repeat-box a:hover h2,.repeat-box a:hover h3,.repeat-box a:hover pcolor:#f32c89.repeat-box .photo-icon,.repeat-box .video-iconposition:absolute;left:0;bottom:0;background:linear-gradient(to left,#a617be,#f32c89,#f32c89,#f32c89,#f32c89,#a617be);border-radius:0 5px 0 0.repeat-box .video-iconwidth:26px;height:26px;display:inline-block.repeat-box .photo-iconwidth:auto;min-width:26px;height:26px;line-height:16px;font-size:13px;color:var(–white);padding:5px 5px 0.lazy-image img.lazyopacity:0.lazy-image img:not(.initial)transition:opacity .5s ease-in,transform .5s ease-in,-webkit-transform .5s ease-in.lazy-image img.error,.lazy-image img.initial,.lazy-image img.loadedopacity:1.lazy-image img:not([src])visibility:hidden.cre-setionclear:both;overflow:hidden;float:none;width:auto;margin:5px 0 20px.cre-setion .black-boxespadding:15px 40px;background:#e5e5e5.cre-carousel-heightposition:relative;padding:0 0 255px;height:0.cre-carousel-height .all-dataposition:absolute;top:0;left:0;width:100%!important;height:100%!important.cre-setion .border-headingfont-size:16px;color:#1f1f1f;text-transform:uppercase;font-weight:700;padding:0 0 10px;margin:20px 0 10px;clear:both;position:relative;border-bottom:0;display:flex;justify-content:space-between;align-items:center.cre-setion .border-heading:beforetop:5px;height:14px.cre-setion .splide__slideheight:auto!important;margin-left:0.cre-setion article.repeat-boxdisplay:block;background-color:transparent;border-radius:5px;box-shadow:none;overflow:hidden;padding:0;margin-bottom:3px.cre-setion article.repeat-box>adisplay:block;padding:10px;background-color:var(–white);border-radius:5px;color:var(–black);text-decoration:none;overflow:hidden;border:1px solid #d0d0d0.cre-setion article.repeat-box>a>figuredisplay:block.cre-setion article.repeat-box .photo,.cre-setion article.repeat-box .textwidth:100%.cre-setion article.repeat-box .photoborder-radius:5px;overflow:hidden.cre-setion article.repeat-box .lazy-imagebox-shadow:none;border-radius:0;overflow:hidden.cre-setion article.repeat-box .textpadding:5px 0 0;height:90px;.cre-setion article.repeat-box .text h3font-size:14px;line-height:1.5;-webkit-line-clamp:4;font-weight:600;text-align:left.cre-setion .repeat-box .photos-iconborder-radius:0 5px 0 0;width:auto;min-width:26px;height:26px;left:0;bottom:0;display:flex;justify-content:center;align-items:center.cre-setion .photos-icon svgtransition:1s;fill:var(–white);width:26px;height:26px.cre-setion .photos-icon:hoverbackground:var(–blue).cre-setion .splide__arrowtop:50%!important;width:1.8em;height:1.8em;border-radius:100px;border:1px solid #999;background:0 0;opacity:1.cre-setion .splide__arrow–prevleft:-37px.cre-setion .splide__arrow–nextright:-37px.cre-setion .splide__arrow:disabledopacity:.3;cursor:not-allowed!important.cre-setion .splide__arrow:beforeborder:solid #999;border-width:0 2px 2px 0.cre-setion .splide__arrow:hoverbackground:linear-gradient(to left,#a617be,#f32c89,#f32c89,#f32c89,#f32c89,#a617be).cre-setion .splide__arrow:hover::beforeborder:solid var(–white);border-width:0 2px 2px 0]]]]>]]>