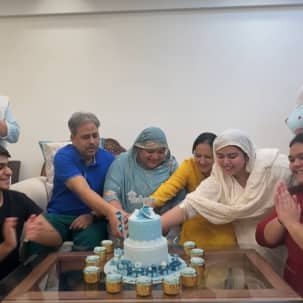 Television star couple Dipika Kakar and Shoaib Ibrahim have finally revealed the name of their first bundle of joy to the world and even shared what it means. Shoaib took to his official Youtube channel, where he shared a video titled: "Sharing Our Baby Boy's Name With You All." The couple revealed that they have named their son Ruhaan Shoaib Ibrahim, meaning kind-hearted and spiritual. Without sharing a glimpse of their baby, the video featured their friends and family members. Also Read – Dipika Kakar-Shoaib Ibrahim to follow the norm and NOT reveal baby's face soon? Here's what we know
Dipika Kakar and Shoaib Ibrahim announce their baby boy's name
The name of Dipika Kakar and Shoaib Ibrahim's baby boy was announced via bright lights given to each of the family members, who took turns and held the lit letters in front of them to reveal the name. Making the announcement, they all loudly said Ruhaan. Shoaib shared that Dipika liked the name Ruhaan and it was chosen by her. Also Read – Dipika Kakar, Shoaib Ibrahim take their newborn baby home; actress asks paparazzi to NOT make noise [View Pics]
Watch the video of Dipika Kakar and Shoaib Ibrahim revealing their baby's name here:

Shoaib and Dipika even thought about a name for a baby girl
Shoaib said that they chose the name within just months after Dipika conceived and that they had even thought of a name if they were to have a daughter, which they did not share on the vlog. Their baby was premature and was under care after his birth on June 21. Also Read – Dipika Kakar gives an update on her son's health; says 'We can see his face clearly now' as she raves about his bonding with Shoaib Ibrahim
Dipika Kakar has been sharing updates on her pregnancy on her news channel too. The actress has been talking about her pregnancy cravings and also shared a video in which she shared the experience of her delivery. Shoaib and Dipika's newborn was in NICU and recently returned to his home after being under observation for a couple of days. It was a momentous occasion for the whole family.
Dipika Kakar and Shoaib Ibrahim also addressed trolls in their vlogs. The actress broke down in front of the camera while talking about vile comments she got during her pregnancy. Netizens claimed that Dipika was faking her pregnancy and using a pillow and whatnot. It's sad to see people stoop down so low to see someone happy because it does not suit them or their taste. Dipika and Shoaib have been dealing with it very maturely. But now is the time to focus on the little one they've got home. Welcome to the world Ruhaan!
(With Inputs from IANS)
]]>
Stay tuned to BollywoodLife for the latest scoops and updates from Bollywood, Hollywood, South, TV and Web-Series. Click to join us on Facebook, Twitter, Youtube and Instagram. Also follow us on Facebook Messenger for latest updates.
adisplay:block;padding:0;color:var(–black);text-decoration:none.repeat-box figuredisplay:flex;justify-content:flex-start;flex-wrap:wrap;align-items:stretch;overflow:visible.two-cols-aside .aside .repeat-box figurealign-items:center.repeat-box .textwidth:100%;z-index:5;position:relative.repeat-box .photowidth:100px;position:relative;z-index:5.repeat-box .photo+.textwidth:calc(100% – 100px);padding-left:10px.repeat-box h2,.repeat-box h3,.repeat-box pcolor:var(–black);white-space:normal;overflow:hidden;text-overflow:ellipsis;-webkit-line-clamp:3;display:-webkit-box;-webkit-box-orient:vertical;padding:0;font-size:15px;line-height:1.5;font-weight:400.repeat-box h2font-size:20px.repeat-box h2+p,.repeat-box h3+pfont-size:14px.repeat-box .catfont-size:14px;line-height:16px;display:block;margin-bottom:5px;font-weight:700;color:var(–orange);text-transform:uppercase.repeat-box a:hover,.repeat-box a:hover h2,.repeat-box a:hover h3,.repeat-box a:hover pcolor:#f32c89.repeat-box .photo-icon,.repeat-box .video-iconposition:absolute;left:0;bottom:0;background:linear-gradient(to left,#a617be,#f32c89,#f32c89,#f32c89,#f32c89,#a617be);border-radius:0 5px 0 0.repeat-box .video-iconwidth:26px;height:26px;display:inline-block.repeat-box .photo-iconwidth:auto;min-width:26px;height:26px;line-height:16px;font-size:13px;color:var(–white);padding:5px 5px 0.lazy-image img.lazyopacity:0.lazy-image img:not(.initial)transition:opacity .5s ease-in,transform .5s ease-in,-webkit-transform .5s ease-in.lazy-image img.error,.lazy-image img.initial,.lazy-image img.loadedopacity:1.lazy-image img:not([src])visibility:hidden.cre-setionclear:both;overflow:hidden;float:none;width:auto;margin:5px 0 20px.cre-setion .black-boxespadding:15px 40px;background:#e5e5e5.cre-carousel-heightposition:relative;padding:0 0 255px;height:0.cre-carousel-height .all-dataposition:absolute;top:0;left:0;width:100%!important;height:100%!important.cre-setion .border-headingfont-size:16px;color:#1f1f1f;text-transform:uppercase;font-weight:700;padding:0 0 10px;margin:20px 0 10px;clear:both;position:relative;border-bottom:0;display:flex;justify-content:space-between;align-items:center.cre-setion .border-heading:beforetop:5px;height:14px.cre-setion .splide__slideheight:auto!important;margin-left:0.cre-setion article.repeat-boxdisplay:block;background-color:transparent;border-radius:5px;box-shadow:none;overflow:hidden;padding:0;margin-bottom:3px.cre-setion article.repeat-box>adisplay:block;padding:10px;background-color:var(–white);border-radius:5px;color:var(–black);text-decoration:none;overflow:hidden;border:1px solid #d0d0d0.cre-setion article.repeat-box>a>figuredisplay:block.cre-setion article.repeat-box .photo,.cre-setion article.repeat-box .textwidth:100%.cre-setion article.repeat-box .photoborder-radius:5px;overflow:hidden.cre-setion article.repeat-box .lazy-imagebox-shadow:none;border-radius:0;overflow:hidden.cre-setion article.repeat-box .textpadding:5px 0 0;height:90px;.cre-setion article.repeat-box .text h3font-size:14px;line-height:1.5;-webkit-line-clamp:4;font-weight:600;text-align:left.cre-setion .repeat-box .photos-iconborder-radius:0 5px 0 0;width:auto;min-width:26px;height:26px;left:0;bottom:0;display:flex;justify-content:center;align-items:center.cre-setion .photos-icon svgtransition:1s;fill:var(–white);width:26px;height:26px.cre-setion .photos-icon:hoverbackground:var(–blue).cre-setion .splide__arrowtop:50%!important;width:1.8em;height:1.8em;border-radius:100px;border:1px solid #999;background:0 0;opacity:1.cre-setion .splide__arrow–prevleft:-37px.cre-setion .splide__arrow–nextright:-37px.cre-setion .splide__arrow:disabledopacity:.3;cursor:not-allowed!important.cre-setion .splide__arrow:beforeborder:solid #999;border-width:0 2px 2px 0.cre-setion .splide__arrow:hoverbackground:linear-gradient(to left,#a617be,#f32c89,#f32c89,#f32c89,#f32c89,#a617be).cre-setion .splide__arrow:hover::beforeborder:solid var(–white);border-width:0 2px 2px 0]]]]>]]>