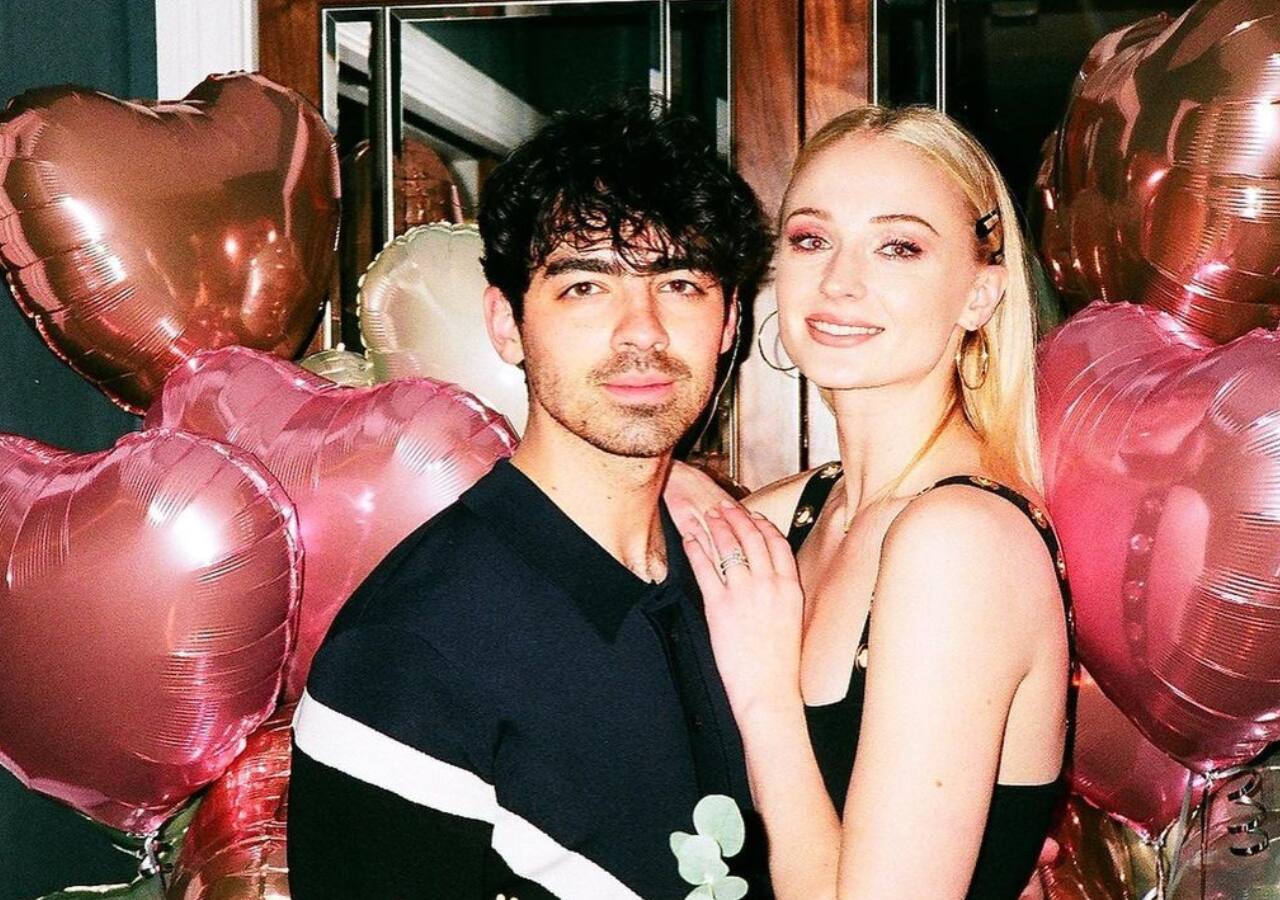 Joe Jonas and Sophie Turner are currently ruling the news. Reports suggest that the couple is headed for a divorce. As reported by TMZ, Joe Jonas and Sophie Turner's marriage has hit a rough patch and the couple is now planning to go their separate ways. As per a source of the publication, Joe Jonas has already consulted divorce lawyers in Los Angeles and is looking to end his relationship with Sophie Turner. The couple has been married for four years and have two daughters. Also Read – Trending Hollywood News Today: Leonardo DiCaprio follows Gigi Hadid to France, Harrison Ford joins Captain America 4 and more
Netizens in disbelief over Joe Jonas and Sophie Turner divorce rumours
As per the reports, the source states that Priyanka Chopra's brother-in-law Joe Jonas has been taking care of their two daughters most of the time during his trip to the US. It is being reported that the couple has had serious problems for the past six months and now their relationship has hit the rock bottom. The news has surprised many but it was also noted that Joe Jonas did not sport his wedding ring at recent public outings. Reports also stated that Joe Jonas and Sophie Turner have sold their Miami home. Though Sophie Turner and Joe Jonas have not publicly addressed these rumours as yet but the internet is having a major emotional meltdown. A lot of fans are reacting to the news and stating that it is unbelievable. Fans are calling it to be a shocking news. Fans are stating that they have lost their belief in love. It is more shocking because it was on August 15 that Sophie Turner shared a sweet picture with Joe Jonas. Also Read – Met Gala 2022: NCT's Johnny facing racist remarks, Cara Delevingne going topless, Rihanna's statue and more highlights of the grand event
Check out how netizens reacted to Joe Jonas and Sophie Turner's divorce rumours.
tf joe jonas and sophie turner getting divorced?? true love really doesn't exist anymore. only ryan and blake are my last hope now?
pic.twitter.com/1UZomPGBvS
— desiburgerbacha (@shortiekiddo28) September 3, 2023
the most shocking breakups of 2023
1. Taylor Swift and Joe Alwyn (=)2. Sophie Turner and Joe Jonas (new)3. Ariana Grande and Dalton Gomez (-1)
WTF is going on this year?
— ver?nica⸆⸉ ? (@VIsOnCorneliaSt) September 3, 2023
joe jonas? joe manganiello? joe alwyn? 2023 has really been the year of joevers pic.twitter.com/cFKRORdCBW
— Ron? (@midnightstrack2) September 3, 2023
not believing the joe jonas and sophie turner divorce rumors until one of them pulls up the notes app to tell us themselves
— kiara (@latinaladybird) September 3, 2023
Until the couple makes any official announcement, the rumours remain to be rumours. Sophie Turner is best known for playing Sansa Stark in Game of Thrones. Also Read – Trending celeb pics of the day: Sophie Turner flaunts baby bump at Met Gala, Mandira Bedi trolled for sharing pictures with a male friend and more
]]>
Stay tuned to BollywoodLife for the latest scoops and updates from Bollywood, Hollywood, South, TV and Web-Series. Click to join us on Facebook, Twitter, Youtube and Instagram. Also follow us on Facebook Messenger for latest updates.
adisplay:block;padding:0;color:var(–black);text-decoration:none.repeat-box figuredisplay:flex;justify-content:flex-start;flex-wrap:wrap;align-items:stretch;overflow:visible.two-cols-aside .aside .repeat-box figurealign-items:center.repeat-box .textwidth:100%;z-index:5;position:relative.repeat-box .photowidth:100px;position:relative;z-index:5.repeat-box .photo+.textwidth:calc(100% – 100px);padding-left:10px.repeat-box h2,.repeat-box h3,.repeat-box pcolor:var(–black);white-space:normal;overflow:hidden;text-overflow:ellipsis;-webkit-line-clamp:3;display:-webkit-box;-webkit-box-orient:vertical;padding:0;font-size:15px;line-height:1.5;font-weight:400.repeat-box h2font-size:20px.repeat-box h2+p,.repeat-box h3+pfont-size:14px.repeat-box .catfont-size:14px;line-height:16px;display:block;margin-bottom:5px;font-weight:700;color:var(–orange);text-transform:uppercase.repeat-box a:hover,.repeat-box a:hover h2,.repeat-box a:hover h3,.repeat-box a:hover pcolor:#f32c89.repeat-box .photo-icon,.repeat-box .video-iconposition:absolute;left:0;bottom:0;background:linear-gradient(to left,#a617be,#f32c89,#f32c89,#f32c89,#f32c89,#a617be);border-radius:0 5px 0 0.repeat-box .video-iconwidth:26px;height:26px;display:inline-block.repeat-box .photo-iconwidth:auto;min-width:26px;height:26px;line-height:16px;font-size:13px;color:var(–white);padding:5px 5px 0.lazy-image img.lazyopacity:0.lazy-image img:not(.initial)transition:opacity .5s ease-in,transform .5s ease-in,-webkit-transform .5s ease-in.lazy-image img.error,.lazy-image img.initial,.lazy-image img.loadedopacity:1.lazy-image img:not([src])visibility:hidden.cre-setionclear:both;overflow:hidden;float:none;width:auto;margin:5px 0 20px.cre-setion .black-boxespadding:15px 40px;background:#e5e5e5.cre-carousel-heightposition:relative;padding:0 0 255px;height:0.cre-carousel-height .all-dataposition:absolute;top:0;left:0;width:100%!important;height:100%!important.cre-setion .border-headingfont-size:16px;color:#1f1f1f;text-transform:uppercase;font-weight:700;padding:0 0 10px;margin:20px 0 10px;clear:both;position:relative;border-bottom:0;display:flex;justify-content:space-between;align-items:center.cre-setion .border-heading:beforetop:5px;height:14px.cre-setion .splide__slideheight:auto!important;margin-left:0.cre-setion article.repeat-boxdisplay:block;background-color:transparent;border-radius:5px;box-shadow:none;overflow:hidden;padding:0;margin-bottom:3px.cre-setion article.repeat-box>adisplay:block;padding:10px;background-color:var(–white);border-radius:5px;color:var(–black);text-decoration:none;overflow:hidden;border:1px solid #d0d0d0.cre-setion article.repeat-box>a>figuredisplay:block.cre-setion article.repeat-box .photo,.cre-setion article.repeat-box .textwidth:100%.cre-setion article.repeat-box .photoborder-radius:5px;overflow:hidden.cre-setion article.repeat-box .lazy-imagebox-shadow:none;border-radius:0;overflow:hidden.cre-setion article.repeat-box .textpadding:5px 0 0;height:90px;.cre-setion article.repeat-box .text h3font-size:14px;line-height:1.5;-webkit-line-clamp:4;font-weight:600;text-align:left.cre-setion .repeat-box .photos-iconborder-radius:0 5px 0 0;width:auto;min-width:26px;height:26px;left:0;bottom:0;display:flex;justify-content:center;align-items:center.cre-setion .photos-icon svgtransition:1s;fill:var(–white);width:26px;height:26px.cre-setion .photos-icon:hoverbackground:var(–blue).cre-setion .splide__arrowtop:50%!important;width:1.8em;height:1.8em;border-radius:100px;border:1px solid #999;background:0 0;opacity:1.cre-setion .splide__arrow–prevleft:-37px.cre-setion .splide__arrow–nextright:-37px.cre-setion .splide__arrow:disabledopacity:.3;cursor:not-allowed!important.cre-setion .splide__arrow:beforeborder:solid #999;border-width:0 2px 2px 0.cre-setion .splide__arrow:hoverbackground:linear-gradient(to left,#a617be,#f32c89,#f32c89,#f32c89,#f32c89,#a617be).cre-setion .splide__arrow:hover::beforeborder:solid var(–white);border-width:0 2px 2px 0]]]]>]]>