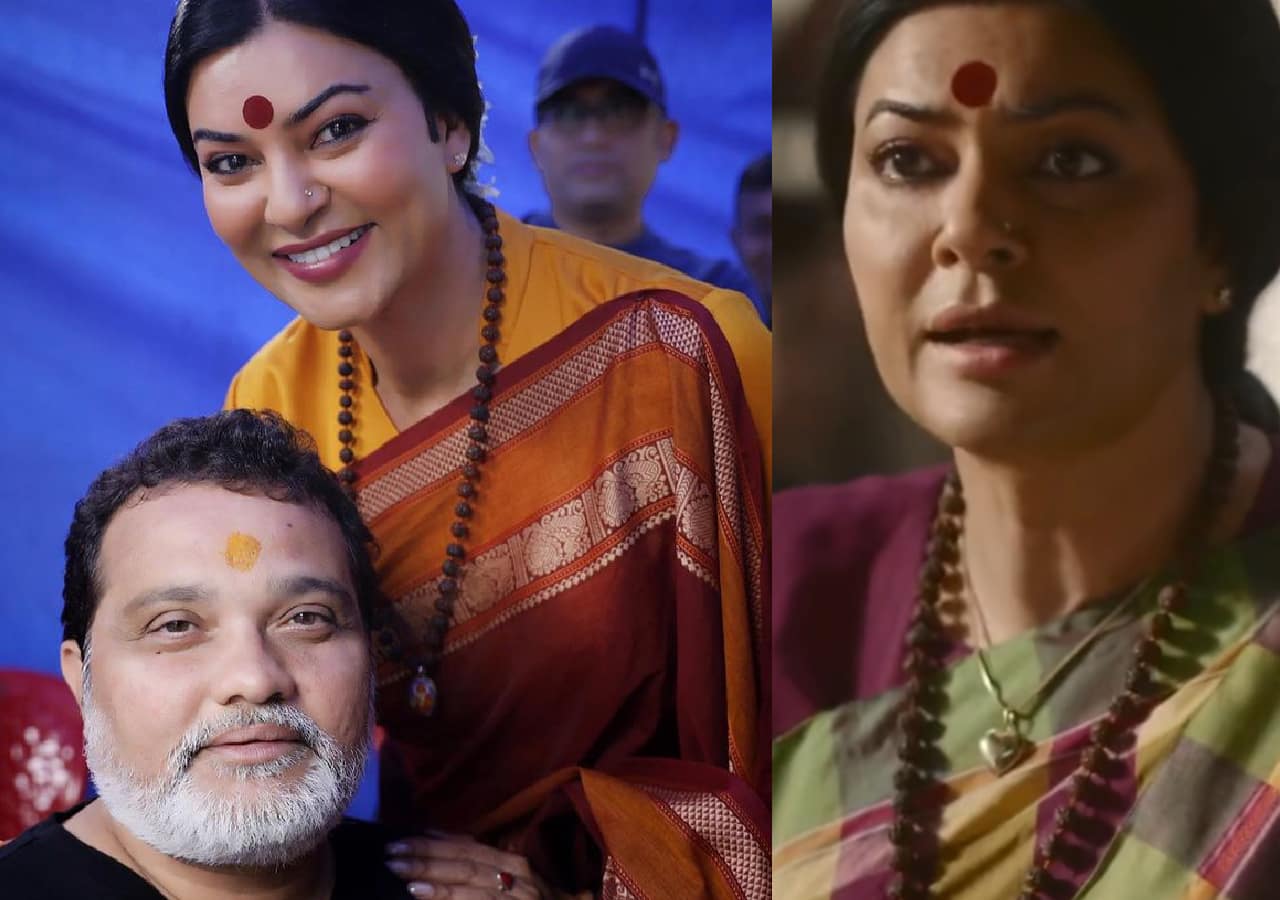 On August 15, 2023, Taali – a web series inspired by transgender activist ShreeGauri Sawant is going to release on Jio Cinema. ShreeGauri Sawant who runs an NGO is the first transgender person to file a petition in the Supreme Court to demand adoption rights of transgender people. Sushmita Sen plays the protagonist. The teaser of the show has left the audience mighty impressed. The series appears engaging and impactful with its every scene. Ahead of the release, we got in touch with the director of the show Ravi Jadhav who spoke at length about Sushmita Sen playing the lead role. Also Read – Taali: Makers of Sushmita Sen starrer web series reveal why they cast her and not a real transgender [Exclusive]
On response to Taali teaser
While talking about the thunderous response received by Taali teaser, Ravi Jadhav said, "I was not expecting so much love. One thing I know is that we have honestly worked on the subject. When we read about Gauri Sawant, read about her struggle, her fight, we knew since day one that we are going to surrender to the subject. In terms of writing, performance and everything. I feel that people have responded really well to this honesty. People are feeling that 'yeh apne ghar ki story hai' and I am very happy that people are accepting it." Also Read – Taali: Sushmita Sen starrer's creators reveal the number of transgenders they employed in the upcoming web series and it'll SHOCK you [Exclusive]
On Sushmita Sen's casting
Talking about Sushmita Sen's casting as Gauri Sawant, Ravi Jadhav mentioned that it had already happened when he came onboard the project. He said, "So when I joined this project, the first challenge was that how can I add more to it cinematically. The second challenge was that I had never worked with Sushmita Sen. I had heard that people in Bollywood come late and all. So I did not know how the experience would be. But when I met her for the first time, I got very positive vibes and I was sure that something good is going to happen." Also Read – Taali trailer: Sushmita Sen bowls you over as Shreegauri Sawant, fans say, 'give her Best Actress award already'
Ravi Jadhav was also asked why Sushmita Sen fit perfectly for the role, instead of a real trans actor, he said, "When I joined, Sushmita Sen's casting had already done. But after that for various roles, we did audition many transgenders. I can answer this in two ways. It was Gauri Sawant's wish that Sushmita plays her role. He always wanted to be a beautiful girl since childhood. So it was her wish that someone should be cast who is as beautiful as Sushmita Sen. Secondly, if you want a subject to reach the audience, you need somebody who can help you do that. That is very important. Sushmita Sen has the power to do so. She is vocal about various issues. In fact, it was very difficult for Sushmita Sen to play the role. Before this, if noticed, 99 percent of times, males are cast in transgender roles. It is rather challenging for Sushmita to accept it. And if you see the series, you would see so many real people, real transgenders playing various roles. We have all become friends now. I remember, there was a scene where they were not happy with Sushmita Sen and saying 'yeh Gauri Ma jaisi nahi lag rahi'. But when the scene started, they all became very happy saying that she is exactly like Gauri Ma. They also started going inputs. It was very interesting."
]]>
Stay tuned to BollywoodLife for the latest scoops and updates from Bollywood, Hollywood, South, TV and Web-Series. Click to join us on Facebook, Twitter, Youtube and Instagram. Also follow us on Facebook Messenger for latest updates.
adisplay:block;padding:0;color:var(–black);text-decoration:none.repeat-box figuredisplay:flex;justify-content:flex-start;flex-wrap:wrap;align-items:stretch;overflow:visible.two-cols-aside .aside .repeat-box figurealign-items:center.repeat-box .textwidth:100%;z-index:5;position:relative.repeat-box .photowidth:100px;position:relative;z-index:5.repeat-box .photo+.textwidth:calc(100% – 100px);padding-left:10px.repeat-box h2,.repeat-box h3,.repeat-box pcolor:var(–black);white-space:normal;overflow:hidden;text-overflow:ellipsis;-webkit-line-clamp:3;display:-webkit-box;-webkit-box-orient:vertical;padding:0;font-size:15px;line-height:1.5;font-weight:400.repeat-box h2font-size:20px.repeat-box h2+p,.repeat-box h3+pfont-size:14px.repeat-box .catfont-size:14px;line-height:16px;display:block;margin-bottom:5px;font-weight:700;color:var(–orange);text-transform:uppercase.repeat-box a:hover,.repeat-box a:hover h2,.repeat-box a:hover h3,.repeat-box a:hover pcolor:#f32c89.repeat-box .photo-icon,.repeat-box .video-iconposition:absolute;left:0;bottom:0;background:linear-gradient(to left,#a617be,#f32c89,#f32c89,#f32c89,#f32c89,#a617be);border-radius:0 5px 0 0.repeat-box .video-iconwidth:26px;height:26px;display:inline-block.repeat-box .photo-iconwidth:auto;min-width:26px;height:26px;line-height:16px;font-size:13px;color:var(–white);padding:5px 5px 0.lazy-image img.lazyopacity:0.lazy-image img:not(.initial)transition:opacity .5s ease-in,transform .5s ease-in,-webkit-transform .5s ease-in.lazy-image img.error,.lazy-image img.initial,.lazy-image img.loadedopacity:1.lazy-image img:not([src])visibility:hidden.cre-setionclear:both;overflow:hidden;float:none;width:auto;margin:5px 0 20px.cre-setion .black-boxespadding:15px 40px;background:#e5e5e5.cre-carousel-heightposition:relative;padding:0 0 255px;height:0.cre-carousel-height .all-dataposition:absolute;top:0;left:0;width:100%!important;height:100%!important.cre-setion .border-headingfont-size:16px;color:#1f1f1f;text-transform:uppercase;font-weight:700;padding:0 0 10px;margin:20px 0 10px;clear:both;position:relative;border-bottom:0;display:flex;justify-content:space-between;align-items:center.cre-setion .border-heading:beforetop:5px;height:14px.cre-setion .splide__slideheight:auto!important;margin-left:0.cre-setion article.repeat-boxdisplay:block;background-color:transparent;border-radius:5px;box-shadow:none;overflow:hidden;padding:0;margin-bottom:3px.cre-setion article.repeat-box>adisplay:block;padding:10px;background-color:var(–white);border-radius:5px;color:var(–black);text-decoration:none;overflow:hidden;border:1px solid #d0d0d0.cre-setion article.repeat-box>a>figuredisplay:block.cre-setion article.repeat-box .photo,.cre-setion article.repeat-box .textwidth:100%.cre-setion article.repeat-box .photoborder-radius:5px;overflow:hidden.cre-setion article.repeat-box .lazy-imagebox-shadow:none;border-radius:0;overflow:hidden.cre-setion article.repeat-box .textpadding:5px 0 0;height:90px;.cre-setion article.repeat-box .text h3font-size:14px;line-height:1.5;-webkit-line-clamp:4;font-weight:600;text-align:left.cre-setion .repeat-box .photos-iconborder-radius:0 5px 0 0;width:auto;min-width:26px;height:26px;left:0;bottom:0;display:flex;justify-content:center;align-items:center.cre-setion .photos-icon svgtransition:1s;fill:var(–white);width:26px;height:26px.cre-setion .photos-icon:hoverbackground:var(–blue).cre-setion .splide__arrowtop:50%!important;width:1.8em;height:1.8em;border-radius:100px;border:1px solid #999;background:0 0;opacity:1.cre-setion .splide__arrow–prevleft:-37px.cre-setion .splide__arrow–nextright:-37px.cre-setion .splide__arrow:disabledopacity:.3;cursor:not-allowed!important.cre-setion .splide__arrow:beforeborder:solid #999;border-width:0 2px 2px 0.cre-setion .splide__arrow:hoverbackground:linear-gradient(to left,#a617be,#f32c89,#f32c89,#f32c89,#f32c89,#a617be).cre-setion .splide__arrow:hover::beforeborder:solid var(–white);border-width:0 2px 2px 0]]]]>]]>