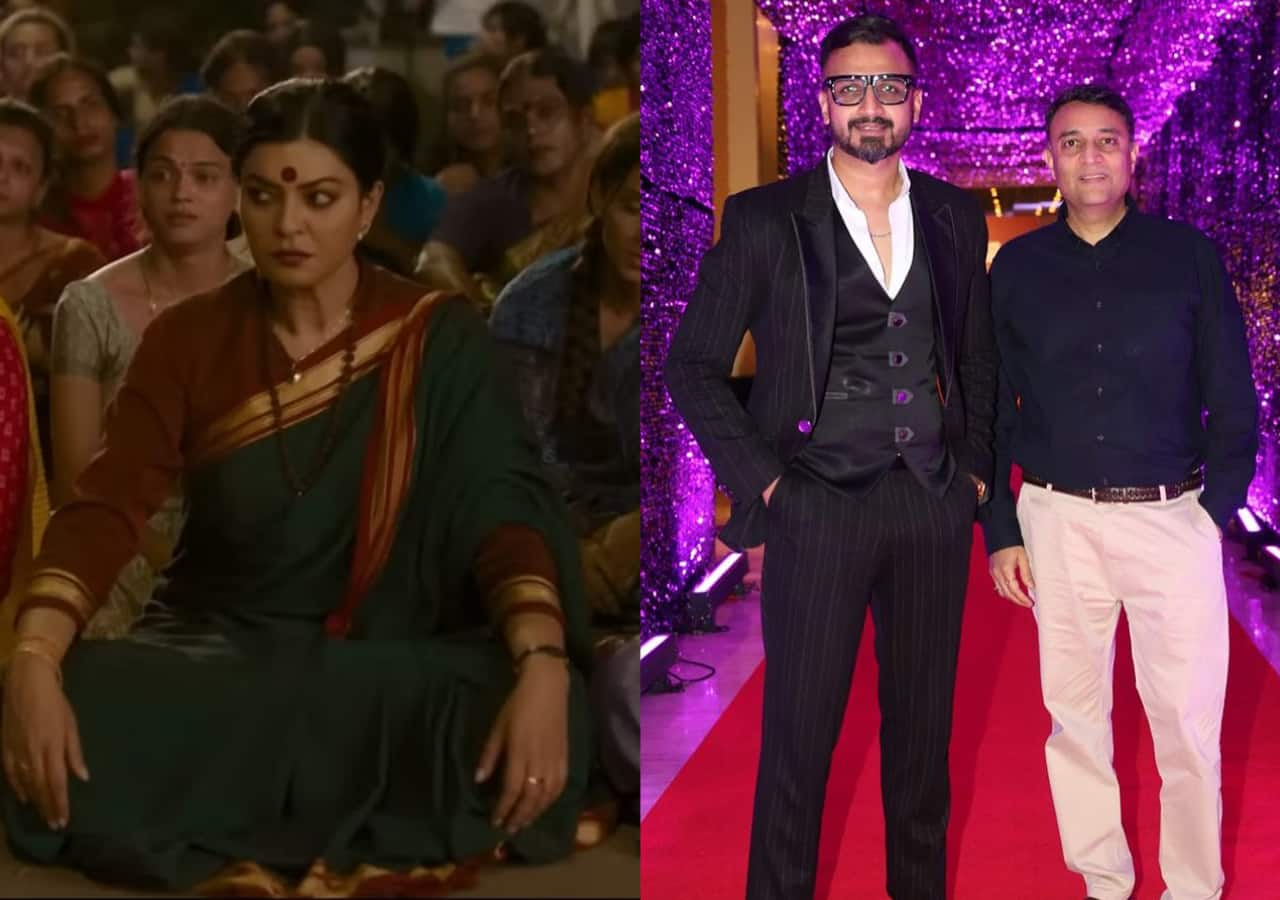 Taali is going to release on JioCinema in a couple of days. The web series stars Sushmita Sen in the lead role of Shreegauri Sawant. The web series is just a couple of days away from its release and hence, we got to chat with the makers of Taali, Arjun Singgh Baran and Kartk D Nishandar in which they revealed the real reason why they cast Sushmita Sen and not a real transgender in the upcoming new web series. And those questioning the decision of the makers will then understand what really goes behind the scenes. Also Read – Taali: Sushmita Sen starrer's creators reveal the number of transgenders they employed in the upcoming web series and it'll SHOCK you [Exclusive]
Taali creators Arjun and Kartk share why they cast Sushmita Sen in the titular role
While exclusively talking to BollywoodLife, the creators Arjun Singgh Baran and Kartk D Nishandar reveal, "When we were writing the story of Taali with our writer Kshitij Patwardhan. We had this prominent thought in our head that this is essentially a story of a mother." Shreegauri is the first transgender who adopted a child and it is the whole journey of Shreegauri that they are narrating shares Arjun. Taali will cover Shreegauri's journey from being a 12-year-old till she is 40. And in the middle of it all, she is also a mother. So, this role cannot be played by a male actor. Also Read – Sushmita Sen REACTS on being called a 'gold digger' over her alleged relationship with Lalit Modi; 'An insult is an insult…'
Arjun adds, "Wo jo emotional hai maa ka, jo pyaar hai, hav-bhaav hai jo ek aurat mein dikhayi deta hai, wo ek male actor mein nahi dikhega. Wo ekdum caricaturish ho jayega, which we have already seen in films and TV shows." He shares that Sushmita Sen was the only name on top when they were writing the story for the web series. They both have more similarities than one, Sushmita is beautiful and well-spoken and whenever she talks everyone stops to listen and the same is the case with Shreegauri Sawant. Arjun gushes about Shreegauri saying, "Make her sit anywhere in front of anyone, even in front of me, whenever she starts talking people listen." They were talking to about 3 to 4 people including Sushmita but the Aarya actress was the one to give a prompt response. Also Read – Taali: Sushmita Sen returned to dub soon after suffering a heart attack, reveal creators Arjun and Kartk [Exclusive]
Watch the video of fan reactions to Sushmita Sen starrer Taali trailer here:
Why cast Sushmita in the titular role of Shreegauri Sawant in Taali?
Kartk D Nishandar elaborates that it is the story of unsung heroes. And though Gauri is extremely well-spoken, they want to tell this story to the whole world. So bringing in someone like the Miss Universe playing the role of a transgender would enable them to reach far and wide. "It has to go across Bombay," he tells us. Taali has gotten a fabulous response and all episodes of the web series are dropping on JioCinema on 15th August.
]]>
Stay tuned to BollywoodLife for the latest scoops and updates from Bollywood, Hollywood, South, TV and Web-Series. Click to join us on Facebook, Twitter, Youtube and Instagram. Also follow us on Facebook Messenger for latest updates.
adisplay:block;padding:0;color:var(–black);text-decoration:none.repeat-box figuredisplay:flex;justify-content:flex-start;flex-wrap:wrap;align-items:stretch;overflow:visible.two-cols-aside .aside .repeat-box figurealign-items:center.repeat-box .textwidth:100%;z-index:5;position:relative.repeat-box .photowidth:100px;position:relative;z-index:5.repeat-box .photo+.textwidth:calc(100% – 100px);padding-left:10px.repeat-box h2,.repeat-box h3,.repeat-box pcolor:var(–black);white-space:normal;overflow:hidden;text-overflow:ellipsis;-webkit-line-clamp:3;display:-webkit-box;-webkit-box-orient:vertical;padding:0;font-size:15px;line-height:1.5;font-weight:400.repeat-box h2font-size:20px.repeat-box h2+p,.repeat-box h3+pfont-size:14px.repeat-box .catfont-size:14px;line-height:16px;display:block;margin-bottom:5px;font-weight:700;color:var(–orange);text-transform:uppercase.repeat-box a:hover,.repeat-box a:hover h2,.repeat-box a:hover h3,.repeat-box a:hover pcolor:#f32c89.repeat-box .photo-icon,.repeat-box .video-iconposition:absolute;left:0;bottom:0;background:linear-gradient(to left,#a617be,#f32c89,#f32c89,#f32c89,#f32c89,#a617be);border-radius:0 5px 0 0.repeat-box .video-iconwidth:26px;height:26px;display:inline-block.repeat-box .photo-iconwidth:auto;min-width:26px;height:26px;line-height:16px;font-size:13px;color:var(–white);padding:5px 5px 0.lazy-image img.lazyopacity:0.lazy-image img:not(.initial)transition:opacity .5s ease-in,transform .5s ease-in,-webkit-transform .5s ease-in.lazy-image img.error,.lazy-image img.initial,.lazy-image img.loadedopacity:1.lazy-image img:not([src])visibility:hidden.cre-setionclear:both;overflow:hidden;float:none;width:auto;margin:5px 0 20px.cre-setion .black-boxespadding:15px 40px;background:#e5e5e5.cre-carousel-heightposition:relative;padding:0 0 255px;height:0.cre-carousel-height .all-dataposition:absolute;top:0;left:0;width:100%!important;height:100%!important.cre-setion .border-headingfont-size:16px;color:#1f1f1f;text-transform:uppercase;font-weight:700;padding:0 0 10px;margin:20px 0 10px;clear:both;position:relative;border-bottom:0;display:flex;justify-content:space-between;align-items:center.cre-setion .border-heading:beforetop:5px;height:14px.cre-setion .splide__slideheight:auto!important;margin-left:0.cre-setion article.repeat-boxdisplay:block;background-color:transparent;border-radius:5px;box-shadow:none;overflow:hidden;padding:0;margin-bottom:3px.cre-setion article.repeat-box>adisplay:block;padding:10px;background-color:var(–white);border-radius:5px;color:var(–black);text-decoration:none;overflow:hidden;border:1px solid #d0d0d0.cre-setion article.repeat-box>a>figuredisplay:block.cre-setion article.repeat-box .photo,.cre-setion article.repeat-box .textwidth:100%.cre-setion article.repeat-box .photoborder-radius:5px;overflow:hidden.cre-setion article.repeat-box .lazy-imagebox-shadow:none;border-radius:0;overflow:hidden.cre-setion article.repeat-box .textpadding:5px 0 0;height:90px;.cre-setion article.repeat-box .text h3font-size:14px;line-height:1.5;-webkit-line-clamp:4;font-weight:600;text-align:left.cre-setion .repeat-box .photos-iconborder-radius:0 5px 0 0;width:auto;min-width:26px;height:26px;left:0;bottom:0;display:flex;justify-content:center;align-items:center.cre-setion .photos-icon svgtransition:1s;fill:var(–white);width:26px;height:26px.cre-setion .photos-icon:hoverbackground:var(–blue).cre-setion .splide__arrowtop:50%!important;width:1.8em;height:1.8em;border-radius:100px;border:1px solid #999;background:0 0;opacity:1.cre-setion .splide__arrow–prevleft:-37px.cre-setion .splide__arrow–nextright:-37px.cre-setion .splide__arrow:disabledopacity:.3;cursor:not-allowed!important.cre-setion .splide__arrow:beforeborder:solid #999;border-width:0 2px 2px 0.cre-setion .splide__arrow:hoverbackground:linear-gradient(to left,#a617be,#f32c89,#f32c89,#f32c89,#f32c89,#a617be).cre-setion .splide__arrow:hover::beforeborder:solid var(–white);border-width:0 2px 2px 0]]]]>]]>