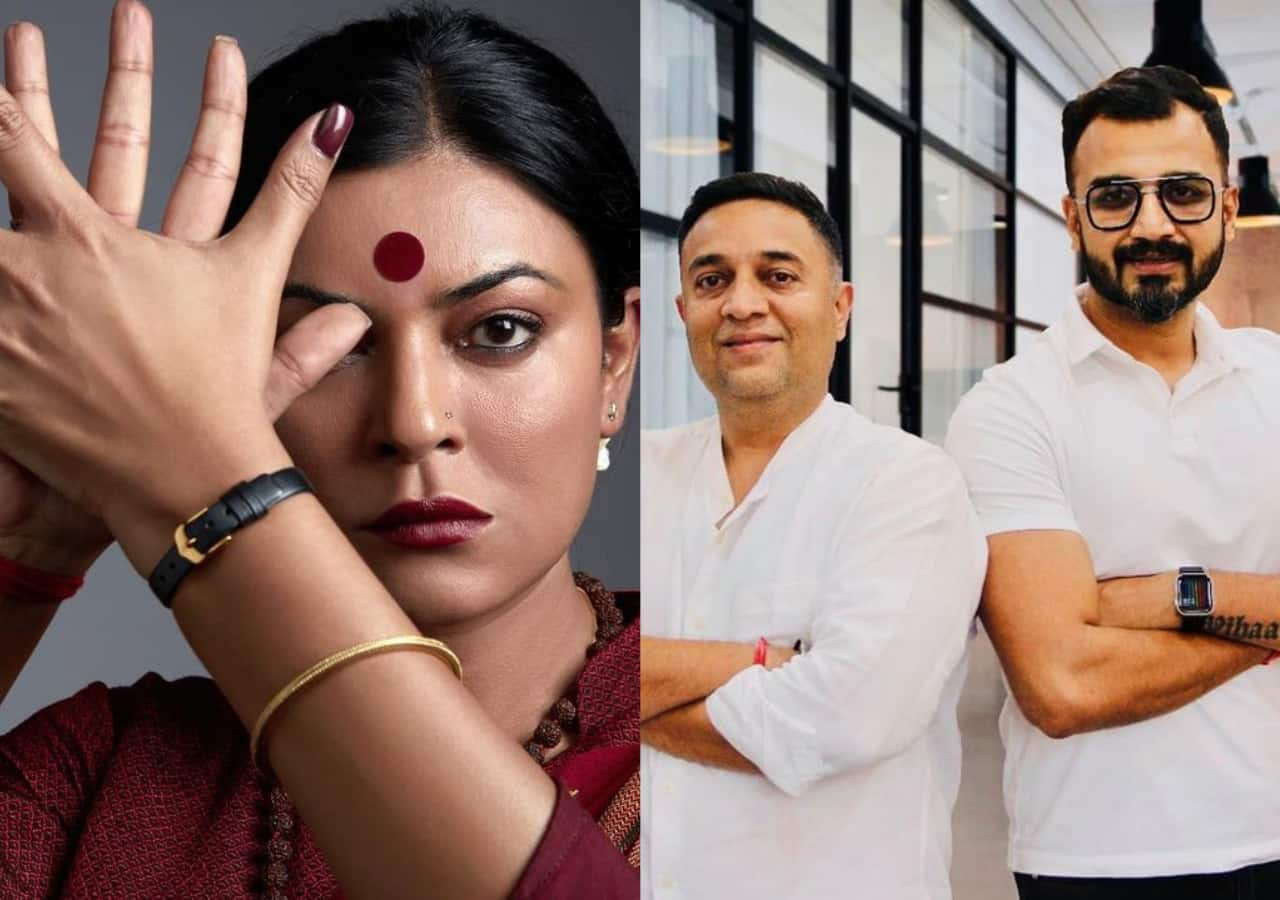 The teaser of Taali dropped a couple of days ago and Sushmita Sen has put up a great act as transgender activist Shreegauri Sawant. Taali is all about the fight for the recognition and rights of the third gender, Transgender and even more. Shreegauri Sawant had a key role in the same. Taali is her journey. BollywoodLife got a chance to talk to the creators of Taali, Arjun Singgh Baran and Kartk D Nishandar and we got an insight into the development of bringing this currently highly anticipated web series. They told us Sushmita Sen did the dubbing within days of suffering a heart attack. Also Read – Aarya 2 diva Sushmita Sen talks about life after heart attack
Sushmita Sen dubbed for Taali soon after her surgery, reveal creators Arjun and Kartk
Earlier this year, Sushmita Sen sent shockwaves in the industry and across the nation when she revealed she suffered a heart attack and had undergone surgery for the same. The news spread like wildfire and left many wondering about the fragility of life. We asked the makers of Taali, Arjun and Kartk whether there was filming left from Sushmita's side. They exclusively told us, that Sushmita Sen had completed the filming but dubbing remained. "Sushmita was shooting for Aarya 3 and she was supposed to begin dubbing for Taali." Arjun and Kartk told BollywoodLife. Also Read – Taali Teaser: Sushmita Sen wows everyone with her portrayal of transgender activist Shreegauri Sawant [Check Reactions]
They further revealed that after she got back from the surgery, they spoke to Sushmita. "Within 10 days, she was in the dubbing studio which was commendable of her. She told us 'I will come and do the dubbing'," they added. Well, that just proves how dedicated Sushmita Sen was toward Taali. The makers shared with us some more interesting updates from the behind-the-scenes shooting for Taali. Also Read – Aarya 2 star Sushmita Sen shares her latest health update
Watch the Taali teaser video here:
Taali teaser and response
Well, the response to the teaser a couple of days ago, has been commendable. Everyone is going gaga over how well Sushmita has slipped into the role of a transgender activist, Shreegauri Sawant. When the first look dropped, they were not sure about an actress essaying the role of a transgender. Many raised their voices on social media, but the makers and Sushmita shut them up with the Taali teaser.
Taali is produced by Arjun Singgh Baran, Kartk D Nishandarand Afeefa Nadiadwala. It is written by award-winning screenwriter Kshitij Patwardhan. The episodes are dropping on JioCinema on 15th August. And for more interesting updates on Taali, stay tuned to BollywoodLife.
]]>
Stay tuned to BollywoodLife for the latest scoops and updates from Bollywood, Hollywood, South, TV and Web-Series. Click to join us on Facebook, Twitter, Youtube and Instagram. Also follow us on Facebook Messenger for latest updates.
adisplay:block;padding:0;color:var(–black);text-decoration:none.repeat-box figuredisplay:flex;justify-content:flex-start;flex-wrap:wrap;align-items:stretch;overflow:visible.two-cols-aside .aside .repeat-box figurealign-items:center.repeat-box .textwidth:100%;z-index:5;position:relative.repeat-box .photowidth:100px;position:relative;z-index:5.repeat-box .photo+.textwidth:calc(100% – 100px);padding-left:10px.repeat-box h2,.repeat-box h3,.repeat-box pcolor:var(–black);white-space:normal;overflow:hidden;text-overflow:ellipsis;-webkit-line-clamp:3;display:-webkit-box;-webkit-box-orient:vertical;padding:0;font-size:15px;line-height:1.5;font-weight:400.repeat-box h2font-size:20px.repeat-box h2+p,.repeat-box h3+pfont-size:14px.repeat-box .catfont-size:14px;line-height:16px;display:block;margin-bottom:5px;font-weight:700;color:var(–orange);text-transform:uppercase.repeat-box a:hover,.repeat-box a:hover h2,.repeat-box a:hover h3,.repeat-box a:hover pcolor:#f32c89.repeat-box .photo-icon,.repeat-box .video-iconposition:absolute;left:0;bottom:0;background:linear-gradient(to left,#a617be,#f32c89,#f32c89,#f32c89,#f32c89,#a617be);border-radius:0 5px 0 0.repeat-box .video-iconwidth:26px;height:26px;display:inline-block.repeat-box .photo-iconwidth:auto;min-width:26px;height:26px;line-height:16px;font-size:13px;color:var(–white);padding:5px 5px 0.lazy-image img.lazyopacity:0.lazy-image img:not(.initial)transition:opacity .5s ease-in,transform .5s ease-in,-webkit-transform .5s ease-in.lazy-image img.error,.lazy-image img.initial,.lazy-image img.loadedopacity:1.lazy-image img:not([src])visibility:hidden.cre-setionclear:both;overflow:hidden;float:none;width:auto;margin:5px 0 20px.cre-setion .black-boxespadding:15px 40px;background:#e5e5e5.cre-carousel-heightposition:relative;padding:0 0 255px;height:0.cre-carousel-height .all-dataposition:absolute;top:0;left:0;width:100%!important;height:100%!important.cre-setion .border-headingfont-size:16px;color:#1f1f1f;text-transform:uppercase;font-weight:700;padding:0 0 10px;margin:20px 0 10px;clear:both;position:relative;border-bottom:0;display:flex;justify-content:space-between;align-items:center.cre-setion .border-heading:beforetop:5px;height:14px.cre-setion .splide__slideheight:auto!important;margin-left:0.cre-setion article.repeat-boxdisplay:block;background-color:transparent;border-radius:5px;box-shadow:none;overflow:hidden;padding:0;margin-bottom:3px.cre-setion article.repeat-box>adisplay:block;padding:10px;background-color:var(–white);border-radius:5px;color:var(–black);text-decoration:none;overflow:hidden;border:1px solid #d0d0d0.cre-setion article.repeat-box>a>figuredisplay:block.cre-setion article.repeat-box .photo,.cre-setion article.repeat-box .textwidth:100%.cre-setion article.repeat-box .photoborder-radius:5px;overflow:hidden.cre-setion article.repeat-box .lazy-imagebox-shadow:none;border-radius:0;overflow:hidden.cre-setion article.repeat-box .textpadding:5px 0 0;height:90px;.cre-setion article.repeat-box .text h3font-size:14px;line-height:1.5;-webkit-line-clamp:4;font-weight:600;text-align:left.cre-setion .repeat-box .photos-iconborder-radius:0 5px 0 0;width:auto;min-width:26px;height:26px;left:0;bottom:0;display:flex;justify-content:center;align-items:center.cre-setion .photos-icon svgtransition:1s;fill:var(–white);width:26px;height:26px.cre-setion .photos-icon:hoverbackground:var(–blue).cre-setion .splide__arrowtop:50%!important;width:1.8em;height:1.8em;border-radius:100px;border:1px solid #999;background:0 0;opacity:1.cre-setion .splide__arrow–prevleft:-37px.cre-setion .splide__arrow–nextright:-37px.cre-setion .splide__arrow:disabledopacity:.3;cursor:not-allowed!important.cre-setion .splide__arrow:beforeborder:solid #999;border-width:0 2px 2px 0.cre-setion .splide__arrow:hoverbackground:linear-gradient(to left,#a617be,#f32c89,#f32c89,#f32c89,#f32c89,#a617be).cre-setion .splide__arrow:hover::beforeborder:solid var(–white);border-width:0 2px 2px 0]]]]>]]>