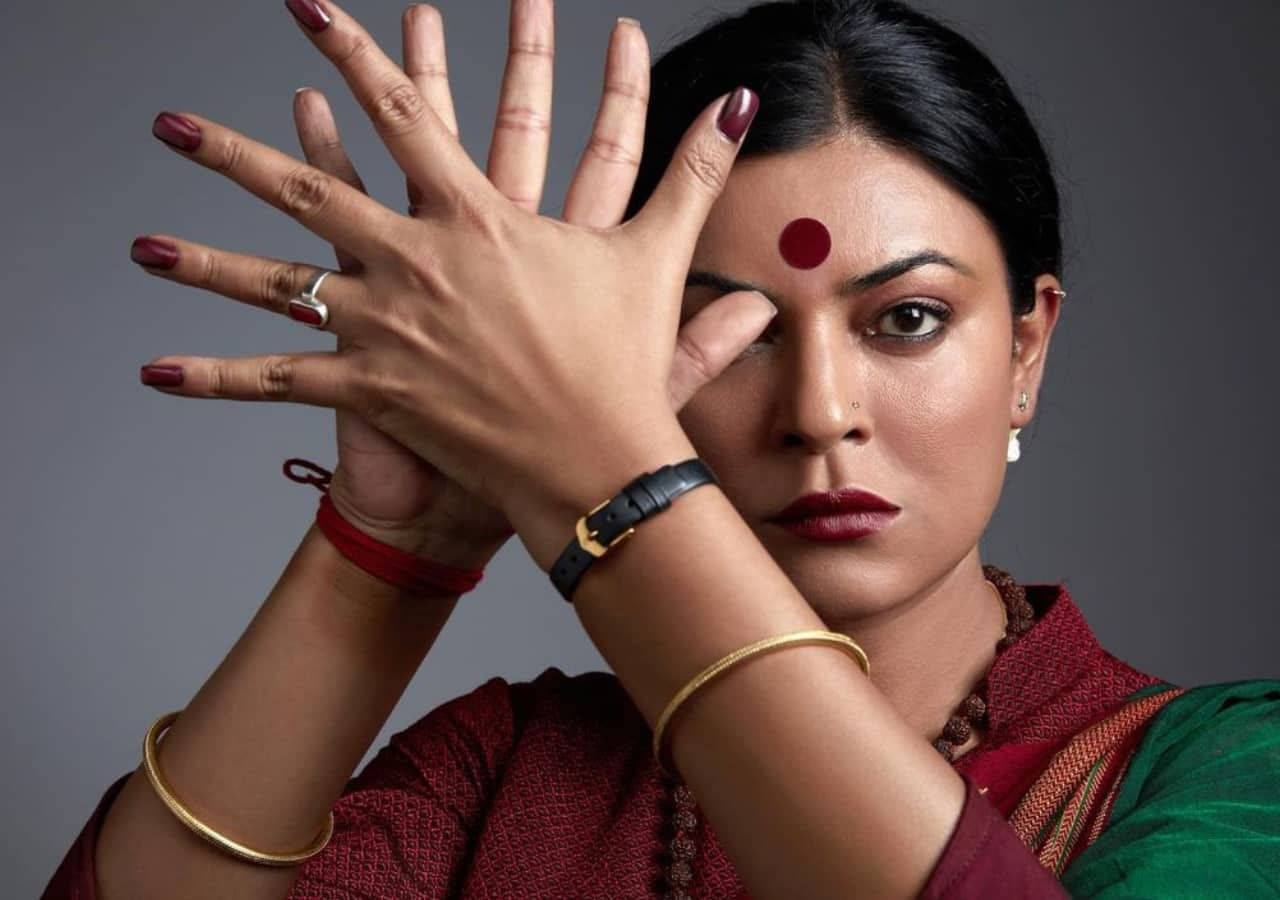 Sushmita Sen has done it again with Taali. The actress has is back in action with OTT for a couple of years and she has been wowing the audience with her acting chops and how! Taali is the real life story of Shreegauri Sawant, a transgender social activist who was one of the key people in making transgender recognized as the third gender in India. BollywoodLife got a chance to talk to the creators of Taali, Arjun Singgh Baran and Kartk D Nishandar about Taali. They revealed to us the number of transgenders they hired for the upcoming new web series and it'll shock the daylights outta you. Also Read – Sushmita Sen REACTS on being called a 'gold digger' over her alleged relationship with Lalit Modi; 'An insult is an insult…'
Taali makers Arjun and Kartk reveal how many transgenders they employed for Sushmita Sen starrer
There has been a lot of blabber about not casting a real transgender in the series, Taali but getting a known face such as Sushmita Sen in the titular role. But there's one interesting behind-the-scenes story about Taali shared with us by the makers that will bowl you over and leave you in awe of the team. In a candid conversation with BollywoodLife, creators Arjun and Kartk shared that they employed about 2200 transgenders while shooting Taali. Yes, you read that right! That's a huge number and such an incredible gesture by the makers. In fact, this could well be a record of all time. Also Read – Taali: Sushmita Sen returned to dub soon after suffering a heart attack, reveal creators Arjun and Kartk [Exclusive]
We actually did a double-take and asked the makers for confirmation about the number of trans people employed by them. They confirmed the number, 2,200. With that, the makers should have shut up the keyboard warriors and a few concerned individuals who questioned their casting of Sushmita Sen. Well, they have a very good reason for the same too. But we will get back to that another time. Also Read – Aarya 2 diva Sushmita Sen talks about life after heart attack
Watch the Taali trailer video here:
Taali makers reveal Sushmita dubbed for series soon after a heart attack
In conversation with us, we asked Arjun and Kartk about Sushmita's heart attack and the shooting of Taali. They revealed that Sushmita had completed shooting for Taali but dubbing was remaining. They got in touch with her after her surgery and Sushmita was up and in zeal, ready for the dubbing and told them that she would dub right away. Within 10 days of her surgery, Sushmita was there at the dubbing studio. The dedication of Sushmita is so inspiring.
]]>
Stay tuned to BollywoodLife for the latest scoops and updates from Bollywood, Hollywood, South, TV and Web-Series. Click to join us on Facebook, Twitter, Youtube and Instagram. Also follow us on Facebook Messenger for latest updates.
adisplay:block;padding:0;color:var(–black);text-decoration:none.repeat-box figuredisplay:flex;justify-content:flex-start;flex-wrap:wrap;align-items:stretch;overflow:visible.two-cols-aside .aside .repeat-box figurealign-items:center.repeat-box .textwidth:100%;z-index:5;position:relative.repeat-box .photowidth:100px;position:relative;z-index:5.repeat-box .photo+.textwidth:calc(100% – 100px);padding-left:10px.repeat-box h2,.repeat-box h3,.repeat-box pcolor:var(–black);white-space:normal;overflow:hidden;text-overflow:ellipsis;-webkit-line-clamp:3;display:-webkit-box;-webkit-box-orient:vertical;padding:0;font-size:15px;line-height:1.5;font-weight:400.repeat-box h2font-size:20px.repeat-box h2+p,.repeat-box h3+pfont-size:14px.repeat-box .catfont-size:14px;line-height:16px;display:block;margin-bottom:5px;font-weight:700;color:var(–orange);text-transform:uppercase.repeat-box a:hover,.repeat-box a:hover h2,.repeat-box a:hover h3,.repeat-box a:hover pcolor:#f32c89.repeat-box .photo-icon,.repeat-box .video-iconposition:absolute;left:0;bottom:0;background:linear-gradient(to left,#a617be,#f32c89,#f32c89,#f32c89,#f32c89,#a617be);border-radius:0 5px 0 0.repeat-box .video-iconwidth:26px;height:26px;display:inline-block.repeat-box .photo-iconwidth:auto;min-width:26px;height:26px;line-height:16px;font-size:13px;color:var(–white);padding:5px 5px 0.lazy-image img.lazyopacity:0.lazy-image img:not(.initial)transition:opacity .5s ease-in,transform .5s ease-in,-webkit-transform .5s ease-in.lazy-image img.error,.lazy-image img.initial,.lazy-image img.loadedopacity:1.lazy-image img:not([src])visibility:hidden.cre-setionclear:both;overflow:hidden;float:none;width:auto;margin:5px 0 20px.cre-setion .black-boxespadding:15px 40px;background:#e5e5e5.cre-carousel-heightposition:relative;padding:0 0 255px;height:0.cre-carousel-height .all-dataposition:absolute;top:0;left:0;width:100%!important;height:100%!important.cre-setion .border-headingfont-size:16px;color:#1f1f1f;text-transform:uppercase;font-weight:700;padding:0 0 10px;margin:20px 0 10px;clear:both;position:relative;border-bottom:0;display:flex;justify-content:space-between;align-items:center.cre-setion .border-heading:beforetop:5px;height:14px.cre-setion .splide__slideheight:auto!important;margin-left:0.cre-setion article.repeat-boxdisplay:block;background-color:transparent;border-radius:5px;box-shadow:none;overflow:hidden;padding:0;margin-bottom:3px.cre-setion article.repeat-box>adisplay:block;padding:10px;background-color:var(–white);border-radius:5px;color:var(–black);text-decoration:none;overflow:hidden;border:1px solid #d0d0d0.cre-setion article.repeat-box>a>figuredisplay:block.cre-setion article.repeat-box .photo,.cre-setion article.repeat-box .textwidth:100%.cre-setion article.repeat-box .photoborder-radius:5px;overflow:hidden.cre-setion article.repeat-box .lazy-imagebox-shadow:none;border-radius:0;overflow:hidden.cre-setion article.repeat-box .textpadding:5px 0 0;height:90px;.cre-setion article.repeat-box .text h3font-size:14px;line-height:1.5;-webkit-line-clamp:4;font-weight:600;text-align:left.cre-setion .repeat-box .photos-iconborder-radius:0 5px 0 0;width:auto;min-width:26px;height:26px;left:0;bottom:0;display:flex;justify-content:center;align-items:center.cre-setion .photos-icon svgtransition:1s;fill:var(–white);width:26px;height:26px.cre-setion .photos-icon:hoverbackground:var(–blue).cre-setion .splide__arrowtop:50%!important;width:1.8em;height:1.8em;border-radius:100px;border:1px solid #999;background:0 0;opacity:1.cre-setion .splide__arrow–prevleft:-37px.cre-setion .splide__arrow–nextright:-37px.cre-setion .splide__arrow:disabledopacity:.3;cursor:not-allowed!important.cre-setion .splide__arrow:beforeborder:solid #999;border-width:0 2px 2px 0.cre-setion .splide__arrow:hoverbackground:linear-gradient(to left,#a617be,#f32c89,#f32c89,#f32c89,#f32c89,#a617be).cre-setion .splide__arrow:hover::beforeborder:solid var(–white);border-width:0 2px 2px 0]]]]>]]>