The television show Ghum Hai Kisikey Pyaar Meiin has been a constant on TRP charts for a while now. It has been among the top three shows along with Anupamaa and others. While the show has managed to get an ardent fan following who dedicatedly watch the show, many are upset with the recent drama unfolding in Ghum Hai Kisikey Pyaar Meiin. Currently, Virat is married to Pakhi but his heart is with Sai. Both the ladies are fighting for their son Vinu who is technically Sai and Virat's child but Pakhi was his surrogate mother. Virat is stuck between the two. So we asked viewers if it is high time for him to choose between the two.
Ghum Hai Kisikey Pyaar Meiin POLL RESULTS are OUT
It is pretty clear that Virat loves Sai but he is only with Pakhi because of 'farz'. But he cannot keep dabbling between the two so fans feel that Virat should take up a stand and make a decision. Surprising or not, there was a third option in the poll that got second highest votes. The option was to leave Sai alone. 24 percent audience voted for this option. On social media, many fans have expressed that Sai should take a stand for herself and move on.
Check out the poll results below: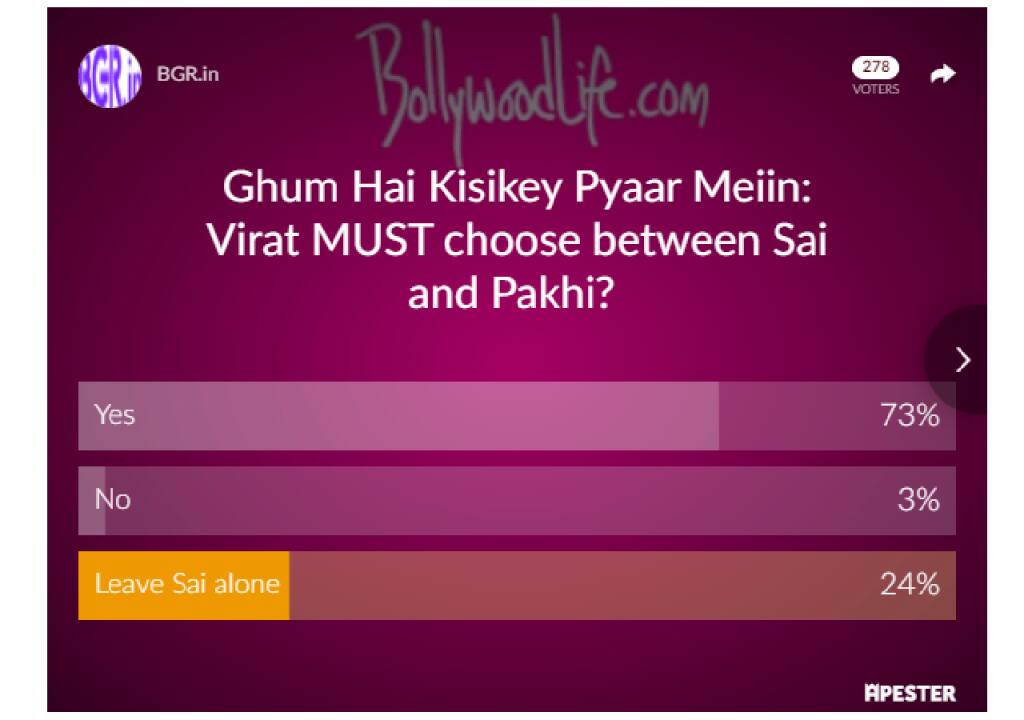 Ghum Hai Kisikey Pyaar Meiin stars Neil Bhatt as Virat Chavan, Ayesha Singh as Sai and Aishwarya Sharma as Pakhi. Virat and Sai's chemistry is loved by all. They are together known as SaiRat. Pakhi is usually on the receiving end on social media as fans are not much happy with the character. Now that Sai has re-entered the Chavan house, will it became easy for Virat to make a decision? Let's wait and watch.