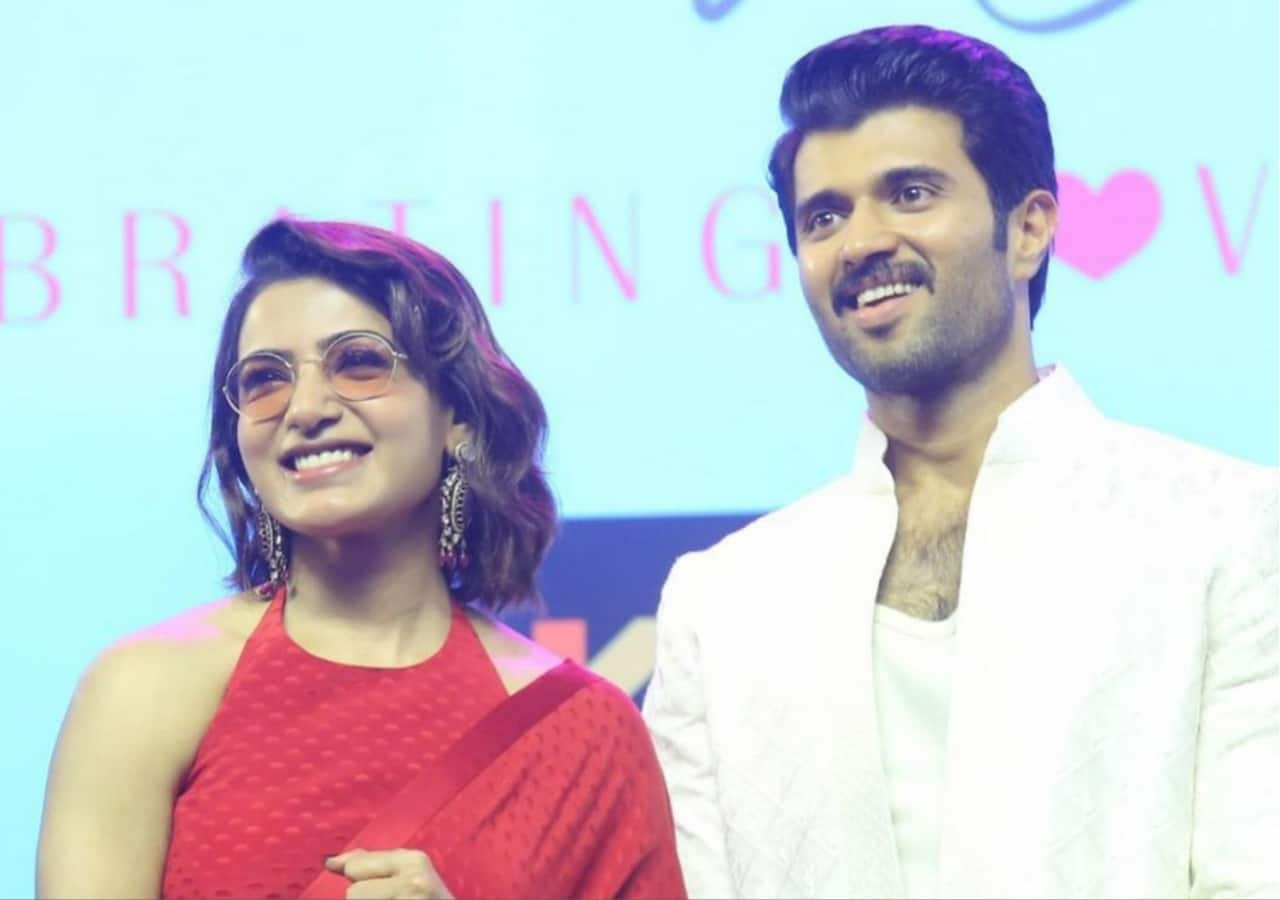 Vijay Deverakonda and Samantha Ruth Prabhu were a sight for sore eyes during a recent event of their upcoming film Kushi. The duo looked stunning together and their crackling chemistry set the stage on fire during the promotional event for their film. The two superstars attended the grand musical concert in Hyderabad on Tuesday night and also performed to the title track from the film. Also Read – Kushi star Vijay Deverakonda is ready for marriage; 'I see myself getting married soon'
During the event, Vijay spoke about Samantha's battle with the autoimmunity disease Myositis and revealed that she struggles with her diagnosis throughout the shoot of the film. Vijay also revealed that Samantha stopped talking to him and the cast members of Kushi and also stopped seeing them. Also Read – Kushi Trailer: Vijay Deverakonda, Samantha Ruth Prabhu fall in love but have a troublesome marriage [Watch]
"I told Sam that we are actors and that we are storytellers. I felt we did not have to talk about our struggles in the open. After a point, Samantha felt it was her responsibility to talk about her health," Vijay revealed at an event. Also Read – Don 3: Ranveer Singh takes over from Shah Rukh Khan; Deepika Padukone, Alia Bhatt and more – who will be his junglee billi?
He further added, "She stopped talking to us and she stopped seeing all of us. She was extremely unwell. She fought so many battles. At that point, she decided to share it with everyone, just to tell people that there's hope."
The actor, who will be sharing the screen for the first time with Samantha, further added, "She struggled a lot for the film. We started this film in April 2022 with a smile on our faces. We had completed 60 per cent. Only 30-35 per cent shooting was pending. By July, Sam's health condition deteriorated. She said that her health wasn't good. Shiva and I were like 'You look beautiful. What problem do you have?' We took it lightly. Later, we understood her plight."
Vijay also spoke about how many people came to Samantha at the event and told her about how she is an inspiration to people dealing with health issues. "We met nearly 50-60 people today [August 15] and nearly 40 people came up to her and said that they were dealing with their health issues and how she was an inspiration. I felt what Sam did was right. I know that she is not completely healthy today," the Liger star added.
"Samantha gets headaches and her eyes hurt when she faces the light. Yet, she shows up. She knows that all of you are here with your love. She dresses up, she smiles and she dances for you all. More than anyone, I want to see a big smile on her face on September 1. I feel it's my responsibility," Vijay said.
Kushi releases worldwide in cinemas on September 1, 2023.
]]>
Stay tuned to BollywoodLife for the latest scoops and updates from Bollywood, Hollywood, South, TV and Web-Series. Click to join us on Facebook, Twitter, Youtube and Instagram. Also follow us on Facebook Messenger for latest updates.
adisplay:block;padding:0;color:var(–black);text-decoration:none.repeat-box figuredisplay:flex;justify-content:flex-start;flex-wrap:wrap;align-items:stretch;overflow:visible.two-cols-aside .aside .repeat-box figurealign-items:center.repeat-box .textwidth:100%;z-index:5;position:relative.repeat-box .photowidth:100px;position:relative;z-index:5.repeat-box .photo+.textwidth:calc(100% – 100px);padding-left:10px.repeat-box h2,.repeat-box h3,.repeat-box pcolor:var(–black);white-space:normal;overflow:hidden;text-overflow:ellipsis;-webkit-line-clamp:3;display:-webkit-box;-webkit-box-orient:vertical;padding:0;font-size:15px;line-height:1.5;font-weight:400.repeat-box h2font-size:20px.repeat-box h2+p,.repeat-box h3+pfont-size:14px.repeat-box .catfont-size:14px;line-height:16px;display:block;margin-bottom:5px;font-weight:700;color:var(–orange);text-transform:uppercase.repeat-box a:hover,.repeat-box a:hover h2,.repeat-box a:hover h3,.repeat-box a:hover pcolor:#f32c89.repeat-box .photo-icon,.repeat-box .video-iconposition:absolute;left:0;bottom:0;background:linear-gradient(to left,#a617be,#f32c89,#f32c89,#f32c89,#f32c89,#a617be);border-radius:0 5px 0 0.repeat-box .video-iconwidth:26px;height:26px;display:inline-block.repeat-box .photo-iconwidth:auto;min-width:26px;height:26px;line-height:16px;font-size:13px;color:var(–white);padding:5px 5px 0.lazy-image img.lazyopacity:0.lazy-image img:not(.initial)transition:opacity .5s ease-in,transform .5s ease-in,-webkit-transform .5s ease-in.lazy-image img.error,.lazy-image img.initial,.lazy-image img.loadedopacity:1.lazy-image img:not([src])visibility:hidden.cre-setionclear:both;overflow:hidden;float:none;width:auto;margin:5px 0 20px.cre-setion .black-boxespadding:15px 40px;background:#e5e5e5.cre-carousel-heightposition:relative;padding:0 0 255px;height:0.cre-carousel-height .all-dataposition:absolute;top:0;left:0;width:100%!important;height:100%!important.cre-setion .border-headingfont-size:16px;color:#1f1f1f;text-transform:uppercase;font-weight:700;padding:0 0 10px;margin:20px 0 10px;clear:both;position:relative;border-bottom:0;display:flex;justify-content:space-between;align-items:center.cre-setion .border-heading:beforetop:5px;height:14px.cre-setion .splide__slideheight:auto!important;margin-left:0.cre-setion article.repeat-boxdisplay:block;background-color:transparent;border-radius:5px;box-shadow:none;overflow:hidden;padding:0;margin-bottom:3px.cre-setion article.repeat-box>adisplay:block;padding:10px;background-color:var(–white);border-radius:5px;color:var(–black);text-decoration:none;overflow:hidden;border:1px solid #d0d0d0.cre-setion article.repeat-box>a>figuredisplay:block.cre-setion article.repeat-box .photo,.cre-setion article.repeat-box .textwidth:100%.cre-setion article.repeat-box .photoborder-radius:5px;overflow:hidden.cre-setion article.repeat-box .lazy-imagebox-shadow:none;border-radius:0;overflow:hidden.cre-setion article.repeat-box .textpadding:5px 0 0;height:90px;.cre-setion article.repeat-box .text h3font-size:14px;line-height:1.5;-webkit-line-clamp:4;font-weight:600;text-align:left.cre-setion .repeat-box .photos-iconborder-radius:0 5px 0 0;width:auto;min-width:26px;height:26px;left:0;bottom:0;display:flex;justify-content:center;align-items:center.cre-setion .photos-icon svgtransition:1s;fill:var(–white);width:26px;height:26px.cre-setion .photos-icon:hoverbackground:var(–blue).cre-setion .splide__arrowtop:50%!important;width:1.8em;height:1.8em;border-radius:100px;border:1px solid #999;background:0 0;opacity:1.cre-setion .splide__arrow–prevleft:-37px.cre-setion .splide__arrow–nextright:-37px.cre-setion .splide__arrow:disabledopacity:.3;cursor:not-allowed!important.cre-setion .splide__arrow:beforeborder:solid #999;border-width:0 2px 2px 0.cre-setion .splide__arrow:hoverbackground:linear-gradient(to left,#a617be,#f32c89,#f32c89,#f32c89,#f32c89,#a617be).cre-setion .splide__arrow:hover::beforeborder:solid var(–white);border-width:0 2px 2px 0]]]]>]]>