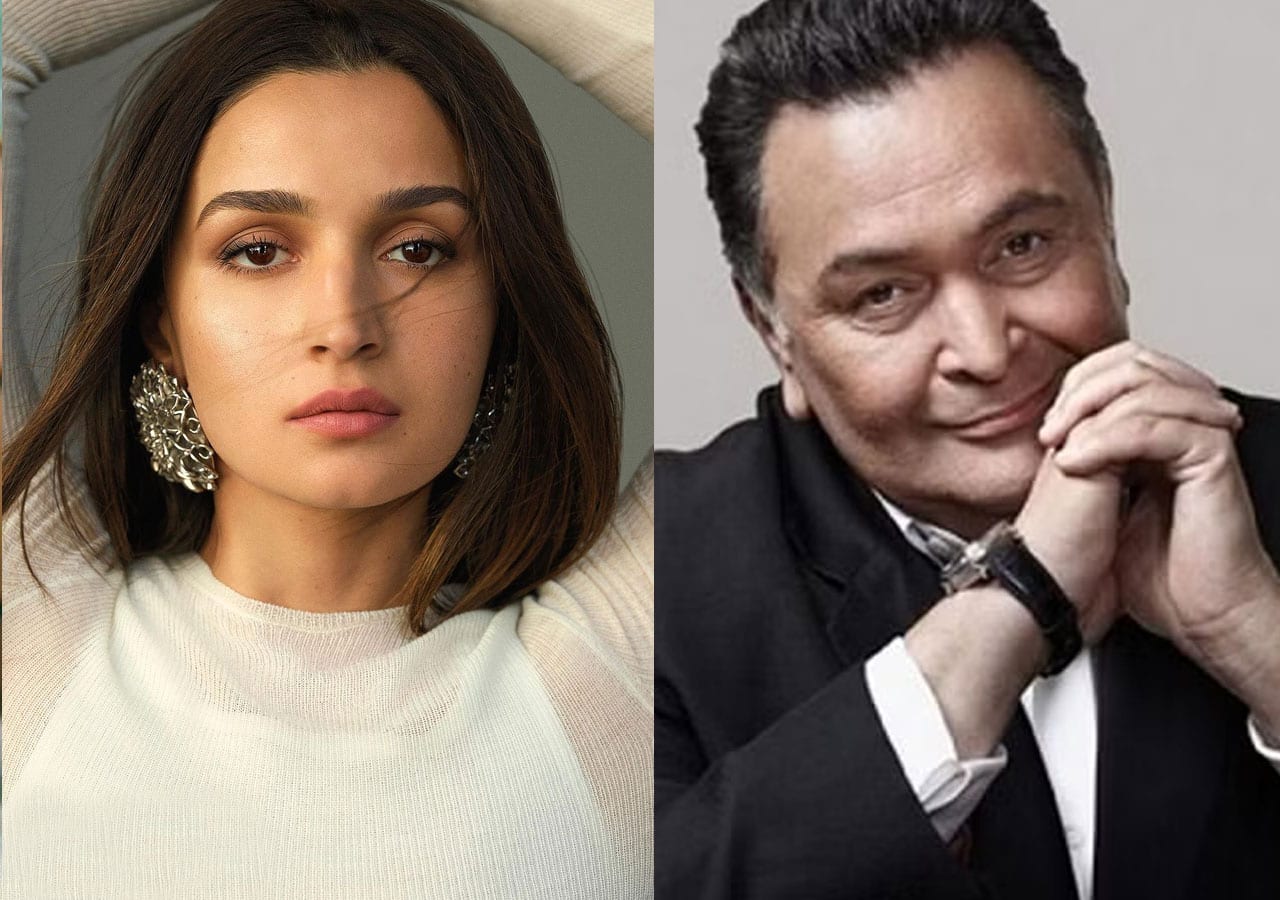 Alia Bhatt is one of the most talented actresses in Bollywood, and time and again she has proved her mettle. Her latest release, Rocky Aur Rani Kii Prem Kahaani, proved she is a box office queen, and today, on the 71st birth anniversary of late veteran actor Rishi Kapoor, one of his old interviews is going viral where he heaped praise on his future daughter-in-law Alia Bhatt and called her immensely talented and lucky as well. Often Alia's privileges take centre stage, especially with Karan Johar going OTT over her praise, and the actress gets trolled for the same. Also Read – Ranbir Kapoor, Alia Bhatt hold hands, oblige fans with pictures on their NYC getaway [Watch]
In this old interview Rishi Kapoor, he lauded his future wife Alia Bhatt and said," I admire someone like Alia Bhatt, who takes up challenging roles like in Highway (2014) and Raazi. It's very difficult at this tender age to carry a film on their shoulders, and only an actor can do that. Also, one has to be lucky enough to get such parts. Alia has been lucky, and of course, she has the talent too". Also Read – Alia Bhatt, Janhvi Kapoor and other Bollywood celebs who are raised by very strict parents
There are times that Alia Bhatt's privilege becomes the talk of town, and B-town actresses like Kangana Ranaut and Aishwarya Rai Bachchan have openly spoken about getting an upper hand for all the good roles, and many outsiders or even insiders and other star kids haven't gotten this kind of cushioning. Alia Bhatt often admits she is aware of her privileges, and she never takes them for granted. Lately, Alia Bhatt has been badly judged for her performance in her Hollywood debut film, Heart of Stone, along with Gal Gadot. Also Read – Not just movies, Salman Khan, Sushmita Sen and other Top Bollywood celebrities who earn from their side businesses
Ranbir Kapoor had called than girlfriend and now wife Alia Bhatt an over achiever.
Not only Rishi Kapoor, but the entire Kapoor family is fond of Alia Bhatt's talent and once in an interview RK had called his wifey an over achiever. " My girlfriend Alia is a bit of an overachiever, and she probably took every class there is, from guitar to screenwriting. I always feel like an underachiever next to her. But no, I didn't take any classes. Initially, we were dealing with the family crisis, and then I got into reading, spent time with my family, and watched two to three films every day."
]]>
Stay tuned to BollywoodLife for the latest scoops and updates from Bollywood, Hollywood, South, TV and Web-Series. Click to join us on Facebook, Twitter, Youtube and Instagram. Also follow us on Facebook Messenger for latest updates.
adisplay:block;padding:0;color:var(–black);text-decoration:none.repeat-box figuredisplay:flex;justify-content:flex-start;flex-wrap:wrap;align-items:stretch;overflow:visible.two-cols-aside .aside .repeat-box figurealign-items:center.repeat-box .textwidth:100%;z-index:5;position:relative.repeat-box .photowidth:100px;position:relative;z-index:5.repeat-box .photo+.textwidth:calc(100% – 100px);padding-left:10px.repeat-box h2,.repeat-box h3,.repeat-box pcolor:var(–black);white-space:normal;overflow:hidden;text-overflow:ellipsis;-webkit-line-clamp:3;display:-webkit-box;-webkit-box-orient:vertical;padding:0;font-size:15px;line-height:1.5;font-weight:400.repeat-box h2font-size:20px.repeat-box h2+p,.repeat-box h3+pfont-size:14px.repeat-box .catfont-size:14px;line-height:16px;display:block;margin-bottom:5px;font-weight:700;color:var(–orange);text-transform:uppercase.repeat-box a:hover,.repeat-box a:hover h2,.repeat-box a:hover h3,.repeat-box a:hover pcolor:#f32c89.repeat-box .photo-icon,.repeat-box .video-iconposition:absolute;left:0;bottom:0;background:linear-gradient(to left,#a617be,#f32c89,#f32c89,#f32c89,#f32c89,#a617be);border-radius:0 5px 0 0.repeat-box .video-iconwidth:26px;height:26px;display:inline-block.repeat-box .photo-iconwidth:auto;min-width:26px;height:26px;line-height:16px;font-size:13px;color:var(–white);padding:5px 5px 0.lazy-image img.lazyopacity:0.lazy-image img:not(.initial)transition:opacity .5s ease-in,transform .5s ease-in,-webkit-transform .5s ease-in.lazy-image img.error,.lazy-image img.initial,.lazy-image img.loadedopacity:1.lazy-image img:not([src])visibility:hidden.cre-setionclear:both;overflow:hidden;float:none;width:auto;margin:5px 0 20px.cre-setion .black-boxespadding:15px 40px;background:#e5e5e5.cre-carousel-heightposition:relative;padding:0 0 255px;height:0.cre-carousel-height .all-dataposition:absolute;top:0;left:0;width:100%!important;height:100%!important.cre-setion .border-headingfont-size:16px;color:#1f1f1f;text-transform:uppercase;font-weight:700;padding:0 0 10px;margin:20px 0 10px;clear:both;position:relative;border-bottom:0;display:flex;justify-content:space-between;align-items:center.cre-setion .border-heading:beforetop:5px;height:14px.cre-setion .splide__slideheight:auto!important;margin-left:0.cre-setion article.repeat-boxdisplay:block;background-color:transparent;border-radius:5px;box-shadow:none;overflow:hidden;padding:0;margin-bottom:3px.cre-setion article.repeat-box>adisplay:block;padding:10px;background-color:var(–white);border-radius:5px;color:var(–black);text-decoration:none;overflow:hidden;border:1px solid #d0d0d0.cre-setion article.repeat-box>a>figuredisplay:block.cre-setion article.repeat-box .photo,.cre-setion article.repeat-box .textwidth:100%.cre-setion article.repeat-box .photoborder-radius:5px;overflow:hidden.cre-setion article.repeat-box .lazy-imagebox-shadow:none;border-radius:0;overflow:hidden.cre-setion article.repeat-box .textpadding:5px 0 0;height:90px;.cre-setion article.repeat-box .text h3font-size:14px;line-height:1.5;-webkit-line-clamp:4;font-weight:600;text-align:left.cre-setion .repeat-box .photos-iconborder-radius:0 5px 0 0;width:auto;min-width:26px;height:26px;left:0;bottom:0;display:flex;justify-content:center;align-items:center.cre-setion .photos-icon svgtransition:1s;fill:var(–white);width:26px;height:26px.cre-setion .photos-icon:hoverbackground:var(–blue).cre-setion .splide__arrowtop:50%!important;width:1.8em;height:1.8em;border-radius:100px;border:1px solid #999;background:0 0;opacity:1.cre-setion .splide__arrow–prevleft:-37px.cre-setion .splide__arrow–nextright:-37px.cre-setion .splide__arrow:disabledopacity:.3;cursor:not-allowed!important.cre-setion .splide__arrow:beforeborder:solid #999;border-width:0 2px 2px 0.cre-setion .splide__arrow:hoverbackground:linear-gradient(to left,#a617be,#f32c89,#f32c89,#f32c89,#f32c89,#a617be).cre-setion .splide__arrow:hover::beforeborder:solid var(–white);border-width:0 2px 2px 0]]]]>]]>