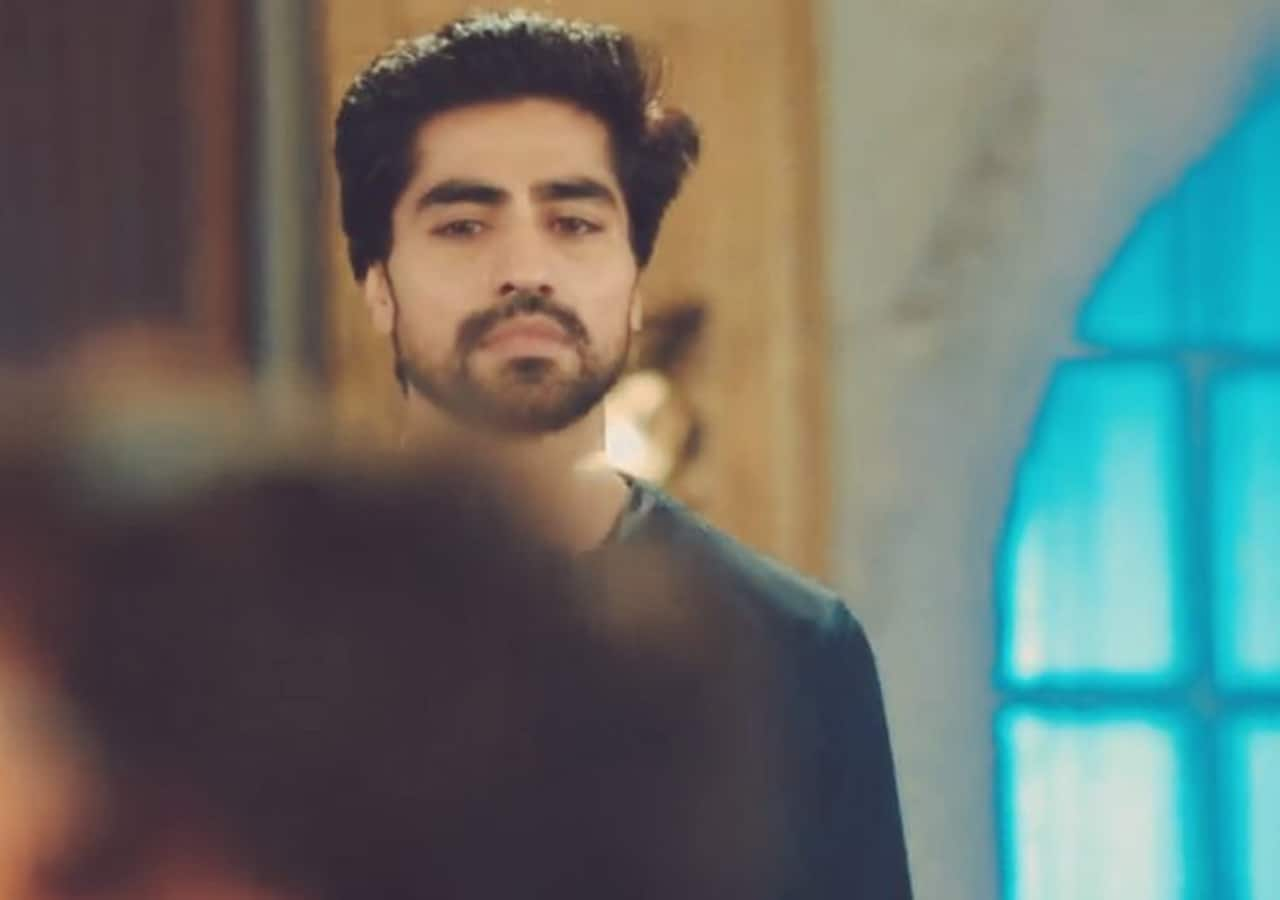 Yeh Rishta Kya Kehlata Hai: Abhimanyu aka Harshad Chopra, has won hearts with his performance in the latest episode, and in today's episode, the viewers claim to be crying along with the actor after watching Abhir (Shreyansh Kaurav) make the decision to go with his parents, Akshara (Pranali Rathod) and Abhinav (Jay Soni), and even insist that Abhi wants to call him Docman and not Dadda because he is his best friend and will always be. Abhimanya is completely shattered by this decision of Abhir, but he puts on his smile and accepts the decision of his son, and this scene breaks the audience's hearts. The fans are raving about Harshad's performance and are calling him the best actor of the generation.
If Ur Heart Is Not Made Of Stone,U will For Abhimanyu Here??
The Child Wished, His Father By Tearing His Heart in Numerous Pieces Fulfilled His Wish❤️‍?The Kid Can Stay with His "Mumma Papa"
Harshad Chopda The Actor U ??[#yrkkh.#Abhira.#harshadChopda] pic.twitter.com/4QcJikNCoZ
— ✨°•Irene•°✨ (@Irene251976) August 2, 2023
Going back 2 Docman 4m Dadda, ws a low blow!It's almost like, u get all the happiness of this world & it gets snatched 4m u!I knw Abhir trusts him as Docman & AB needs to earn the trust as Dadda, bt still..My heart broke 4 Abhi!#yrkkh #AbhimanyuBirla #Abhira pic.twitter.com/a4UJwziYnU
— Abhira4Infinity? (@abhira4evr) August 2, 2023
Love only gives you a moment of happiness but the pain of love endures forever. Again he is left alone, again he let someone go he found a ray of hope in, again he is broken but sometimes good things fall apart for better things?
#yrkkh #HarshadChopda#AbhimanyuBirla #Abhira pic.twitter.com/MdVvRaJbwW
— Rishika♡? (@genextabhira) August 2, 2023
This has to be one of the most heartbreaking scene in gen 3 ??
But idk wats dat dadda se Docman thing…bt I will take it as pos thing cz nxt tym wen abhir will call dadda, m sure it wud b the most emotional ep ever…jus sme patience?#yrkkh #abhirapic.twitter.com/YhNPqh5hYl
— ★Harshali's Khadija★ (@harshalixstan) August 2, 2023
Abhimanyu, aka Harshad Chopra, has come a long way in his acting career, and with Yeh Rishta Kya Kehlata Hai, he has gained all the popularity and love that he deserves. In the upcoming episodes, the show will be extremely heavy on emotions for both the actors as Abhinav meets with an accident and Akshara blames Abhimanyu for his death and questions what he will tell Abhir when he asks about his dad. Fans are eagerly waiting for this twist to happen and want Abhir to get back to Abhimanya forever. Also Read – Yeh Rishta Kya Kehlata Hai: Jay Soni calls this scene with Abhir emotionally draining, 'My body used to shiver' [Exclusive]
New promo HD ?#yrkkh #AbhiRa pic.twitter.com/KgFVH6dCon
— Rags_HcPr?•KD STAN? (@Rags1120) August 1, 2023
]]>
Stay tuned to BollywoodLife for the latest scoops and updates from Bollywood, Hollywood, South, TV and Web-Series. Click to join us on Facebook, Twitter, Youtube and Instagram. Also follow us on Facebook Messenger for latest updates.
adisplay:block;padding:0;color:var(–black);text-decoration:none.repeat-box figuredisplay:flex;justify-content:flex-start;flex-wrap:wrap;align-items:stretch;overflow:visible.two-cols-aside .aside .repeat-box figurealign-items:center.repeat-box .textwidth:100%;z-index:5;position:relative.repeat-box .photowidth:100px;position:relative;z-index:5.repeat-box .photo+.textwidth:calc(100% – 100px);padding-left:10px.repeat-box h2,.repeat-box h3,.repeat-box pcolor:var(–black);white-space:normal;overflow:hidden;text-overflow:ellipsis;-webkit-line-clamp:3;display:-webkit-box;-webkit-box-orient:vertical;padding:0;font-size:15px;line-height:1.5;font-weight:400.repeat-box h2font-size:20px.repeat-box h2+p,.repeat-box h3+pfont-size:14px.repeat-box .catfont-size:14px;line-height:16px;display:block;margin-bottom:5px;font-weight:700;color:var(–orange);text-transform:uppercase.repeat-box a:hover,.repeat-box a:hover h2,.repeat-box a:hover h3,.repeat-box a:hover pcolor:#f32c89.repeat-box .photo-icon,.repeat-box .video-iconposition:absolute;left:0;bottom:0;background:linear-gradient(to left,#a617be,#f32c89,#f32c89,#f32c89,#f32c89,#a617be);border-radius:0 5px 0 0.repeat-box .video-iconwidth:26px;height:26px;display:inline-block.repeat-box .photo-iconwidth:auto;min-width:26px;height:26px;line-height:16px;font-size:13px;color:var(–white);padding:5px 5px 0.lazy-image img.lazyopacity:0.lazy-image img:not(.initial)transition:opacity .5s ease-in,transform .5s ease-in,-webkit-transform .5s ease-in.lazy-image img.error,.lazy-image img.initial,.lazy-image img.loadedopacity:1.lazy-image img:not([src])visibility:hidden.cre-setionclear:both;overflow:hidden;float:none;width:auto;margin:5px 0 20px.cre-setion .black-boxespadding:15px 40px;background:#e5e5e5.cre-carousel-heightposition:relative;padding:0 0 255px;height:0.cre-carousel-height .all-dataposition:absolute;top:0;left:0;width:100%!important;height:100%!important.cre-setion .border-headingfont-size:16px;color:#1f1f1f;text-transform:uppercase;font-weight:700;padding:0 0 10px;margin:20px 0 10px;clear:both;position:relative;border-bottom:0;display:flex;justify-content:space-between;align-items:center.cre-setion .border-heading:beforetop:5px;height:14px.cre-setion .splide__slideheight:auto!important;margin-left:0.cre-setion article.repeat-boxdisplay:block;background-color:transparent;border-radius:5px;box-shadow:none;overflow:hidden;padding:0;margin-bottom:3px.cre-setion article.repeat-box>adisplay:block;padding:10px;background-color:var(–white);border-radius:5px;color:var(–black);text-decoration:none;overflow:hidden;border:1px solid #d0d0d0.cre-setion article.repeat-box>a>figuredisplay:block.cre-setion article.repeat-box .photo,.cre-setion article.repeat-box .textwidth:100%.cre-setion article.repeat-box .photoborder-radius:5px;overflow:hidden.cre-setion article.repeat-box .lazy-imagebox-shadow:none;border-radius:0;overflow:hidden.cre-setion article.repeat-box .textpadding:5px 0 0;height:90px;.cre-setion article.repeat-box .text h3font-size:14px;line-height:1.5;-webkit-line-clamp:4;font-weight:600;text-align:left.cre-setion .repeat-box .photos-iconborder-radius:0 5px 0 0;width:auto;min-width:26px;height:26px;left:0;bottom:0;display:flex;justify-content:center;align-items:center.cre-setion .photos-icon svgtransition:1s;fill:var(–white);width:26px;height:26px.cre-setion .photos-icon:hoverbackground:var(–blue).cre-setion .splide__arrowtop:50%!important;width:1.8em;height:1.8em;border-radius:100px;border:1px solid #999;background:0 0;opacity:1.cre-setion .splide__arrow–prevleft:-37px.cre-setion .splide__arrow–nextright:-37px.cre-setion .splide__arrow:disabledopacity:.3;cursor:not-allowed!important.cre-setion .splide__arrow:beforeborder:solid #999;border-width:0 2px 2px 0.cre-setion .splide__arrow:hoverbackground:linear-gradient(to left,#a617be,#f32c89,#f32c89,#f32c89,#f32c89,#a617be).cre-setion .splide__arrow:hover::beforeborder:solid var(–white);border-width:0 2px 2px 0]]]]>]]>