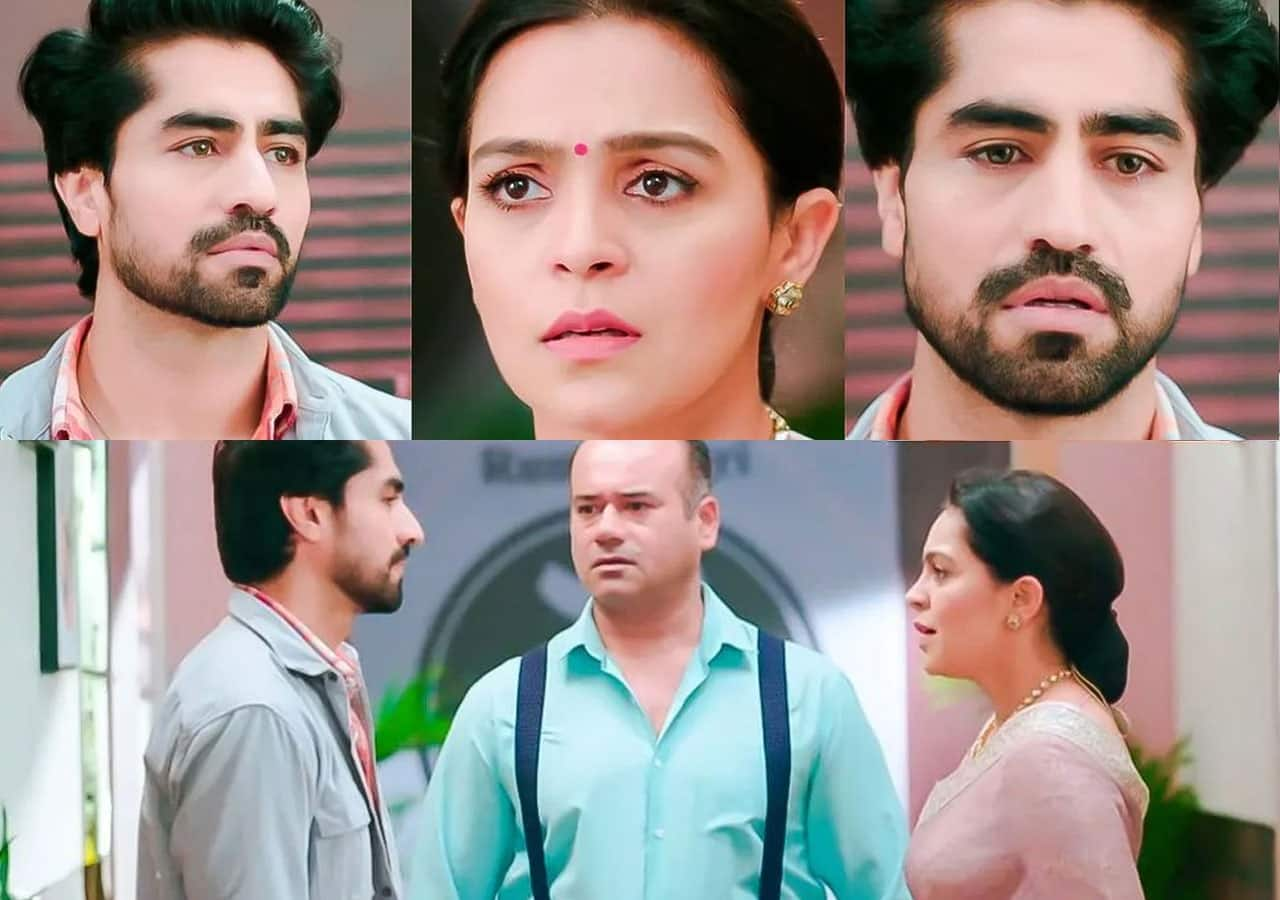 Yeh Rishta Kya Kehlata Hai upcoming spoiler alert: In the latest track of Yeh Rishta Kya Kehlata Hai, we see that Akshara (Pranali Rathod) reached Birla House to know the reason for Abhir's school results, which he will not attempt in his class. Abhimanyu (Harshad Chopda) will be shocked to know that Manjari will know everything. Will Abhimanyu finally take any steps or not? Akshara clearly announced that she would take Abhir to his house. because Abhir's upbringing will be totally ruined. Later on, we see Manish come and take Akshara with him. On the other side, Aarohi (Karishma Sawant) makes Abhir understand what is in his mind, but Abhir does not say anything, and finally, Abhimanyu learns the truth, which Shivu instigates in Abhir about his past. Let's wait to see the twist. How will Abhimanyu handle Shivu, and what will happen next? Also Read – Yeh Rishta Kya Kehlata Hai fame Pooja Joshi shares how her husband predicted her second pregnancy; 'I was caught by surprise' [Exclusive]
Manjari crossed all the limits
In the upcoming track of Yeh Rishta Kya Kehlata Hai, we see that Manjari (Ami Trivedi) filed a case against Akshara, saying that she will not even meet Abhir any weekend. Also, Akshara and Abhinav are totally broken, and Manish advised Abhinav (Jai Soni) to take Akshara (Pranali Rathod) to Kasauli. But the most interesting track comes when we see Abhir missing from the house. Well, we see that it might be possible that Abhir learns the truth about Akshara and that they return to Kasauli. We have to wait to see the twist that itmight be possible that Abhir runs to go meet his parents. Also Read – Mohit Malik shares his excitement about Rajan Shahi's new show Bateein Kuch Ankahee Si: It's incredibly interesting [Exclusive]
Yeh Rishta Kya Kehlata Hai Upcoming Twist
Yeh Rishta Kya Kehlata Hai is the top-running show on television. and this show has completed its long journey. Well, the latest track is very painful to watch for the viewers because they cannot see Abhir like this. The little child is mentally affected, and we all want to see a happy Abhir who is enjoying life. Well, we also see that Abhir only wants his parents. Also Read – Yeh Rishta Kya Kehlata Hai upcoming twist: Abhir's behaviour changes totally; will this affect Akshara's bond with her son forever?
In the future track of Yeh Rishta Kya Kehlata Hai, we may finally see that Abhir reunites with his parents. Well, finally Abhimanyu has realized that Abhir needs his mother, and he will release Abhir from all the drama of the court case. But what about Manjari? Will she take a huge step ,or will she understand the pain of Akshara and Abhir? Let's see what fate decides for Akshara.
]]>
Stay tuned to BollywoodLife for the latest scoops and updates from Bollywood, Hollywood, South, TV and Web-Series. Click to join us on Facebook, Twitter, Youtube and Instagram. Also follow us on Facebook Messenger for latest updates.
adisplay:block;padding:0;color:var(–black);text-decoration:none.repeat-box figuredisplay:flex;justify-content:flex-start;flex-wrap:wrap;align-items:stretch;overflow:visible.two-cols-aside .aside .repeat-box figurealign-items:center.repeat-box .textwidth:100%;z-index:5;position:relative.repeat-box .photowidth:100px;position:relative;z-index:5.repeat-box .photo+.textwidth:calc(100% – 100px);padding-left:10px.repeat-box h2,.repeat-box h3,.repeat-box pcolor:var(–black);white-space:normal;overflow:hidden;text-overflow:ellipsis;-webkit-line-clamp:3;display:-webkit-box;-webkit-box-orient:vertical;padding:0;font-size:15px;line-height:1.5;font-weight:400.repeat-box h2font-size:20px.repeat-box h2+p,.repeat-box h3+pfont-size:14px.repeat-box .catfont-size:14px;line-height:16px;display:block;margin-bottom:5px;font-weight:700;color:var(–orange);text-transform:uppercase.repeat-box a:hover,.repeat-box a:hover h2,.repeat-box a:hover h3,.repeat-box a:hover pcolor:#f32c89.repeat-box .photo-icon,.repeat-box .video-iconposition:absolute;left:0;bottom:0;background:linear-gradient(to left,#a617be,#f32c89,#f32c89,#f32c89,#f32c89,#a617be);border-radius:0 5px 0 0.repeat-box .video-iconwidth:26px;height:26px;display:inline-block.repeat-box .photo-iconwidth:auto;min-width:26px;height:26px;line-height:16px;font-size:13px;color:var(–white);padding:5px 5px 0.lazy-image img.lazyopacity:0.lazy-image img:not(.initial)transition:opacity .5s ease-in,transform .5s ease-in,-webkit-transform .5s ease-in.lazy-image img.error,.lazy-image img.initial,.lazy-image img.loadedopacity:1.lazy-image img:not([src])visibility:hidden.cre-setionclear:both;overflow:hidden;float:none;width:auto;margin:5px 0 20px.cre-setion .black-boxespadding:15px 40px;background:#e5e5e5.cre-carousel-heightposition:relative;padding:0 0 255px;height:0.cre-carousel-height .all-dataposition:absolute;top:0;left:0;width:100%!important;height:100%!important.cre-setion .border-headingfont-size:16px;color:#1f1f1f;text-transform:uppercase;font-weight:700;padding:0 0 10px;margin:20px 0 10px;clear:both;position:relative;border-bottom:0;display:flex;justify-content:space-between;align-items:center.cre-setion .border-heading:beforetop:5px;height:14px.cre-setion .splide__slideheight:auto!important;margin-left:0.cre-setion article.repeat-boxdisplay:block;background-color:transparent;border-radius:5px;box-shadow:none;overflow:hidden;padding:0;margin-bottom:3px.cre-setion article.repeat-box>adisplay:block;padding:10px;background-color:var(–white);border-radius:5px;color:var(–black);text-decoration:none;overflow:hidden;border:1px solid #d0d0d0.cre-setion article.repeat-box>a>figuredisplay:block.cre-setion article.repeat-box .photo,.cre-setion article.repeat-box .textwidth:100%.cre-setion article.repeat-box .photoborder-radius:5px;overflow:hidden.cre-setion article.repeat-box .lazy-imagebox-shadow:none;border-radius:0;overflow:hidden.cre-setion article.repeat-box .textpadding:5px 0 0;height:90px;.cre-setion article.repeat-box .text h3font-size:14px;line-height:1.5;-webkit-line-clamp:4;font-weight:600;text-align:left.cre-setion .repeat-box .photos-iconborder-radius:0 5px 0 0;width:auto;min-width:26px;height:26px;left:0;bottom:0;display:flex;justify-content:center;align-items:center.cre-setion .photos-icon svgtransition:1s;fill:var(–white);width:26px;height:26px.cre-setion .photos-icon:hoverbackground:var(–blue).cre-setion .splide__arrowtop:50%!important;width:1.8em;height:1.8em;border-radius:100px;border:1px solid #999;background:0 0;opacity:1.cre-setion .splide__arrow–prevleft:-37px.cre-setion .splide__arrow–nextright:-37px.cre-setion .splide__arrow:disabledopacity:.3;cursor:not-allowed!important.cre-setion .splide__arrow:beforeborder:solid #999;border-width:0 2px 2px 0.cre-setion .splide__arrow:hoverbackground:linear-gradient(to left,#a617be,#f32c89,#f32c89,#f32c89,#f32c89,#a617be).cre-setion .splide__arrow:hover::beforeborder:solid var(–white);border-width:0 2px 2px 0]]]]>]]>