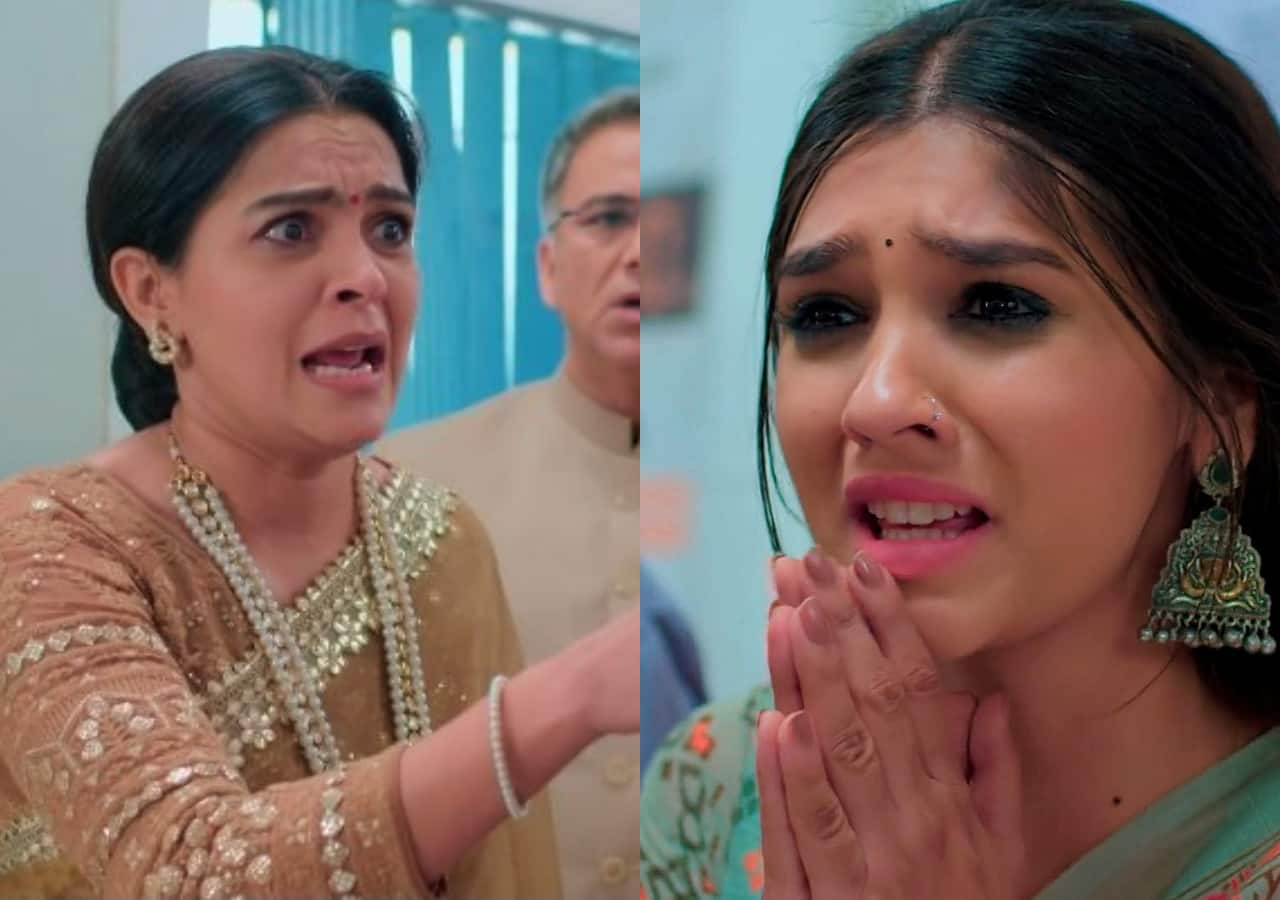 Yeh Rishta Kya Kehlata Hai is buzzing on Twitter and sadly, not for the right reasons. The Harshad Chopda, Pranali Rathod, Jay Soni and Karishma Sawant starrer TV show has been running on the high-voltage drama for the past couple of weeks. Abhimanyu and Akshara have come face-to-face, this time in Udaipur. On top of that, Manjiri is making Aarohi and Abhimanyu marry each other. Akshara wanted to move back to Kasauli but Abhir's health brought them back and everything seems to be going haywire for AbhiRa as Abhimanyu has now met with an accident. Also Read – Yeh Rishta Kya Kehlata Hai star Harshad Chopda wishes fans on Holi in his unique style; sends female fans into a tizzy [View Pics]
Abhimanyu meets with an accident, Manjiri blames Akshara in Yeh Rishta Kya Kehlata Hai
In the upcoming episode of Yeh Rishta Kya Kehlata Hai, we will see Kairav and Abhinav along with Goenkas and Birla reaching the hospital. Ami Trivedi aka Manjiri is inconsolable. She gets hold of Abhimanyu's phone and comes across Abhimanyu's call history. She sees that Abhimanyu dialled Akshara's number a lot of times which went unanswered. She then blames Akshara (Pranali Rathod) for Abhimanyu's accident. Manjiri asks Akshara whether she will now kill Abhimanyu (Harshad Chopda) to end it all. Akshara breaks down and runs off. Also Read – Yeh Rishta Kya Kehlata Hai MAJOR Spoiler: Akshara's emotions come crashing down as Abhi meets with an accident; will AbiRa get back together?
Yeh Rishta Kya Kehlata Hai fans are angry and upset
Ever since the leap after AbhiRa 2.0 began, fans started hating Yeh Rishta Kya Kehlata Hai and the writers for messing up the story so badly. They blamed the makers for killing their AbhiRa. For a lot of fans, AbhiRa doesn't seem to be the end game. The bashing happens almost every day and makes it to the Entertainment News. And now, seeing Manjiri yet again blaming Akshara for everything and the latter being laden with more guilt has irked fans to another level. Check out their tweets here: Also Read – Yeh Rishta Kya Kehlata Hai: Will Abhimanyu's fatal accident bring Akshara and him closer?
Today Nav saw how Akshu ran away & in a daze she got onto the auto and aimlessly drove away.Much like how she wandered on the streets 6 years ago & ended up passed out in that bus to Pathankot.Poor thing is suffering in her mind alone.#yrkkh
— Ⓐⓝⓘⓢⓐ (@i_am_zaniamorph) March 9, 2023
The way akshu is being treated and the way writers are not even letting her speak. The way manjri the worst keeps blaming akshu for everything is so unbearable. Akshu should speak against this vile women. I really don't any redemption for this vile manjri. #yrkkh
— ? ? (@thatlazypanda_) March 9, 2023
And what are writers trying to portray? ki ladkiyon ka ghar unka nahi hota after getting married? I don't know, what is wrong with these writers.#yrkkh
— ? ? (@thatlazypanda_) March 9, 2023
@StarPlus @KalraRomeshDo you understand what are you showing on women's day,akshu getting blamed again nd again for something she didn't do.your regressive thinking will not get you anywhere..making people regret watching the episode..don't forget KARMA HITS REALLY HARD?#yrkkh
— Preeti_Sharma (@4018Preeti) March 9, 2023
How to quote & retweet it 100times? ?
Watched couple of epi after leap & liked it but now it has become worst. ?#yrkkh ? https://t.co/1DUcgvZ5Z0
— ??????? #TJMM ? (@_socialvegan) March 9, 2023
Can #yrkkh makers do justice for akshara character atleast once her trauma needs to be addressed no human can live with this many blames yet this girl is standing strong in front of everyone as I always said #aksharagoenka one of the strongest female lead of itv #ABHIRA https://t.co/LQxvSzNmlb
— madhu (@HemasreeChowdh4) March 9, 2023
what the hell is wrong wd manjiriHow can she blame Akshu for everything.Kitne ilzam chup chap seh le ghi Akshu for once she should answer this chudail back voh b badtameezi se.bohat hogayi respect from Akshu's side.#yrkkh#AbhiRa
— Ifzah (@ifzah_) March 9, 2023
I think Ak is adopted ??… even adopted kids will have better fam #yrkkh
— Rithika? (@rithika990) March 9, 2023
#yrkkh has become a rothudu serial. Disgusting , always blame game, shouting, crying . No truth comes out. Aarohi has done so much but always excused. Why showing negative person winning, shouting and the main leads always crying. It is high time stop this nonsense of Manjari.
— Uma B (@uma_subra) March 9, 2023
I don't think Goenka's r Akshu's real family.Literally no family will b able to take this shit about thr daughter.#yrkkh #Abhira
— Ifzah (@ifzah_) March 9, 2023
Even y not AK can live separate home in udaipur. she can run her music academy, No valid strong point to live in kasauli. She just heard last sentence of Abhi muje baat nahi karni n she took decision to hide pregnancy. #yrkkh
— [email protected]@ (@Aadhiy7) March 9, 2023
In the next episode of Yeh Rishta Kya Kehlata Hai, we will see Abhir leaving the house on his own and reaching Birla hospital to meet Abhimanyu. Akshara and Abhinav get worried.
Stay tuned to BollywoodLife for the latest scoops and updates from Bollywood, Hollywood, South, TV and Web-Series. Click to join us on Facebook, Twitter, Youtube and Instagram. Also follow us on Facebook Messenger for latest updates.